Ian McKellan Talks Gandalf, Retiring and Why Coming Out Helped His Acting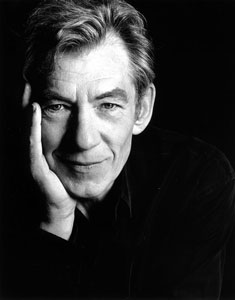 Ian McKellan is back reprising his role as Gandalf in the highly-anticipated release of The Hobbit.
Although the actor hadn't played the character since 2003's Lord of the Rings: The Return of the King, he admitted, "Gandalf came back very easily.  But then I haven't forgotten him over the years.  So many people want to say hello and talk about him, he's never far from me.  You do worry a bit—Andy Serkis said he was afraid at first his Gollum sounded like someone imitating him doing Gollum.  But for me, once I get the makeup on again, and there he is staring back from the mirror, it's not difficult to return to him."
The Lord of the Rings series is of course full of special effects and magic, but McKellan is quick to point out that acting is the same no matter what the medium.  In an interview with NJ.com, the 73-year-old said, "You work just as hard, although different things are brought into play depending on the part.  That's what keeps it interesting.  I've done pantomimes, I've done drag roles, I've done King Lear for the Royal Shakespeare Company, I've done 10 weeks on the soap Coronation Street—I adore being able to visit various, unfamiliar areas.  I'd hate to be stuck just doing Shakespeare, or just doing films—although the fact that I'm able to do either is quite remarkable to me."
After starting out in theater in England (including attending Cambridge), the actor's career changed when he decided to come out in 1988.  McKellan noted that his confidence grew at the age of 49 because of this brave decision.  "My friends told me my acting improved overnight," he said.  "I was doing Uncle Vanya, and suddenly I found I was able to cry onstage at will, because there was no longer a barrier between my feelings and my expression of those feelings.  My film career really took off, and became a major force in my life."
McKellan isn't sure why more actors don't follow his lead.  His career has flourished, including winning two Oscar nominations for Gods and Monsters (1998) and Lord of the Rings: The Fellowship of the Ring (2002).  "The usual thing one hears is that, oh, well the audience won't accept them in those parts anymore," the actor said.  "Well I'm part of the audience, and I don't care what the private lives of the actors are.  I don't care how an actor votes, or who he has sex with, or if he doesn't have sex at all.
"I'm paying money for the performance.  I have no problem in Tom Hanks being brilliant in Philadelphia—and I know he doesn't have any problem with me doing my best in all the straight parts I've played."
Although the actor wishes he had done more new plays ("I've probably done too many classics, but as an actor I've never been much of an innovator,") the actor's schedule is fully booked.  McKellan will be appearing in two more Hobbit installations, as well as returning to the X-Men franchise in 2014.
"People keep asking me, when are you going to stop?" the actor said.  "Why would I want to?  What would I do with my time?  Mind you, I have a lovely house in London, I live by myself and I quite enjoy looking in my diary in the morning and seeing I have absolutely no engagements.  But I do love going to work.  It's my craft, it's what I do, and continue to do…It's like making chairs.  If you make chairs, you don't say, well I've made the perfect chair, I'm done, I can stop now.  There are always new designs, new materials, new challenges.  There's always room for improvement."
The Hobbit opens tomorrow.
http://www.dailyactor.com/wp-content/uploads/2016/02/Owen-Wilson.jpg
Owen Wilson on How He Started Acting, Trying "To Be Real" On-Screen and Choosing His Roles
"It's not enough just to be real; you have to try to make it interesting or entertaining" - Owen Wilson on Acting
http://www.dailyactor.com/actors-on-acting/owen-wilson-started-acting-real-on-screen/
http://www.dailyactor.com/wp-content/uploads/2016/02/John-Krasinski.jpg
John Krasinski on His Directing Debut, 'The Hollars', and How He'll Always Be an "Actor at Heart"
"To me, it's not about comedy or drama or genre, it's about, where's the good story?" - John Krasinski
http://www.dailyactor.com/actors-on-acting/john-krasinski-directing-debut-the-hollars-actor-at-heart/
http://www.dailyactor.com/wp-content/uploads/2016/02/david-harewood-supergirl.jpg
David Harewood on 'Supergirl' and How He Was "Struggling to Get a Handle" on His Character
Harewood reveals how he relates to the character and how he eventually got comfortable playing him.
http://www.dailyactor.com/actors-on-acting/david-harewood-supergirlstruggling-to-get-a-handle-on-his-character/
http://www.dailyactor.com/wp-content/uploads/2016/01/Jeff-Daniels.jpg
Jeff Daniels Remembers a Terrible Audition for a Diane Keaton Movie
One actor that knows the ups and downs of the audition process is Jeff Daniels.
http://www.dailyactor.com/actors-on-acting/jeff-daniels-terrible-audition-diane-keaton-movie/
http://www.dailyactor.com/wp-content/uploads/2016/02/Jennifer-Jason-Leigh-The-Hateful-Eight.jpg
Jennifer Jason Leigh on Her First-Ever Oscar Nomination: "It's kind of phenomenal"
"He knew that I could, in his words, 'act the … out of it' and I'm not afraid to take a risk in terms of acting" Jennifer Jason Leigh on Quentin Tarantino
http://www.dailyactor.com/actors-on-acting/jennifer-jason-leigh-oscar-nomination/