Hugh Jackman Explains Why Shooting 'Les Mis' Was More Physically Demanding Than 'Wolverine'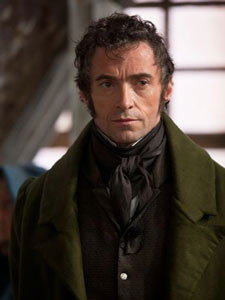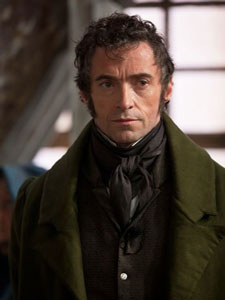 Despite being well-known for his absolute love of musicals, Hugh Jackman has never appeared in a film version of a musical until this month's Les Misérables, one of the most successful stage musicals of all time.  Jackman explains to Movieline why doing a musical is harder than an X-Men movie… and it's not because Jean Valjean, who he plays in Les Misérables, lacks retractable claws.
Jackman admits he has been waiting for the right role to make his big screen musical debut, but he never expected it would be in Les Misérables.  He confesses, "I've dreamt of being in a movie musical for a long time. For some reason I never even thought Les Mis would be possible. It was so iconic, the role wasn't even on my radar."
One of the challenges of playing Jean Valjean was that Jackman would have to lose much of his "Wolverine" bulk to play the character.  He explains that director Tom Hooper told him, "I want you unrecognizable. If you're recognizable, I want your friends to think you're sick."  In fact, despite starring in numerous big screen action roles Jackman claims that starring in a musical is actually more physically demanding.  He says, "It's weird coming from me, who's played Wolverine, or has been in other action movies, you'd probably think, 'at least a musical is going to be easy.' But anyone who's done a musical knows; whether you're dancing or not, physically it's the most difficult thing you can do."
He continues, "Singing is incredibly physical. All of those things combined, as well as emotionally and vocally, it's the most challenging thing, and usually all at once. It's the kind of thing you want as an actor. You want to feel challenged. It's good to feel uncomfortable. I'm really grateful, that's the overwhelming feeling."
http://www.dailyactor.com/wp-content/uploads/2016/02/david-harewood-supergirl.jpg
David Harewood on 'Supergirl' and How He Was "Struggling to Get a Handle" on His Character
Harewood reveals how he relates to the character and how he eventually got comfortable playing him.
http://www.dailyactor.com/actors-on-acting/david-harewood-supergirlstruggling-to-get-a-handle-on-his-character/
http://www.dailyactor.com/wp-content/uploads/2016/01/Jeff-Daniels.jpg
Jeff Daniels Remembers a Terrible Audition for a Diane Keaton Movie
One actor that knows the ups and downs of the audition process is Jeff Daniels.
http://www.dailyactor.com/actors-on-acting/jeff-daniels-terrible-audition-diane-keaton-movie/
http://www.dailyactor.com/wp-content/uploads/2016/02/Jennifer-Jason-Leigh-The-Hateful-Eight.jpg
Jennifer Jason Leigh on Her First-Ever Oscar Nomination: "It's kind of phenomenal"
"He knew that I could, in his words, 'act the … out of it' and I'm not afraid to take a risk in terms of acting" Jennifer Jason Leigh on Quentin Tarantino
http://www.dailyactor.com/actors-on-acting/jennifer-jason-leigh-oscar-nomination/
http://www.dailyactor.com/wp-content/uploads/2016/02/Forest-Whitaker-Hughie-Broadway.jpg
Forest Whitaker on Making His Broadway Debut in 'Hughie': "His rhythms are starting to invade inside of me"
"I want to get better as an actor, to keep trying to work harder, trying to discover something different" - Forest Whitaker
http://www.dailyactor.com/actors-on-acting/forest-whitaker-broadway-debut-hughie/
http://www.dailyactor.com/wp-content/uploads/2016/02/alicia-Vikander-Ex-machina.jpg
Alicia Vikander on the Her First Trip to L.A. and the Acting Tip 'Ex-Machina' Director Alex Garland Gave Her
"You [get immersed in] a film and of course you think that that is it. And then you go away and you read a new script and you have a new crush" - Alicia Vikander
http://www.dailyactor.com/actors-on-acting/alicia-vikanderacting-tip-ex-machina-director-alex-garland-gave-her/