Hugh Jackman Explains Why Shooting 'Les Mis' Was More Physically Demanding Than 'Wolverine'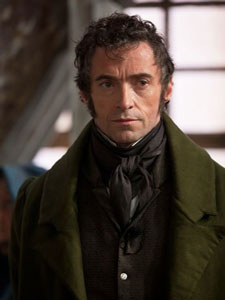 Despite being well-known for his absolute love of musicals, Hugh Jackman has never appeared in a film version of a musical until this month's Les Misérables, one of the most successful stage musicals of all time.  Jackman explains to Movieline why doing a musical is harder than an X-Men movie… and it's not because Jean Valjean, who he plays in Les Misérables, lacks retractable claws.
Jackman admits he has been waiting for the right role to make his big screen musical debut, but he never expected it would be in Les Misérables.  He confesses, "I've dreamt of being in a movie musical for a long time. For some reason I never even thought Les Mis would be possible. It was so iconic, the role wasn't even on my radar."
One of the challenges of playing Jean Valjean was that Jackman would have to lose much of his "Wolverine" bulk to play the character.  He explains that director Tom Hooper told him, "I want you unrecognizable. If you're recognizable, I want your friends to think you're sick."  In fact, despite starring in numerous big screen action roles Jackman claims that starring in a musical is actually more physically demanding.  He says, "It's weird coming from me, who's played Wolverine, or has been in other action movies, you'd probably think, 'at least a musical is going to be easy.' But anyone who's done a musical knows; whether you're dancing or not, physically it's the most difficult thing you can do."
He continues, "Singing is incredibly physical. All of those things combined, as well as emotionally and vocally, it's the most challenging thing, and usually all at once. It's the kind of thing you want as an actor. You want to feel challenged. It's good to feel uncomfortable. I'm really grateful, that's the overwhelming feeling."
http://www.dailyactor.com/wp-content/uploads/2016/06/jeff-bridges-hell-or-high-water.jpg
Jeff Bridges on Creating a Character, 'Hell or High Water' and Playing The Dude
"I use elements of myself—I see my parallels with a character—and find similar things in my own personality." - Jeff Bridges on Creating a Character
http://www.dailyactor.com/actors-on-acting/jeff-bridges-creating-a-character/
http://www.dailyactor.com/wp-content/uploads/2016/07/benjamin-bratt-actor.jpg
Benjamin Bratt: "For as limiting as the opportunities are for actors and actresses of color I've been very blessed"
"...it's dangerous to keep going down the same artistic path." - Benjamin Bratt
http://www.dailyactor.com/actors-on-acting/benjamin-bratt-ive-been-very-blessed/
http://www.dailyactor.com/wp-content/uploads/2016/07/watch-keegan-michael-key-explain.jpg
Watch: Keegan-Michael Key Explains Why "Improv actors are at war together"
Check out Key's points on why it's so important for improv actors to have each others' backs in the clip above.
http://www.dailyactor.com/actors-on-acting/keegan-michael-key-improv-actors-at-war-together/
http://www.dailyactor.com/wp-content/uploads/2016/07/norman-reedus-actor.jpg
Norman Reedus on Acting: "If it's something you really want, you have to roll with the rejection"
Norman Reedus is a fan-favorite star on The Walking Dead and was in the cult favorite film The Boondock Saints. However, in the dozen years between those two gigs Reedus had experienced ups and downs in his career and in many cases he was cast in very small roles in big movies or lead roles […]
http://www.dailyactor.com/actors-on-acting/norman-reedus-acting-rejection/
http://www.dailyactor.com/wp-content/uploads/2016/07/frank-grillo.jpg
Frank Grillo on Being Typecast: "I welcome it"
"I hear actors pooh-pooh the idea... people might see them as a certain thing. I welcome it" - Frank Grillo on Typecasting
http://www.dailyactor.com/actors-on-acting/frank-grillo-on-typecasting/