'Game of Thrones' Star Kit Harington Knows His Way Around Ash, Thanks to his Role in 'Pompeii'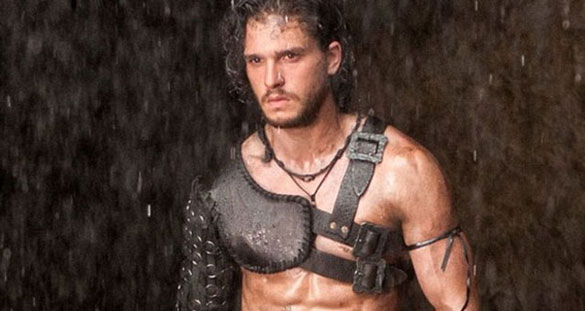 When actors make an action film, there are always hazards to the job. Just ask Kit Harington about his time on set during the filming of Pompeii. He has stories to tell.
The Game of Thrones star shared, "It was boiling hot in the studio and the ash was so horrid to work in, you couldn't really keep your eyes open for long. You'd inhale a piece and you'd start coughing. You'd turn black from the soot."
He spent several days in those condition until the ash was gone.
Harington continued, "After being in the ash for three days, they said, 'Oh, we've run out of ash, we'll CGI it in,' … Don't even tell me you could have done that all along."
Well, it definitely offered up an authentic experience for the 27-year-old actor.
One thing he is grateful for is the opportunity to work on a big-budget film.
"I don't think I would have been offered this role had it not been for Game of Thrones," he said.
From his work on the HBO show, director Paul W.S. Anderson knew he struck gold with an actor who has a strong following and excellent stage combat skills.
The British actor touched upon that, "One of the great things about being an actor is the kind of skill set you're forced to have — and my [résumé ] pretty much says swordfighting now. I'm not sure I'll be touching swords other than in Thrones for a while. I want to try guns or something next … or a romantic drama!"
There has to be a rom-com in his future.
Pompeii opens nationwide on Feb. 21.
http://www.dailyactor.com/wp-content/uploads/2015/09/Tom-Hardy-Legend.jpg
Tom Hardy on Playing Twins in 'Legend,' Being Seen as a Tough Guy, and Working with Philip Seymour Hoffman
Hardy speaks about why he challenged himself to play twins, what he thinks of his tough guy image, and working with the late Philip Seymour Hoffman, who directed him on stage.
http://www.dailyactor.com/actors-on-acting/tom-hardy-playing-twins-legend/
http://www.dailyactor.com/wp-content/uploads/2015/09/Emily-Blunt-Sicario.jpg
Emily Blunt on Action Movie Roles: "I think it's important to show different layers. Nobody is just tough, nobody is just vulnerable"
Emily Blunt touches upon why she has gotten into roles with an action bent and why she thinks there aren't more action movies with female leads
http://www.dailyactor.com/actors-on-acting/emily-blunt-sicario-acting-layers/
http://www.dailyactor.com/wp-content/uploads/2015/09/Jorja-Fox-CSI.jpg
Jorja Fox on Life After 'CSI': "I've always enjoyed not knowing exactly where the road leads"
"I think you kind of have to embrace the unknown if you're an actor." - Jorja Fox
http://www.dailyactor.com/actors-on-acting/jorja-fox-life-after-csi/
http://www.dailyactor.com/wp-content/uploads/2015/09/John-Turturro-Mia-Madre.jpg
John Turturro on the Life of an Actor: "It's a rough business. I wouldn't want my kids to do it"
"I am usually very well prepared. If you're a surgeon, you've got to know what you're going to take out today." - John Turturro
http://www.dailyactor.com/actors-on-acting/john-turturro-life-of-an-actor/
http://www.dailyactor.com/wp-content/uploads/2015/09/Matt-Damon-The-Martian.jpg
Matt Damon's Controversial Comments on Actors Keeping Their Real Lives a Mystery
"I think you're a better actor the less people know about you period. And sexuality is a huge part of that." - Matt Damon
http://www.dailyactor.com/actors-on-acting/matt-damon-actors-keeping-their-real-lives-a-mystery/