Frank Langella on Acting Against a Robot: "It wasn't difficult… I have acted opposite actors, who, no matter what you do, do not change a flicker of their performance"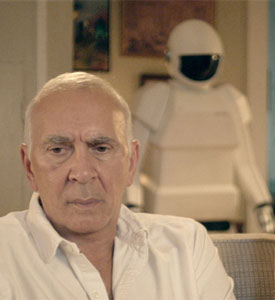 Frank Langella is one of those veteran actors who I would love to share a few drinks with (I'd even pay the tab!)  He seems to be so full of great stories about his long career in theater and film.  He also stars in one of my favorite films of 2012, Robot & Frank, which he talks about Reuters.  He opens up about the importance of working from a good script, acting against a robot, and whether or not the Hollywood of his youth has changed.
On Robot & Frank Langella was working with first-time director Jake Schreier.  However, Langella wasn't bothered about working with an inexperienced director because he really enjoyed Schreier's script.  He explains, "I agree to do a film first on what's on the page. There is an old expression – and I started out in the theater and go back to the theater every year if I can – the expression is, 'If it ain't on the page, it ain't on the stage.' I once did a play in England, and the venerable old actress Joan Plowright walked into my dressing room with a very strange look on her face and I knew the evening didn't work and she said, 'I know what you are thinking, dear, you were thinking, I will fix it in rehearsal. But you can't. If it's not there, you can't. You need the words.'"
When asked if Langella had difficultly acting against the robot, he humorously replies, "It wasn't difficult in the least, and I have acted opposite human robots a number of times. I have acted opposite actors, who, no matter what you do, do not change a flicker of their performance. They are in no way affected by you. Or I could have been a robot with some of them. I had very strong feelings about what I would be like if a robot was put into my life or if I were left alone with one."
Langella also recently released a memoir, Dropped Names: Famous Men and Women as I Knew Them, in which he wasn't afraid to sling a little mud.  While he revealed some rather embarrassing stories about famous celebrities he had met, he admits little has changed in today's Hollywood.  He says, "It hasn't changed, except for ambition is still the same, insecurity is still the same, it's still a provincial town and it is still a cesspool of very, very frightening and terrifying circumstances for young people who get off buses and come there. It is full of so much treachery and so much duplicity and so much lying. And yet at the same time, as you said, it is an extraordinary, exciting place to be when you do succeed. More days now actors are aspiring to star in a television series. We didn't do that when we were young. We were very grand about it, we wanted to be theater stars. And everything else was secondary to that. But the theater now I don't think is any longer a major ambition of most actors … so imagine the attrition rate in my profession. Staggering. Two percent, they say, two percent of the people who try, succeed."
http://www.dailyactor.com/wp-content/uploads/2015/10/Bridge-of-Spies-Tom-Hanks-Mark-Rylance.jpg
Tom Hanks on Working with Steven Spielberg and Mark Rylance in 'Bridge of Spies'
"Steven does this incredible thing when he casts you: He empowers you with the scene." - Tom Hanks on Steven Spielberg
http://www.dailyactor.com/actors-on-acting/tom-hanks-working-steven-spielberg-mark-rylance-bridge-of-spies/
http://www.dailyactor.com/wp-content/uploads/2015/09/Tom-Hardy-Legend.jpg
Tom Hardy on Playing Twins in 'Legend,' Being Seen as a Tough Guy, and Working with Philip Seymour Hoffman
Hardy speaks about why he challenged himself to play twins, what he thinks of his tough guy image, and working with the late Philip Seymour Hoffman, who directed him on stage.
http://www.dailyactor.com/actors-on-acting/tom-hardy-playing-twins-legend/
http://www.dailyactor.com/wp-content/uploads/2015/09/Emily-Blunt-Sicario.jpg
Emily Blunt on Action Movie Roles: "I think it's important to show different layers. Nobody is just tough, nobody is just vulnerable"
Emily Blunt touches upon why she has gotten into roles with an action bent and why she thinks there aren't more action movies with female leads
http://www.dailyactor.com/actors-on-acting/emily-blunt-sicario-acting-layers/
http://www.dailyactor.com/wp-content/uploads/2015/09/Jorja-Fox-CSI.jpg
Jorja Fox on Life After 'CSI': "I've always enjoyed not knowing exactly where the road leads"
"I think you kind of have to embrace the unknown if you're an actor." - Jorja Fox
http://www.dailyactor.com/actors-on-acting/jorja-fox-life-after-csi/
http://www.dailyactor.com/wp-content/uploads/2015/09/John-Turturro-Mia-Madre.jpg
John Turturro on the Life of an Actor: "It's a rough business. I wouldn't want my kids to do it"
"I am usually very well prepared. If you're a surgeon, you've got to know what you're going to take out today." - John Turturro
http://www.dailyactor.com/actors-on-acting/john-turturro-life-of-an-actor/