Eugene Levy on the 'American Pie Presents' DVD's and Finally Sharing a Scene with Stifler's Mom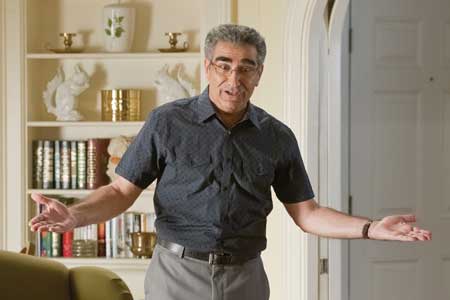 Eugene Levy might have been appearing in comedy films since the early 1970s, but he really hit fame since the late 1990s starring as Jim's Dad in the American Pie series. 
Levy has not only appeared in all four of the theatrically released American Pie films — including the latest, American Reunion — but he is also the only actor to appear in all four of the straight-to-DVD American Pie Presents films. 
Levy talks to Vulture about why he's stuck with the series so long and how he felt about sharing a scene with Jennifer Coolidge in the latest film.
Unlike most actors, Levy admits that the deciding factor to star in the straight-to-DVD spinoffs was financial, though he did assert a creative role.  He explains, "I do separate the straight-to-DVDs from the theatricals. When we did the third American Pie, that was supposed to be it. The DVDs came along, and I don't want to sound too crass, but it was too good of a job to turn down … they were paying a lot of money for not a lot of work, to be honest. But I did want to protect the character in those movies, so he wouldn't be seen in a light that would shock or disappoint people. I was able to rewrite [on the fly] and say, 'Yes, my character will do this.' Or, 'No, I won't stand beside any naked women, la dee dah.'"
Though Levy and Coolidge (Stifler's Mom) have both appeared in the three previous main American Pie films, the two never shared a scene together in those movies.   However, Coolidge and Levy have experience working together in three of Christopher Guest's ensemble comedies, and Jim's Dad and Stifler's Mom finally share a memorable scene together in American Reunion.  Levy points to it as one of the main reasons he enjoyed the latest sequel, saying, "That was an exciting aspect of the story. We got to improvise a lot of stuff. To answer your question, that scene was — I think I could've easily said, 'You know, I don't think I can go there.' But, I gave [writer/directors Jon Hurwitz and Hayden Schlossberg] the benefit of the doubt because I trusted them."
http://www.dailyactor.com/wp-content/uploads/2016/06/jeff-bridges-hell-or-high-water.jpg
Jeff Bridges on Creating a Character, 'Hell or High Water' and Playing The Dude
"I use elements of myself—I see my parallels with a character—and find similar things in my own personality." - Jeff Bridges on Creating a Character
http://www.dailyactor.com/actors-on-acting/jeff-bridges-creating-a-character/
http://www.dailyactor.com/wp-content/uploads/2016/07/benjamin-bratt-actor.jpg
Benjamin Bratt: "For as limiting as the opportunities are for actors and actresses of color I've been very blessed"
"...it's dangerous to keep going down the same artistic path." - Benjamin Bratt
http://www.dailyactor.com/actors-on-acting/benjamin-bratt-ive-been-very-blessed/
http://www.dailyactor.com/wp-content/uploads/2016/07/watch-keegan-michael-key-explain.jpg
Watch: Keegan-Michael Key Explains Why "Improv actors are at war together"
Check out Key's points on why it's so important for improv actors to have each others' backs in the clip above.
http://www.dailyactor.com/actors-on-acting/keegan-michael-key-improv-actors-at-war-together/
http://www.dailyactor.com/wp-content/uploads/2016/07/norman-reedus-actor.jpg
Norman Reedus on Acting: "If it's something you really want, you have to roll with the rejection"
Norman Reedus is a fan-favorite star on The Walking Dead and was in the cult favorite film The Boondock Saints. However, in the dozen years between those two gigs Reedus had experienced ups and downs in his career and in many cases he was cast in very small roles in big movies or lead roles […]
http://www.dailyactor.com/actors-on-acting/norman-reedus-acting-rejection/
http://www.dailyactor.com/wp-content/uploads/2016/07/frank-grillo.jpg
Frank Grillo on Being Typecast: "I welcome it"
"I hear actors pooh-pooh the idea... people might see them as a certain thing. I welcome it" - Frank Grillo on Typecasting
http://www.dailyactor.com/actors-on-acting/frank-grillo-on-typecasting/