Emma Thompson on Her Role as the Author of Mary Poppins: "She's the most difficult person I've ever played"
Walt Disney remains one of the most well-liked figures in Hollywood history — heck, his name alone brings smiles to children whose parents weren't even born in Disney's lifetime — so finding someone to play Disney in the upcoming movie Saving Mr. Banks must have been particularly challenging.  Well, is there any argument that the actor best suited for the role is the most trusted man in America (at least according to Reader's Digest)?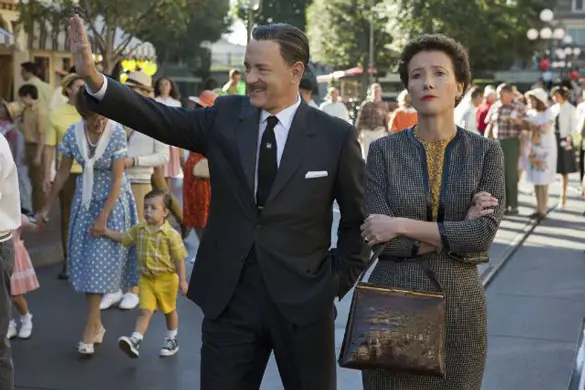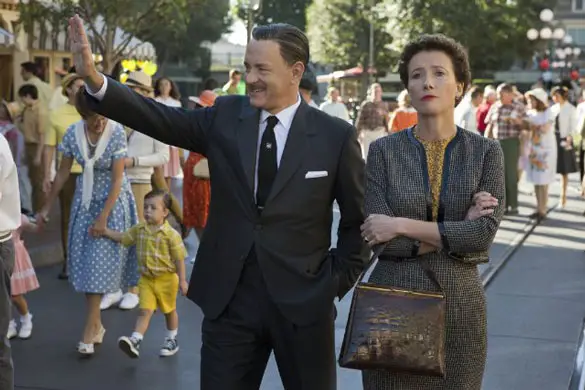 Tom Hanks stars alongside Emma Thompson, who plays P.L. Travers, the author of Mary Poppins.  The film tells the story of Disney's pursuit of the rights to make the beloved film adaptation and Travers' long-time resistance.  In fact, in an interview with Time Thompson admits, "She's the most difficult person I've ever played." 
She elaborates, "She was a woman of quite eye-watering complexity and contradiction.  Often I play people who are controlled by some very clear guiding moral principles. Like Margaret Schlegel [in Howards End], guided by the early principles of feminism and equal rights, and Elinor Dashwood [in Sense and Sensibility], guided by the principles of decency and honor. There are very clear moral prisms these women pour life through, and I understand that very well. And [Travers] was not like that at all. She was far more chaotic and confused and morally various."
However, Thompson understands why Travers was so resistant to let Disney do whatever he pleased with her work.  Thompson wrote the screenplay for the children's film Nanny McPhee and says that children are wiser than studios tend to think.  She explains, "There's a tendency to cast aside a children's author or children's film and make it seem less important than those for an adult audience. Of course, I think it's the other way around.  You can get away with dropping the ball from time to time with adult audiences but children know. You've really got to do your best. Letting them down is a serious failure in your artistic integrity."
http://www.dailyactor.com/wp-content/uploads/2016/02/david-harewood-supergirl.jpg
David Harewood on 'Supergirl' and How He Was "Struggling to Get a Handle" on His Character
Harewood reveals how he relates to the character and how he eventually got comfortable playing him.
http://www.dailyactor.com/actors-on-acting/david-harewood-supergirlstruggling-to-get-a-handle-on-his-character/
http://www.dailyactor.com/wp-content/uploads/2016/01/Jeff-Daniels.jpg
Jeff Daniels Remembers a Terrible Audition for a Diane Keaton Movie
One actor that knows the ups and downs of the audition process is Jeff Daniels.
http://www.dailyactor.com/actors-on-acting/jeff-daniels-terrible-audition-diane-keaton-movie/
http://www.dailyactor.com/wp-content/uploads/2016/02/Jennifer-Jason-Leigh-The-Hateful-Eight.jpg
Jennifer Jason Leigh on Her First-Ever Oscar Nomination: "It's kind of phenomenal"
"He knew that I could, in his words, 'act the … out of it' and I'm not afraid to take a risk in terms of acting" Jennifer Jason Leigh on Quentin Tarantino
http://www.dailyactor.com/actors-on-acting/jennifer-jason-leigh-oscar-nomination/
http://www.dailyactor.com/wp-content/uploads/2016/02/Forest-Whitaker-Hughie-Broadway.jpg
Forest Whitaker on Making His Broadway Debut in 'Hughie': "His rhythms are starting to invade inside of me"
"I want to get better as an actor, to keep trying to work harder, trying to discover something different" - Forest Whitaker
http://www.dailyactor.com/actors-on-acting/forest-whitaker-broadway-debut-hughie/
http://www.dailyactor.com/wp-content/uploads/2016/02/alicia-Vikander-Ex-machina.jpg
Alicia Vikander on the Her First Trip to L.A. and the Acting Tip 'Ex-Machina' Director Alex Garland Gave Her
"You [get immersed in] a film and of course you think that that is it. And then you go away and you read a new script and you have a new crush" - Alicia Vikander
http://www.dailyactor.com/actors-on-acting/alicia-vikanderacting-tip-ex-machina-director-alex-garland-gave-her/