Emily Blunt Explains Why She Wanted Her 'Salmon Fishing in the Yemen' Role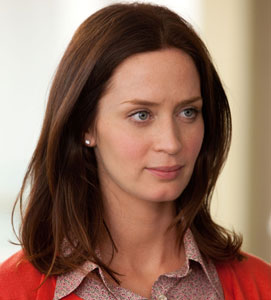 There might not be a long line of actors seeking to be cast in a movie titled Salmon Fishing in the Yemen, but that's just fine as Emily Blunt is concerned. 
She stars in the film as Harriet, and wanted to star in the film ever since she started reading the script.  In particular, she connected with the film's non-cliché approach and found even more motivation by working with Chocolat director Lasse Hallström.
Blunt initially sought after the role because she loved the script.  She says, "I read the first ten pages and I already knew I wanted to do it — I absolutely love this script.  It has such charm and wit and actually captures how human beings speak to each other.  It's quite rare to find that because often things are very clichéd, especially when you're dealing with a love story." She elaborates on that point of view by adding, "So many films are rooted in the cliché.  This is a very human story that gets back to what genuinely moves people."
However, though she was already drawn to the script, she received additional encouragement to take on the role from an unexpected source: here parents!  "It is the only time they've called me and said, 'You have to do this!' It was their favorite book at the time."
Once she decided to take the role, Blunt found additional inspiration from working with director Lasse Hallström.  She reveals, "He's really invigorating and exciting because he really understands what you need to hear and what you might need for a scene, yet he also knows when to leave you alone.  He loves actors, he trusts actors, and he allows us to play and freewheel at times which is important especially with a film based on relationships, and the complexities around them."
Salmon Fishing in the Yemen is now in limited release.
http://www.dailyactor.com/wp-content/uploads/2016/02/alicia-Vikander-Ex-machina.jpg
Alicia Vikander on the Her First Trip to L.A. and the Acting Tip 'Ex-Machina' Director Alex Garland Gave Her
"You [get immersed in] a film and of course you think that that is it. And then you go away and you read a new script and you have a new crush" - Alicia Vikander
http://www.dailyactor.com/actors-on-acting/alicia-vikanderacting-tip-ex-machina-director-alex-garland-gave-her/
http://www.dailyactor.com/wp-content/uploads/2016/02/Channing-Tatum-Hail-Caesar.jpg
Channing Tatum Talks 'Hail, Caesar!': "I've been beating on the Coens' door for years, man"
"It's the most I've ever prepped for a six-minute section in a movie." - Channing Tatum
http://www.dailyactor.com/actors-on-acting/channing-tatum-hail-caesar-tap-dancing/
http://www.dailyactor.com/wp-content/uploads/2016/01/Isidora-Goreshter-Shameless-audition.jpg
Isidora Goreshter Remembers Her Audition for 'Shameless'
Goreshter recently recalled that her audition for the 'Shameless' was by far her worst ever.
http://www.dailyactor.com/actors-on-acting/isidora-goreshter-audition-for-shameless/
http://www.dailyactor.com/wp-content/uploads/2016/01/Sutton-Foster-Younger.jpg
Sutton Foster: "Sometimes I won't even find a character until I put on the costume"
"I never had grand aspirations to be a movie star, to be famous or to be on TV. The theater was what I wanted." - Sutton Foster
http://www.dailyactor.com/actors-on-acting/sutton-foster-younger-character-costume/
http://www.dailyactor.com/wp-content/uploads/2016/01/Paul-Giamatti-Billions.jpg
Paul Giamatti on Building His Career: "I was always willing to just go, 'OK, sure, I'll do that'"
"I've done everything an actor can do except porn and performing in an amusement park" - Paul Giamatti
http://www.dailyactor.com/actors-on-acting/paul-giamatti-billions-building-an-acting-career/