Emily Blunt talks 'Looper' and Choosing Her Parts: "It's very deliberate though I wouldn't say that I strategize any role I do"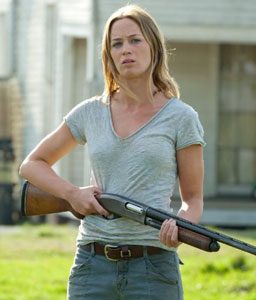 Emily Blunt is one of the many actresses working today that aren't satisfied by repeatedly starring as giggly girls in lighthearted comedies.  Following in the footsteps of her Devil Wears Prada co-star Meryl Streep, Blunt has taken on a variety of roles in many different genres, including a major role in Looper, a sci-fi movie starring Joseph Gordon-Levitt and Bruce Willis. 
Blunt spoke to NBC New York about her role in the sci-fi film and what convinced her to star in a film in this genre.
Blunt reveals that she was immediately drawn to the project after reading only a few pages of the script by writer/director Rian Johnson.  She says, "It's like a singular voice that he has. My agent sent me the script and luckily we got in quite early with it. I read the first 20 pages and then called my agent and said you've got to get me in the room with this guy. Then my agent asked what I thought of my character and I hadn't even got to her yet."
One of the most impressive things about Blunt's career is how different her roles have been — from action films like Looper to comedies like The Five-Year Engagement and horror films like The Wolfman.  She admits that she allows herself to explore what's offered to her, saying,  "It's very deliberate though I wouldn't say that I strategize any role I do – like this will take me to this place and then I will be able to do that. It's never done with that intention because I really believe you can't strategize anything. You never know what is going to hit or what people will like. I've just tried to take advantage of all the variety that is out there. There's such a diverse number of roles and movies and genres and budgets to work amongst."
http://www.dailyactor.com/wp-content/uploads/2015/10/Bridge-of-Spies-Tom-Hanks-Mark-Rylance.jpg
Tom Hanks on Working with Steven Spielberg and Mark Rylance in 'Bridge of Spies'
"Steven does this incredible thing when he casts you: He empowers you with the scene." - Tom Hanks on Steven Spielberg
http://www.dailyactor.com/actors-on-acting/tom-hanks-working-steven-spielberg-mark-rylance-bridge-of-spies/
http://www.dailyactor.com/wp-content/uploads/2015/09/Tom-Hardy-Legend.jpg
Tom Hardy on Playing Twins in 'Legend,' Being Seen as a Tough Guy, and Working with Philip Seymour Hoffman
Hardy speaks about why he challenged himself to play twins, what he thinks of his tough guy image, and working with the late Philip Seymour Hoffman, who directed him on stage.
http://www.dailyactor.com/actors-on-acting/tom-hardy-playing-twins-legend/
http://www.dailyactor.com/wp-content/uploads/2015/09/Emily-Blunt-Sicario.jpg
Emily Blunt on Action Movie Roles: "I think it's important to show different layers. Nobody is just tough, nobody is just vulnerable"
Emily Blunt touches upon why she has gotten into roles with an action bent and why she thinks there aren't more action movies with female leads
http://www.dailyactor.com/actors-on-acting/emily-blunt-sicario-acting-layers/
http://www.dailyactor.com/wp-content/uploads/2015/09/Jorja-Fox-CSI.jpg
Jorja Fox on Life After 'CSI': "I've always enjoyed not knowing exactly where the road leads"
"I think you kind of have to embrace the unknown if you're an actor." - Jorja Fox
http://www.dailyactor.com/actors-on-acting/jorja-fox-life-after-csi/
http://www.dailyactor.com/wp-content/uploads/2015/09/John-Turturro-Mia-Madre.jpg
John Turturro on the Life of an Actor: "It's a rough business. I wouldn't want my kids to do it"
"I am usually very well prepared. If you're a surgeon, you've got to know what you're going to take out today." - John Turturro
http://www.dailyactor.com/actors-on-acting/john-turturro-life-of-an-actor/