Emile Hirsch on Why He Decided to Star in 'Killer Joe' and Its Connection to… 'Hamlet'?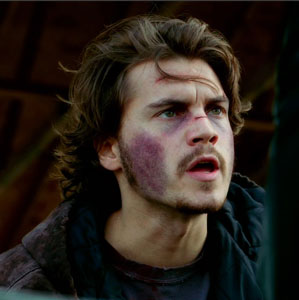 As twisted as it is, the NC-17 rated Killer Joe is one of the best films I've seen this year.  One of the reasons why is the movie's stellar cast, which includes Emile Hirsch as Chris Smith, a scummy drug addict who arranges the murder of his mother in order to get her life insurance.
With the film now in limited release, Hirsch spoke to The Seattle Times on what inspired him to take on such a dark role in the violent and unsettling film.
Hirsch's character waivers about his decision to off his mother for money, something that Hirsch thought was comparable to one of the greatest roles in the history of theater.  He explains, "In the two years before we shot Killer Joe, I was trying to make a film version of a contemporary Hamlet, which we ended up not getting the financing for.  But studying the play as much as I did — and I watched all the film versions I could find and I watched a bunch of stage versions and read some books on it — I think it really helped me portray Chris. I do."
Hirsch explains that another aspect that drew him to the project was working with director William Friedkin.  "They didn't tell me much about the script.  They just told me that Billy was directing. So I went into it totally blind. I hate synopses and little plot lines that agents pitch.  So I read Killer Joe, and I didn't know what to think. It was a very odd experience reading it — much akin to the feelings I had watching the film the first time: a mixture of comedy and drama and confusion and alternating revulsion and terror — which I love. I think that's the strength of it, the kind of places that it goes."
http://www.dailyactor.com/wp-content/uploads/2016/06/jeff-bridges-hell-or-high-water.jpg
Jeff Bridges on Creating a Character, 'Hell or High Water' and Playing The Dude
"I use elements of myself—I see my parallels with a character—and find similar things in my own personality." - Jeff Bridges on Creating a Character
http://www.dailyactor.com/actors-on-acting/jeff-bridges-creating-a-character/
http://www.dailyactor.com/wp-content/uploads/2016/07/benjamin-bratt-actor.jpg
Benjamin Bratt: "For as limiting as the opportunities are for actors and actresses of color I've been very blessed"
"...it's dangerous to keep going down the same artistic path." - Benjamin Bratt
http://www.dailyactor.com/actors-on-acting/benjamin-bratt-ive-been-very-blessed/
http://www.dailyactor.com/wp-content/uploads/2016/07/watch-keegan-michael-key-explain.jpg
Watch: Keegan-Michael Key Explains Why "Improv actors are at war together"
Check out Key's points on why it's so important for improv actors to have each others' backs in the clip above.
http://www.dailyactor.com/actors-on-acting/keegan-michael-key-improv-actors-at-war-together/
http://www.dailyactor.com/wp-content/uploads/2016/07/norman-reedus-actor.jpg
Norman Reedus on Acting: "If it's something you really want, you have to roll with the rejection"
Norman Reedus is a fan-favorite star on The Walking Dead and was in the cult favorite film The Boondock Saints. However, in the dozen years between those two gigs Reedus had experienced ups and downs in his career and in many cases he was cast in very small roles in big movies or lead roles […]
http://www.dailyactor.com/actors-on-acting/norman-reedus-acting-rejection/
http://www.dailyactor.com/wp-content/uploads/2016/07/frank-grillo.jpg
Frank Grillo on Being Typecast: "I welcome it"
"I hear actors pooh-pooh the idea... people might see them as a certain thing. I welcome it" - Frank Grillo on Typecasting
http://www.dailyactor.com/actors-on-acting/frank-grillo-on-typecasting/