Ellen Page on Working with Woody Allen in 'To Rome with Love': "His quietness made me wonder if what I was doing, and what he was seeing, was working"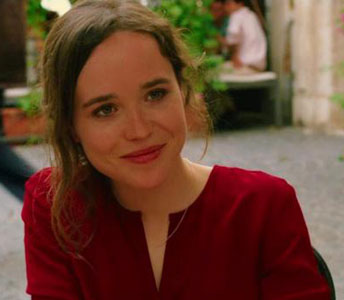 Ellen Page is no longer being typecast as the quirky, awkward girl she played in Juno.
The Oscar-nominated actress is playing a seductress in the new Woody Allen movie, To Rome With Love.  Although the role was a departure for the actress, Page was intrigued by the script.  She told The Times Columnist, "I had concerns after first reading the character because I didn't fully know what Woody's vision was for her.  I spoke to him directly on the phone and we had a lovely conversation about it, and that got me more excited about figuring out how to create this girl without her becoming [a stereotype.]   I can't even become that…I don't have big [boobs.]"
But Page was able to find a way into the role.  "I do my best to attach to them at a core level so I can find some honest truth and connection with them," she said.
This was Page's first time working with the famous Allen.  "I was very nervous and intimidated going into that film: It's Woody Allen, and trying to take someone's work who is one of the greatest screenplay writers of all time, and bring it to life…I didn't want to screw it up," she said.
Allen was certainly a different type of director than those that Page has worked with on projects like Inception and Whip It.  She said, "People prepare you for the first meeting and tell you it will be very short.  And it is.  I think I met him for seven minutes.  I've never worked with a director who is as quiet and reserved as Woody.  And that was weirdly intimidating.  Not that I need someone to tell me I'm doing a good job.  I don't.  But his quietness made me wonder if what I was doing, and what he was seeing, was working."
Page is quick to point out that she appreciates her successful career.  "I feel insanely grateful for the opportunities right now," she said.  "I'm being challenged on so many levels."  But the actress knows that fame can be short-lived.  She admits, "It's just a job.  But I feel fortunate that since I started acting at the age of 10 that I've had lovely people in my life, who are still in my life, who are older and have been there for me in a way that is supportive, but separate, from the work I do."
To Rome With Love is in limited release now.
http://www.dailyactor.com/wp-content/uploads/2015/10/Bridge-of-Spies-Tom-Hanks-Mark-Rylance.jpg
Tom Hanks on Working with Steven Spielberg and Mark Rylance in 'Bridge of Spies'
"Steven does this incredible thing when he casts you: He empowers you with the scene." - Tom Hanks on Steven Spielberg
http://www.dailyactor.com/actors-on-acting/tom-hanks-working-steven-spielberg-mark-rylance-bridge-of-spies/
http://www.dailyactor.com/wp-content/uploads/2015/09/Tom-Hardy-Legend.jpg
Tom Hardy on Playing Twins in 'Legend,' Being Seen as a Tough Guy, and Working with Philip Seymour Hoffman
Hardy speaks about why he challenged himself to play twins, what he thinks of his tough guy image, and working with the late Philip Seymour Hoffman, who directed him on stage.
http://www.dailyactor.com/actors-on-acting/tom-hardy-playing-twins-legend/
http://www.dailyactor.com/wp-content/uploads/2015/09/Emily-Blunt-Sicario.jpg
Emily Blunt on Action Movie Roles: "I think it's important to show different layers. Nobody is just tough, nobody is just vulnerable"
Emily Blunt touches upon why she has gotten into roles with an action bent and why she thinks there aren't more action movies with female leads
http://www.dailyactor.com/actors-on-acting/emily-blunt-sicario-acting-layers/
http://www.dailyactor.com/wp-content/uploads/2015/09/Jorja-Fox-CSI.jpg
Jorja Fox on Life After 'CSI': "I've always enjoyed not knowing exactly where the road leads"
"I think you kind of have to embrace the unknown if you're an actor." - Jorja Fox
http://www.dailyactor.com/actors-on-acting/jorja-fox-life-after-csi/
http://www.dailyactor.com/wp-content/uploads/2015/09/John-Turturro-Mia-Madre.jpg
John Turturro on the Life of an Actor: "It's a rough business. I wouldn't want my kids to do it"
"I am usually very well prepared. If you're a surgeon, you've got to know what you're going to take out today." - John Turturro
http://www.dailyactor.com/actors-on-acting/john-turturro-life-of-an-actor/