Don Cheadle Talks About the 'Five Stages of an Actor's Life'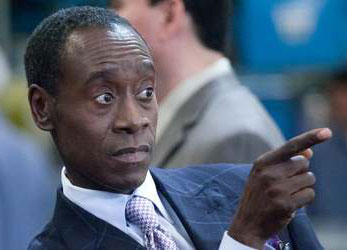 Though most of the interview is focused on wristwatches (!), Don Cheadle has a few clever things to say about acting in films like Robert Zemeckis' Flight and TV's House of Lies in his recent interview with The Hollywood Reporter.
Though Cheadle is a favorite for his roles in blockbusters like Iron Man 2 and in his more personal projects like Hotel Rwanda, for which he received an Oscar nomination, he admits that he still isn't confident about his acting.  He explains, "You can hide inside a character, but if you are being honest and using the things that drive real situations, acting is about exposing who you are. And I'm never sure if I've done a good job."
Humorously, Cheadle points at the career trajectory of many actors to explain why he's been so prolific lately — even giving up his lunch breaks on House of Lies so he can practice the trumpet for a planned Miles Davis biopic.  He says, "You know the five stages of an actor's life? 'Who's Don Cheadle? Get me Don Cheadle. Get me a Don Cheadle type. Get me a young Don Cheadle. Who the hell is Don Cheadle?' Well, every actor gets to that last one eventually. I'm not quite there yet, and I want to wring everything I can out of this life before I am."
http://www.dailyactor.com/wp-content/uploads/2015/10/Bridge-of-Spies-Tom-Hanks-Mark-Rylance.jpg
Tom Hanks on Working with Steven Spielberg and Mark Rylance in 'Bridge of Spies'
"Steven does this incredible thing when he casts you: He empowers you with the scene." - Tom Hanks on Steven Spielberg
http://www.dailyactor.com/actors-on-acting/tom-hanks-working-steven-spielberg-mark-rylance-bridge-of-spies/
http://www.dailyactor.com/wp-content/uploads/2015/09/Tom-Hardy-Legend.jpg
Tom Hardy on Playing Twins in 'Legend,' Being Seen as a Tough Guy, and Working with Philip Seymour Hoffman
Hardy speaks about why he challenged himself to play twins, what he thinks of his tough guy image, and working with the late Philip Seymour Hoffman, who directed him on stage.
http://www.dailyactor.com/actors-on-acting/tom-hardy-playing-twins-legend/
http://www.dailyactor.com/wp-content/uploads/2015/09/Emily-Blunt-Sicario.jpg
Emily Blunt on Action Movie Roles: "I think it's important to show different layers. Nobody is just tough, nobody is just vulnerable"
Emily Blunt touches upon why she has gotten into roles with an action bent and why she thinks there aren't more action movies with female leads
http://www.dailyactor.com/actors-on-acting/emily-blunt-sicario-acting-layers/
http://www.dailyactor.com/wp-content/uploads/2015/09/Jorja-Fox-CSI.jpg
Jorja Fox on Life After 'CSI': "I've always enjoyed not knowing exactly where the road leads"
"I think you kind of have to embrace the unknown if you're an actor." - Jorja Fox
http://www.dailyactor.com/actors-on-acting/jorja-fox-life-after-csi/
http://www.dailyactor.com/wp-content/uploads/2015/09/John-Turturro-Mia-Madre.jpg
John Turturro on the Life of an Actor: "It's a rough business. I wouldn't want my kids to do it"
"I am usually very well prepared. If you're a surgeon, you've got to know what you're going to take out today." - John Turturro
http://www.dailyactor.com/actors-on-acting/john-turturro-life-of-an-actor/