Dermot Mulroney on the Big 'August: Osage County' Dinner Scene: "Meryl never once dropped a line"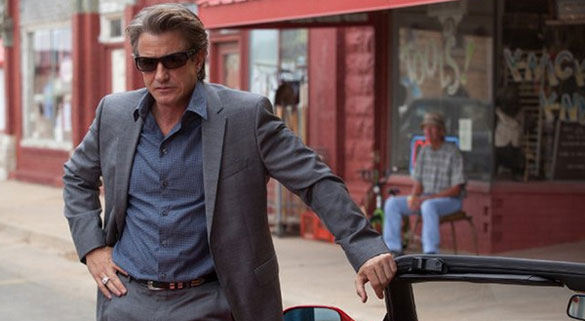 Dermot Mulroney's strong turn in August: Osage County will surprise many moviegoing audiences who are accustomed to seeing the actor in romantic comedies. In his latest film, he plays Juliette Lewis' fiancé who has a lot of swagger and flash, but also a bit of darkness.
The 50-year-old star talked to Interview about his heavy-hitting role in the Oscar-hopeful film about his genre preferences—comedy or drama.
"I love acting so much that I love it all. I struggled for years with the perception that all I did was romantic comedies. That's what people knew, rather than the dramas. But I'd do a romantic comedy again in a heartbeat," he explained. "I like doing character work in romantic comedies the most. About Schmidt is the one I'm thinking of—because Alexander [Payne] casts actors in such unexpected ways, really against their type. He sure did that with me."
Mulroney's clutch comedic scene in the dysfunctional family film involves the entire Weston family sitting down to a difficult dinner after patriarch Beverly Weston has committed suicide. It's the actor's ringtone from Sanford and Son that provides much needed levity in such a dramatic scene.
"It took four days to film. Meryl never once dropped a line, not a word. I'm the one at that table who nobody knows, and who knows no one. It's revealed to Steve what he actually has walked into. Those four days were the most memorable I've had in 28 years of film acting," Mulroney said.
A scene with Meryl Streep is always a good day at the office.
August: Osage County opens nationwide on Jan. 10.
http://www.dailyactor.com/wp-content/uploads/2016/08/imperium_daniele_radcliffe.jpg
Daniel Radcliffe on Playing a Neo-Nazi in 'Imperium': "It's still just horrible to say some of this stuff"
Radcliffe reveals how he played such a layered character and what it felt like to say his character's hate-filled dialogue.
http://www.dailyactor.com/actors-on-acting/daniel-radcliffe-playing-a-neo-nazi-imperium/
http://www.dailyactor.com/wp-content/uploads/2016/08/John-Cho-Star-Trek-Beyond.jpg
How John Cho Took A Stand for Diversity Early in His Career
"When one does speak one's mind, one might be surprised at how receptive people are." - Actor John Cho
http://www.dailyactor.com/actors-on-acting/john-cho-took-a-stand-for-diversity/
http://www.dailyactor.com/wp-content/uploads/2016/08/simon-helberg-florence-foster-jenkins.jpg
Simon Helberg on His 'Florence Foster Jenkins' Role: "I'm an actor and I want to stretch different muscles"
Helberg spoke about portraying his character in the film and whether or not he feels typecast by his Big Bang Theory role.
http://www.dailyactor.com/actors-on-acting/simon-helberg-florence-foster-jenkins-role/
http://www.dailyactor.com/wp-content/uploads/2016/08/Will-Chase-Something-Rotten.jpg
The Role That Got Away: Will Chase on Returning to 'Something Rotten!'
"I know that I am a poor man's fill-in-the-blank. And I know that there are poor man's Will Chases out there. That's just the nature of the business" - Will Chase
http://www.dailyactor.com/actors-on-acting/will-chase-something-rotten-role-that-got-away/
http://www.dailyactor.com/wp-content/uploads/2016/08/Julia-Stiles-Jason-Bourne.jpg
Julia Stiles on the Jason Bourne Series and Growing as an Actress: "There's always room for improvement"
"I like a director that encourages me to be playful. I don't really like being restricted or controlled by a director." - Julia Stiles
http://www.dailyactor.com/actors-on-acting/julia-stiles-growing-as-an-actress/