Denzel Washington Talks About Preparing For His 'Safe House' Role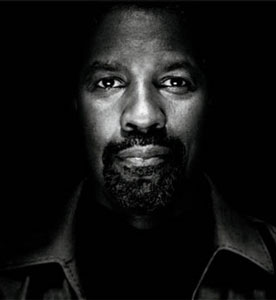 Denzel Washington might have built his well-deserved reputation on dramatic roles in theater and film — he won his first Oscar for his role in Glory — but Washington has also played some scary, tough dudes — like his character in Training Day, for which Washington won his second Oscar. Washington appears in a similar role opposite Ryan Reynolds in Safe House, as rogue CIA agent Tobin Frost.
Washington admits that the role is a bit of a throwback to intimidating characters he has played in the past, pointing out, "Safe House was an opportunity to revisit ways of working that I used to do." 
Though Washington wanted to immerse himself in the role, he purposely avoided doing research on CIA agents.  He explains, "I didn't want to do a lot of CIA research because Tobin Frost wasn't CIA anymore. He hated everything about the CIA, and I wanted to discover his dark side."  Instead, Washington focused on studying sociopaths, which he felt ultimately Frost was.  He says, "Scott [Stuber, the film's producer] gave me some great books to read, one of which was The Sociopath Next Door, which became my bible that I would refer to in developing the character. I felt Tobin was a sociopath. When you think 'sociopath,' you think violence, and the majority of sociopaths aren't violent but they want to win and manipulate. I thought he was a great liar, a great manipulator and perfect for the CIA."
Washington definitely pulled it off  — I have even found his cold stares on the movie's posters that are hanging in the subways around here intimidating!
Safe House opens in theaters on February 10.
http://www.dailyactor.com/wp-content/uploads/2016/08/imperium_daniele_radcliffe.jpg
Daniel Radcliffe on Playing a Neo-Nazi in 'Imperium': "It's still just horrible to say some of this stuff"
Radcliffe reveals how he played such a layered character and what it felt like to say his character's hate-filled dialogue.
http://www.dailyactor.com/actors-on-acting/daniel-radcliffe-playing-a-neo-nazi-imperium/
http://www.dailyactor.com/wp-content/uploads/2016/08/John-Cho-Star-Trek-Beyond.jpg
How John Cho Took A Stand for Diversity Early in His Career
"When one does speak one's mind, one might be surprised at how receptive people are." - Actor John Cho
http://www.dailyactor.com/actors-on-acting/john-cho-took-a-stand-for-diversity/
http://www.dailyactor.com/wp-content/uploads/2016/08/simon-helberg-florence-foster-jenkins.jpg
Simon Helberg on His 'Florence Foster Jenkins' Role: "I'm an actor and I want to stretch different muscles"
Helberg spoke about portraying his character in the film and whether or not he feels typecast by his Big Bang Theory role.
http://www.dailyactor.com/actors-on-acting/simon-helberg-florence-foster-jenkins-role/
http://www.dailyactor.com/wp-content/uploads/2016/08/Will-Chase-Something-Rotten.jpg
The Role That Got Away: Will Chase on Returning to 'Something Rotten!'
"I know that I am a poor man's fill-in-the-blank. And I know that there are poor man's Will Chases out there. That's just the nature of the business" - Will Chase
http://www.dailyactor.com/actors-on-acting/will-chase-something-rotten-role-that-got-away/
http://www.dailyactor.com/wp-content/uploads/2016/08/Julia-Stiles-Jason-Bourne.jpg
Julia Stiles on the Jason Bourne Series and Growing as an Actress: "There's always room for improvement"
"I like a director that encourages me to be playful. I don't really like being restricted or controlled by a director." - Julia Stiles
http://www.dailyactor.com/actors-on-acting/julia-stiles-growing-as-an-actress/