Denzel Washington Talks About Preparing For His 'Safe House' Role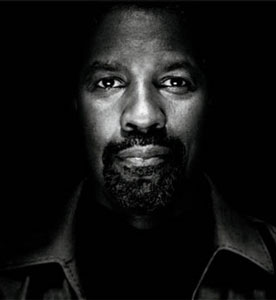 Denzel Washington might have built his well-deserved reputation on dramatic roles in theater and film — he won his first Oscar for his role in Glory — but Washington has also played some scary, tough dudes — like his character in Training Day, for which Washington won his second Oscar. Washington appears in a similar role opposite Ryan Reynolds in Safe House, as rogue CIA agent Tobin Frost.
Washington admits that the role is a bit of a throwback to intimidating characters he has played in the past, pointing out, "Safe House was an opportunity to revisit ways of working that I used to do." 
Though Washington wanted to immerse himself in the role, he purposely avoided doing research on CIA agents.  He explains, "I didn't want to do a lot of CIA research because Tobin Frost wasn't CIA anymore. He hated everything about the CIA, and I wanted to discover his dark side."  Instead, Washington focused on studying sociopaths, which he felt ultimately Frost was.  He says, "Scott [Stuber, the film's producer] gave me some great books to read, one of which was The Sociopath Next Door, which became my bible that I would refer to in developing the character. I felt Tobin was a sociopath. When you think 'sociopath,' you think violence, and the majority of sociopaths aren't violent but they want to win and manipulate. I thought he was a great liar, a great manipulator and perfect for the CIA."
Washington definitely pulled it off  — I have even found his cold stares on the movie's posters that are hanging in the subways around here intimidating!
Safe House opens in theaters on February 10.
http://www.dailyactor.com/wp-content/uploads/2015/09/Tom-Hardy-Legend.jpg
Tom Hardy on Playing Twins in 'Legend,' Being Seen as a Tough Guy, and Working with Philip Seymour Hoffman
Hardy speaks about why he challenged himself to play twins, what he thinks of his tough guy image, and working with the late Philip Seymour Hoffman, who directed him on stage.
http://www.dailyactor.com/actors-on-acting/tom-hardy-playing-twins-legend/
http://www.dailyactor.com/wp-content/uploads/2015/09/Emily-Blunt-Sicario.jpg
Emily Blunt on Action Movie Roles: "I think it's important to show different layers. Nobody is just tough, nobody is just vulnerable"
Emily Blunt touches upon why she has gotten into roles with an action bent and why she thinks there aren't more action movies with female leads
http://www.dailyactor.com/actors-on-acting/emily-blunt-sicario-acting-layers/
http://www.dailyactor.com/wp-content/uploads/2015/09/Jorja-Fox-CSI.jpg
Jorja Fox on Life After 'CSI': "I've always enjoyed not knowing exactly where the road leads"
"I think you kind of have to embrace the unknown if you're an actor." - Jorja Fox
http://www.dailyactor.com/actors-on-acting/jorja-fox-life-after-csi/
http://www.dailyactor.com/wp-content/uploads/2015/09/John-Turturro-Mia-Madre.jpg
John Turturro on the Life of an Actor: "It's a rough business. I wouldn't want my kids to do it"
"I am usually very well prepared. If you're a surgeon, you've got to know what you're going to take out today." - John Turturro
http://www.dailyactor.com/actors-on-acting/john-turturro-life-of-an-actor/
http://www.dailyactor.com/wp-content/uploads/2015/09/Matt-Damon-The-Martian.jpg
Matt Damon's Controversial Comments on Actors Keeping Their Real Lives a Mystery
"I think you're a better actor the less people know about you period. And sexuality is a huge part of that." - Matt Damon
http://www.dailyactor.com/actors-on-acting/matt-damon-actors-keeping-their-real-lives-a-mystery/