Cristin Milioti on Working with Leonardo DiCaprio in 'The Wolf of Wall Street'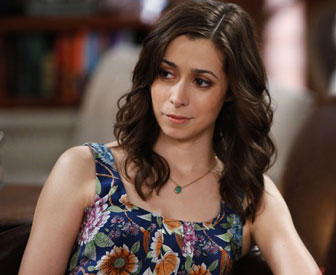 Cristin Milioti has a major role as Leonardo DiCaprio's wife in Martin Scorsese's upcoming film The Wolf of Wall Street, but if you're a fan of her from Broadway's Once and TV's How I Met Your Mother, don't expect to recognize her.
Milioti reveals to The Wall Street Journal that her character is virtually unrecognizable from her real self.  She explains, "I've got this really thick accent and huge perm, acrylic nails and jeans up to my second rib. She's a tough cookie but she loves him and believes in him, which is what makes it so painful. She's put all her beliefs and love in him. But what happens when you're not enough? It's a very sad role."
However, she says the transformation was all worth it to work with DiCaprio.  She says, "He's so lovely. We had this one scene that was very emotional and I was having trouble finding a way into it. We were doing it over and over and it was outside and there were people everywhere. I was getting really frustrated and he sat down with me and we had a heart to heart. He gave me this incredible pep talk and said 'we can stay here all night and get this.' He told me 'I'm here for you, I believe in you.'"
Well, who knew DiCaprio was such a good sport?
http://www.dailyactor.com/wp-content/uploads/2016/02/david-harewood-supergirl.jpg
David Harewood on 'Supergirl' and How He Was "Struggling to Get a Handle" on His Character
Harewood reveals how he relates to the character and how he eventually got comfortable playing him.
http://www.dailyactor.com/actors-on-acting/david-harewood-supergirlstruggling-to-get-a-handle-on-his-character/
http://www.dailyactor.com/wp-content/uploads/2016/01/Jeff-Daniels.jpg
Jeff Daniels Remembers a Terrible Audition for a Diane Keaton Movie
One actor that knows the ups and downs of the audition process is Jeff Daniels.
http://www.dailyactor.com/actors-on-acting/jeff-daniels-terrible-audition-diane-keaton-movie/
http://www.dailyactor.com/wp-content/uploads/2016/02/Jennifer-Jason-Leigh-The-Hateful-Eight.jpg
Jennifer Jason Leigh on Her First-Ever Oscar Nomination: "It's kind of phenomenal"
"He knew that I could, in his words, 'act the … out of it' and I'm not afraid to take a risk in terms of acting" Jennifer Jason Leigh on Quentin Tarantino
http://www.dailyactor.com/actors-on-acting/jennifer-jason-leigh-oscar-nomination/
http://www.dailyactor.com/wp-content/uploads/2016/02/Forest-Whitaker-Hughie-Broadway.jpg
Forest Whitaker on Making His Broadway Debut in 'Hughie': "His rhythms are starting to invade inside of me"
"I want to get better as an actor, to keep trying to work harder, trying to discover something different" - Forest Whitaker
http://www.dailyactor.com/actors-on-acting/forest-whitaker-broadway-debut-hughie/
http://www.dailyactor.com/wp-content/uploads/2016/02/alicia-Vikander-Ex-machina.jpg
Alicia Vikander on the Her First Trip to L.A. and the Acting Tip 'Ex-Machina' Director Alex Garland Gave Her
"You [get immersed in] a film and of course you think that that is it. And then you go away and you read a new script and you have a new crush" - Alicia Vikander
http://www.dailyactor.com/actors-on-acting/alicia-vikanderacting-tip-ex-machina-director-alex-garland-gave-her/