Chris Rock on '2 Days in New York' and Going Back to Broadway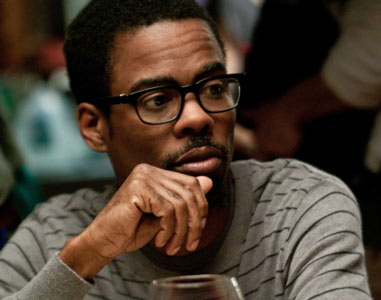 Chris Rock might have seemed like an odd choice to star in Julie Delpy's indie romantic comedy 2 Days in New York, but that's only if you haven't been paying attention to Rock's recent career.  Sure, he might have starred in Pootie Tang years ago, but in the last several years Rock has manged to branch out not only as a writer, director, and producer, but also as an actor. 
In a conversation with the New York Times, Rock talks about his role in 2 Days in New York and the reason why he starred in a Broadway show last year.
On what interested him to take the part in 2 Days in New York, Rock takes a shot at modern movies.  He says, "It was good to get a part where someone didn't want me to just do what I do as a stand-up. To just be a man, essentially. Most parts in comedy, they're not really written for men. They're written for, like, these boy-men. So it's cool to play a man-man. They don't make adult movies anymore. Go to a multiplex. If Sydney Pollack was around today, he'd be directing episodes of True Blood."
As for one of his other recent out-of-the-box career moves, Rock appeared in the Broadway play The Motherfucker in the Hat last year.  Rock says part of the reason he decide to star in the show was to prove something.  He explains, "I wanted to be in a play. I didn't want to be a play. When I do stand-up, I'm basically doing a one-man show. I wanted to show people I can act. I realize you've got to remind people you do this stuff. Sometimes a girl has to let people know she's available. Go to a party with someone you didn't want to go with, just to let people know you're dating. 'What's Halle Berry doing with that loser?'" 
With that in mind, he doesn't rule out a return to Broadway, saying, "Oh, I would love to. I realized with Broadway everything written for black people is usually written in the past, and I'm kind of a contemporary guy. I don't think you want to see me in Raisin in the Sun. The other thing — everything on Broadway with black people, at some point, becomes [stereotype voice] 'Is it ever gonna get any better?' I don't feel like saying that. What's the play they wanted me to do? A Behanding in Spokane. I almost did that one. But I didn't feel like leaving my nice house, my palatial estate to drive into Manhattan and get called nigger every night. [He laughs.] It's like, really?"
Before that though Rock will be returning to familiar territory with Grown-Ups 2, which is currently filming, after which he'll probably have to do another project to remind people he can act (kidding, kidding!)
http://www.dailyactor.com/wp-content/uploads/2016/05/Chris-Evans-Captain-America.jpg
Chris Evans on the Challenges of Being Captain America Outside of Acting
"It's part of the job, I've got to sell this thing. But it's just a gross feeling. It makes me insecure."
http://www.dailyactor.com/actors-on-acting/chris-evans-challenges-of-being-captain-america/
http://www.dailyactor.com/wp-content/uploads/2016/04/julia-louis-dreyfus-veep.jpg
Julia Louis-Dreyfus: "Opportunity for women in television has increased. It's because the landscape has widened"
"I did not come out of SNL as any kind of name. I didn't do anything particularly great when I was there. I didn't. It's fine. But I learned a tremendous amount."
http://www.dailyactor.com/actors-on-acting/julia-louis-dreyfus/
http://www.dailyactor.com/wp-content/uploads/2016/04/Tituss-Burgess-Unbreakable-Kimmy-Schmidt.jpg
Tituss Burgess on How He Landed His 'Unbreakable Kimmy Schmidt' Role
Burgess reveals how his role on 30 Rock led to 'Kimmy Schmidt' and whether or not he'd consider returning to Broadway.
http://www.dailyactor.com/actors-on-acting/tituss-burgess-unbreakable-kimmy-schmidt-role/
http://www.dailyactor.com/wp-content/uploads/2016/04/Christine-Baranski-The-Good-Wife.jpg
Christine Baranski on the End of 'The Good Wife' and Going Back to Theatre
The final episode of The Good Wife airs on May 8, and it's been several weeks since series star Christine Baranski shot the final episode with her co-stars. She spoke to The Hollywood Reporter about the end of the series she has spent the last seven years working on and what she plans to do […]
http://www.dailyactor.com/actors-on-acting/christine-baranski-the-good-wife-theatre/
http://www.dailyactor.com/wp-content/uploads/2016/04/jake-gyllenhaal-demolition.jpg
Jake Gyllenhaal on 'Demolition', Working with Chris Cooper and Directors Who Want Nothing to Do With Him
"I think storytelling is the most important part of movie-making over performance." - Jake Gyllenhaal
http://www.dailyactor.com/actors-on-acting/jake-gyllenhaal-demolition-chris-cooper/