Charlize Theron Talks Working with Her 'Prometheus' Co-Stars: "We really just enjoyed asking all the big questions and not necessarily finding the answers"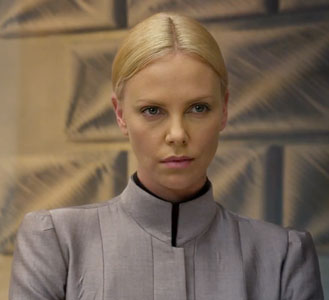 Charlize Theron is starring in the highly anticipated sci-fi film, Prometheus, as Meredith Vickers and when speaking to Collider, she talked about working on the film and collaborating with Ridley Scott and co-stars Michael Fassbender and Guy Pearce.
She said, "I always have a good time because God, I mean, we're just a bunch of kids who never got to grow up, and now we're playing on a spaceship.  How can you not enjoy that, you know?  So yeah, I had a great time making this film."
Although Theron had fun with her costars, the actress also found the process rewarding as an actor.  She said, "There was a lot of stuff that didn't end up in the movie, but I think you can't be attached to those things as an actor. I want to be in a good movie, and so the narrative is way more important. I think that stuff helps create maybe a thickness to her that wouldn't have been there.  I think in the long-run, all of that stuff was really important. They were great. I mean, Damon [Lindelof] was always around. Ridley was just always asking questions. It was just one of those environments where we were always talking about it, always, and there were even moments where Michael Fassbender and I would kind of enhance on our scenes and talk about it. Ridley was incredibly just open to all of that stuff. It was just a very collaborative set, and my fear was that we were trying to answer things that you can't answer, and that's when it becomes problematic, and it wasn't that kind of set. We really just enjoyed asking all the big questions, and not necessarily finding the answers."
Prometheus opens in theaters nationwide on June 8.
http://www.dailyactor.com/wp-content/uploads/2015/10/Bridge-of-Spies-Tom-Hanks-Mark-Rylance.jpg
Tom Hanks on Working with Steven Spielberg and Mark Rylance in 'Bridge of Spies'
"Steven does this incredible thing when he casts you: He empowers you with the scene." - Tom Hanks on Steven Spielberg
http://www.dailyactor.com/actors-on-acting/tom-hanks-working-steven-spielberg-mark-rylance-bridge-of-spies/
http://www.dailyactor.com/wp-content/uploads/2015/09/Tom-Hardy-Legend.jpg
Tom Hardy on Playing Twins in 'Legend,' Being Seen as a Tough Guy, and Working with Philip Seymour Hoffman
Hardy speaks about why he challenged himself to play twins, what he thinks of his tough guy image, and working with the late Philip Seymour Hoffman, who directed him on stage.
http://www.dailyactor.com/actors-on-acting/tom-hardy-playing-twins-legend/
http://www.dailyactor.com/wp-content/uploads/2015/09/Emily-Blunt-Sicario.jpg
Emily Blunt on Action Movie Roles: "I think it's important to show different layers. Nobody is just tough, nobody is just vulnerable"
Emily Blunt touches upon why she has gotten into roles with an action bent and why she thinks there aren't more action movies with female leads
http://www.dailyactor.com/actors-on-acting/emily-blunt-sicario-acting-layers/
http://www.dailyactor.com/wp-content/uploads/2015/09/Jorja-Fox-CSI.jpg
Jorja Fox on Life After 'CSI': "I've always enjoyed not knowing exactly where the road leads"
"I think you kind of have to embrace the unknown if you're an actor." - Jorja Fox
http://www.dailyactor.com/actors-on-acting/jorja-fox-life-after-csi/
http://www.dailyactor.com/wp-content/uploads/2015/09/John-Turturro-Mia-Madre.jpg
John Turturro on the Life of an Actor: "It's a rough business. I wouldn't want my kids to do it"
"I am usually very well prepared. If you're a surgeon, you've got to know what you're going to take out today." - John Turturro
http://www.dailyactor.com/actors-on-acting/john-turturro-life-of-an-actor/