Bryan Cranston on His 'Total Recall' Role and What It's Like to Go Bald for 'Breaking Bad' Every Season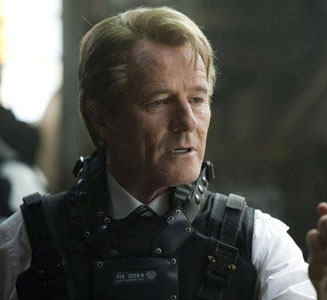 Bryan Cranston is best known as a television star, having two successful series in the last decade, Malcolm in the Middle and the current Breaking Bad.  He also stars in the remake of Total Recall as the villain Cohaagen, but his work on Breaking Bad caused a visual issue: Cranston's character on Breaking Bad, Walter White, is completely bald, but Cohaagen has what Cranston refers to as a "lion's mane" of hair… and shooting on Total Recall started shortly after he wrapped on the latest season of Breaking Bad.
Of course, it's nothing that a wig can't fix, and in an interview with HitFix Cranston elaborates on exactly what putting a wig on does to help him portray different characters, and how freeing it actually is to go clean-shaven to play White.  He also talks about how his portrayal of Cohaagen compares to Renny Cox's, who starred as Cohaagen in Paul Verhoeven's original 1990 film and how the new film compares to the source material, Philip K. Dick's short story "We Can Remember It For You Wholesale."
Check out the HitFix interview with Cranston below:
http://www.dailyactor.com/wp-content/uploads/2016/08/imperium_daniele_radcliffe.jpg
Daniel Radcliffe on Playing a Neo-Nazi in 'Imperium': "It's still just horrible to say some of this stuff"
Radcliffe reveals how he played such a layered character and what it felt like to say his character's hate-filled dialogue.
http://www.dailyactor.com/film/daniel-radcliffe-playing-a-neo-nazi-imperium/
http://www.dailyactor.com/wp-content/uploads/2016/08/John-Cho-Star-Trek-Beyond.jpg
How John Cho Took A Stand for Diversity Early in His Career
"When one does speak one's mind, one might be surprised at how receptive people are." - Actor John Cho
http://www.dailyactor.com/film/john-cho-took-a-stand-for-diversity/
http://www.dailyactor.com/wp-content/uploads/2016/08/simon-helberg-florence-foster-jenkins.jpg
Simon Helberg on His 'Florence Foster Jenkins' Role: "I'm an actor and I want to stretch different muscles"
Helberg spoke about portraying his character in the film and whether or not he feels typecast by his Big Bang Theory role.
http://www.dailyactor.com/film/simon-helberg-florence-foster-jenkins-role/
http://www.dailyactor.com/wp-content/uploads/2016/08/Will-Chase-Something-Rotten.jpg
The Role That Got Away: Will Chase on Returning to 'Something Rotten!'
"I know that I am a poor man's fill-in-the-blank. And I know that there are poor man's Will Chases out there. That's just the nature of the business" - Will Chase
http://www.dailyactor.com/broadway-theater/will-chase-something-rotten-role-that-got-away/
http://www.dailyactor.com/wp-content/uploads/2016/08/Julia-Stiles-Jason-Bourne.jpg
Julia Stiles on the Jason Bourne Series and Growing as an Actress: "There's always room for improvement"
"I like a director that encourages me to be playful. I don't really like being restricted or controlled by a director." - Julia Stiles
http://www.dailyactor.com/film/julia-stiles-growing-as-an-actress/