Bryan Cranston on His 'Total Recall' Role and What It's Like to Go Bald for 'Breaking Bad' Every Season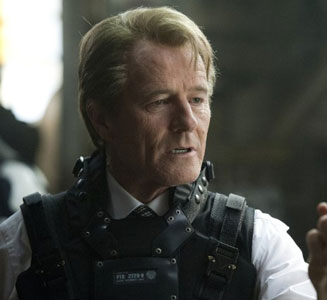 Bryan Cranston is best known as a television star, having two successful series in the last decade, Malcolm in the Middle and the current Breaking Bad.  He also stars in the remake of Total Recall as the villain Cohaagen, but his work on Breaking Bad caused a visual issue: Cranston's character on Breaking Bad, Walter White, is completely bald, but Cohaagen has what Cranston refers to as a "lion's mane" of hair… and shooting on Total Recall started shortly after he wrapped on the latest season of Breaking Bad.
Of course, it's nothing that a wig can't fix, and in an interview with HitFix Cranston elaborates on exactly what putting a wig on does to help him portray different characters, and how freeing it actually is to go clean-shaven to play White.  He also talks about how his portrayal of Cohaagen compares to Renny Cox's, who starred as Cohaagen in Paul Verhoeven's original 1990 film and how the new film compares to the source material, Philip K. Dick's short story "We Can Remember It For You Wholesale."
Check out the HitFix interview with Cranston below:
http://www.dailyactor.com/wp-content/uploads/2016/02/david-harewood-supergirl.jpg
David Harewood on 'Supergirl' and How He Was "Struggling to Get a Handle" on His Character
Harewood reveals how he relates to the character and how he eventually got comfortable playing him.
http://www.dailyactor.com/actors-on-acting/david-harewood-supergirlstruggling-to-get-a-handle-on-his-character/
http://www.dailyactor.com/wp-content/uploads/2016/01/Jeff-Daniels.jpg
Jeff Daniels Remembers a Terrible Audition for a Diane Keaton Movie
One actor that knows the ups and downs of the audition process is Jeff Daniels.
http://www.dailyactor.com/actors-on-acting/jeff-daniels-terrible-audition-diane-keaton-movie/
http://www.dailyactor.com/wp-content/uploads/2016/02/Jennifer-Jason-Leigh-The-Hateful-Eight.jpg
Jennifer Jason Leigh on Her First-Ever Oscar Nomination: "It's kind of phenomenal"
"He knew that I could, in his words, 'act the … out of it' and I'm not afraid to take a risk in terms of acting" Jennifer Jason Leigh on Quentin Tarantino
http://www.dailyactor.com/actors-on-acting/jennifer-jason-leigh-oscar-nomination/
http://www.dailyactor.com/wp-content/uploads/2016/02/Forest-Whitaker-Hughie-Broadway.jpg
Forest Whitaker on Making His Broadway Debut in 'Hughie': "His rhythms are starting to invade inside of me"
"I want to get better as an actor, to keep trying to work harder, trying to discover something different" - Forest Whitaker
http://www.dailyactor.com/actors-on-acting/forest-whitaker-broadway-debut-hughie/
http://www.dailyactor.com/wp-content/uploads/2016/02/alicia-Vikander-Ex-machina.jpg
Alicia Vikander on the Her First Trip to L.A. and the Acting Tip 'Ex-Machina' Director Alex Garland Gave Her
"You [get immersed in] a film and of course you think that that is it. And then you go away and you read a new script and you have a new crush" - Alicia Vikander
http://www.dailyactor.com/actors-on-acting/alicia-vikanderacting-tip-ex-machina-director-alex-garland-gave-her/