Bérénice Marlohe on Her 'Skyfall' Role: "It was very important to get rid of this 'Bond girl' title"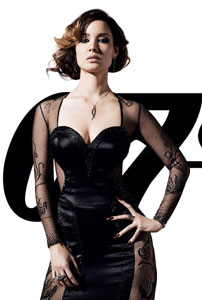 Bérénice Marlohe is the latest in a long line of incredibly sexy women who most men can only dream about, yet James Bond beds on a regular basis.  She appears in the latest 007 film, Skyfall, as the "Bond girl" who gets her claws in Daniel Craig's James Bond, but she tells USA Today that her ultimate goal was to create a new type of female for the long-running franchise.
Despite being drop-dead gorgeous, Marlohe felt it was important to distance herself from the similarly beautiful Bond girls of earlier eras in the franchise.  She explains, "It was very important to get rid of this 'Bond girl' title. It's very abstract, and you can't build anything on that. It was important to create a real human being and a real person and a real story in the real world. It's what makes her modern."  In fact, Marlohe tried to distance herself from the stereotyped "damsel in distress" by even cracking a joke about not being interested in the part to director Sam Mendes when they first met.  She confesses, "I was afraid he would take that as me not wanting the job. But he understood. I was extremely happy and peaceful," in regard to landing the role.
Marlohe, who has only appeared in her first movie in 2011, hopes that her role in Skyfall will be a breakthrough for her that leads to roles in American films.  She says, "As an actress, I felt way more confident on seeing such talented actors working because they are so able and they're not afraid to question themselves. Being around them made me feel more confident."
http://www.dailyactor.com/wp-content/uploads/2015/10/Bridge-of-Spies-Tom-Hanks-Mark-Rylance.jpg
Tom Hanks on Working with Steven Spielberg and Mark Rylance in 'Bridge of Spies'
"Steven does this incredible thing when he casts you: He empowers you with the scene." - Tom Hanks on Steven Spielberg
http://www.dailyactor.com/actors-on-acting/tom-hanks-working-steven-spielberg-mark-rylance-bridge-of-spies/
http://www.dailyactor.com/wp-content/uploads/2015/09/Tom-Hardy-Legend.jpg
Tom Hardy on Playing Twins in 'Legend,' Being Seen as a Tough Guy, and Working with Philip Seymour Hoffman
Hardy speaks about why he challenged himself to play twins, what he thinks of his tough guy image, and working with the late Philip Seymour Hoffman, who directed him on stage.
http://www.dailyactor.com/actors-on-acting/tom-hardy-playing-twins-legend/
http://www.dailyactor.com/wp-content/uploads/2015/09/Emily-Blunt-Sicario.jpg
Emily Blunt on Action Movie Roles: "I think it's important to show different layers. Nobody is just tough, nobody is just vulnerable"
Emily Blunt touches upon why she has gotten into roles with an action bent and why she thinks there aren't more action movies with female leads
http://www.dailyactor.com/actors-on-acting/emily-blunt-sicario-acting-layers/
http://www.dailyactor.com/wp-content/uploads/2015/09/Jorja-Fox-CSI.jpg
Jorja Fox on Life After 'CSI': "I've always enjoyed not knowing exactly where the road leads"
"I think you kind of have to embrace the unknown if you're an actor." - Jorja Fox
http://www.dailyactor.com/actors-on-acting/jorja-fox-life-after-csi/
http://www.dailyactor.com/wp-content/uploads/2015/09/John-Turturro-Mia-Madre.jpg
John Turturro on the Life of an Actor: "It's a rough business. I wouldn't want my kids to do it"
"I am usually very well prepared. If you're a surgeon, you've got to know what you're going to take out today." - John Turturro
http://www.dailyactor.com/actors-on-acting/john-turturro-life-of-an-actor/