Benedict Cumberbatch talks 'Sherlock': "I'm much slower than him. I have to rev up an engine that needs a lot of oil and concentration and focus"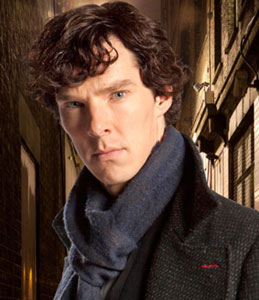 Benedict Cumberbatch has gained the attention of worldwide audiences in Oscar-nominated films such as War Horse and Tinker Tailor Soldier Spy. However, his most defining role, to date, can be argued to be that of "Sherlock Holmes" in the hit BBC series, Sherlock.
Cumberbatch chatted with TV Line about Sherlock, and his upcoming role in J.J. Abrams' Star Trek sequel.
Even though his characterization as "Sherlock Holmes" appears to be effortless, Cumberbatch explained that there is a great deal of preparation involved to create the iconic character. "I'm much slower than him. I have to rev up an engine that needs a lot of oil and concentration and focus." He went on to explain that even Sherlock's movement strays a long way from Cumberbatch's essence. "There's an elasticity to his movements[,] as well. He's ferociously expressive and I'm very still and content, so there [are] different mood swings and temperatures and tones to experiment with in any given situation. But I take my time. I'm very good at switching it on."
In J.J. Abrams' Star Trek sequel, Cumberbatch will be portraying the highly anticipated new interpretation of a classic "Trek" character: "Khan." However, even though Cumberbatch will be gaining star power, he will never give up Sherlock. "I'll always do Sherlock – it's something I'm not going to give up on. I love it too much." Cumberbatch explained that Sherlock is not any piece of cake. "It's hard work, but it's so rewarding and such a lovely bunch of people who do it. We love our fans and we love it's created. It's an incredible thing to be a part of; it doesn't happen that often."
Cumberbatch seemed to think that Sherlock will have a long legacy. "There's no reason for us to stop if it's still being adored and we still enjoy doing it. We only do three [episodes] at a time, so I think the normal fear of overstretching the mark and just doing too many [doesn't apply]."
Cumberbatch likes the idea of watching Sherlock Holmes age throughout the series. "I'd like to see [Sherlock] getting older … it's rare to see Holmes and Watson at the beginning of their relationship; we usually join them in their mid-to-late 40's or 50's. I've got a long way to go. I mean, I'm only 35."
To appease any doubt that Sherlock will stay on the air, Cumberbatch went on to say: "Don't worry; it's not going to disappear." 
http://www.dailyactor.com/wp-content/uploads/2016/01/Jeff-Daniels.jpg
Jeff Daniels Remembers a Terrible Audition for a Diane Keaton Movie
One actor that knows the ups and downs of the audition process is Jeff Daniels.
http://www.dailyactor.com/actors-on-acting/jeff-daniels-terrible-audition-diane-keaton-movie/
http://www.dailyactor.com/wp-content/uploads/2016/02/Jennifer-Jason-Leigh-The-Hateful-Eight.jpg
Jennifer Jason Leigh on Her First-Ever Oscar Nomination: "It's kind of phenomenal"
"He knew that I could, in his words, 'act the … out of it' and I'm not afraid to take a risk in terms of acting" Jennifer Jason Leigh on Quentin Tarantino
http://www.dailyactor.com/actors-on-acting/jennifer-jason-leigh-oscar-nomination/
http://www.dailyactor.com/wp-content/uploads/2016/02/Forest-Whitaker-Hughie-Broadway.jpg
Forest Whitaker on Making His Broadway Debut in 'Hughie': "His rhythms are starting to invade inside of me"
"I want to get better as an actor, to keep trying to work harder, trying to discover something different" - Forest Whitaker
http://www.dailyactor.com/actors-on-acting/forest-whitaker-broadway-debut-hughie/
http://www.dailyactor.com/wp-content/uploads/2016/02/alicia-Vikander-Ex-machina.jpg
Alicia Vikander on the Her First Trip to L.A. and the Acting Tip 'Ex-Machina' Director Alex Garland Gave Her
"You [get immersed in] a film and of course you think that that is it. And then you go away and you read a new script and you have a new crush" - Alicia Vikander
http://www.dailyactor.com/actors-on-acting/alicia-vikanderacting-tip-ex-machina-director-alex-garland-gave-her/
http://www.dailyactor.com/wp-content/uploads/2016/02/Channing-Tatum-Hail-Caesar.jpg
Channing Tatum Talks 'Hail, Caesar!': "I've been beating on the Coens' door for years, man"
"It's the most I've ever prepped for a six-minute section in a movie." - Channing Tatum
http://www.dailyactor.com/actors-on-acting/channing-tatum-hail-caesar-tap-dancing/