Ben Affleck Talks About Directing and The Lowest Points of His Acting Career: "I made a bunch of movies that didn't work"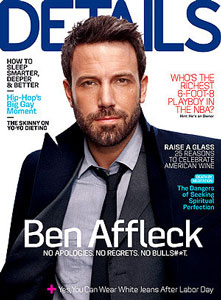 It wasn't too long ago that I looked at new Ben Affleck movies like trips to the dentist, especially the parts involving the dentist painfully picking at my gums.  After excellent roles in films like Dazed and Confused, Chasing Amy, and, of course, Good Will Hunting (which he co-wrote) in the 1990s, the new millennium brought with it a string of films starring Affleck that ranged from inoffensively mediocre to reaching new levels of awfulness.  But Affleck successfully taped into his Good Will Hunting creative energy to direct Gone Baby Gone, The Town, and Argo, three films that have received strong critical praise (he also co-wrote the first two). 
While speaking to Details, Affleck not only talks about those ugly years in his career but what has inspired him about his shift to directing.
On why he decided to star in Argo, Affleck explains that he has a number of reasons, including the simple fact that he still enjoys acting.  He says, "I liked the idea of being in the movie, pushing it forward. As an actor, you can steer a scene in another direction by playing it a little differently. And honestly? I like being an actor, and I want to keep having a career. It'd be very easy for me to get lost in directing for a year and a half or two. It's a business with a very short memory."
Still, rewind to about ten years ago and Affleck was coming off several of the worst years of his career as an actor: after starring in the extremely commercial Pearl Harbor (2001) and The Sum of All Fears (2002), he was poorly received as a superhero in Daredevil (2003) and starred in two financially disastrous and critically ridiculed movies with then-girlfriend Jennifer Lopez, Gigli (2003) and Jersey Girl (2004). 
Reflecting on those years, Affleck confesses they turned him toward directing, saying, "I made a bunch of movies that didn't work. I was ending up in the tabloids. I don't know what the lesson is, except that you just have to find your compass. I liked Sum of All Fears. Daredevil I didn't at all. Some movies should have worked and didn't. At a certain point, it's just up to the movie gods. Anyway, this image becomes a self-fulfilling prophecy. And I just said, 'I don't want to do it anymore. This is horrible. I don't want to be in this spotlight, this glare, in this way. It's tawdry, it's ugly, it's oppressive, and it's inane. So I'm going to try to get away.'  And most of the way I did that was by not acting. I said, 'I'm going to steer myself toward directing. I'm going to do something that takes me toward a place where the work that I do is reflective of what I think is interesting dramatically.'"
So while those failures might have set him back as an actor, they pushed him toward directing, something which he is enamored with.  He reveals with a laugh, "I love all of it. I feel like when you're a director and you get to the point where everyone else is rolling their eyes at you and wants to go home, you're probably doing it right!"
Of course, since he now has fallen in love with directing he is even more choosey about the roles he would otherwise take.  He explains, "I'm acting a lot less. And when I have the time, I think, 'It has to be a really good part, it has to be a director I want to work with.' My life's different now. It's not as if when I'm not acting I'm in a club or playing video games. I have my family. I have philanthropic work that means a lot to me. So I've definitely turned down some things. Not because I suddenly have such great taste but . . . maturity, I guess. The kinds of movies that used to appeal to me don't necessarily appeal to me anymore."
http://www.dailyactor.com/wp-content/uploads/2016/04/Christine-Baranski-The-Good-Wife.jpg
Christine Baranski on the End of 'The Good Wife' and Going Back to Theatre
The final episode of The Good Wife airs on May 8, and it's been several weeks since series star Christine Baranski shot the final episode with her co-stars. She spoke to The Hollywood Reporter about the end of the series she has spent the last seven years working on and what she plans to do […]
http://www.dailyactor.com/tv/christine-baranski-the-good-wife-theatre/
http://www.dailyactor.com/wp-content/uploads/2016/04/jake-gyllenhaal-demolition.jpg
Jake Gyllenhaal on 'Demolition', Working with Chris Cooper and Directors Who Want Nothing to Do With Him
"I think storytelling is the most important part of movie-making over performance." - Jake Gyllenhaal
http://www.dailyactor.com/actors-on-acting/jake-gyllenhaal-demolition-chris-cooper/
http://www.dailyactor.com/wp-content/uploads/2016/04/don-cheadle-miles-davis.jpg
Don Cheadle: "Be scared. Be on the edge of your creativity"
"Be willing to fall flat on your face and be in an unknown place. If you're doing that, you're probably growing" - Don Cheadle
http://www.dailyactor.com/actors-on-acting/don-cheadle-scared-creativity/
http://www.dailyactor.com/wp-content/uploads/2016/04/jessie-eisenberg-louder-than-bombs.jpg
What is Jesse Eisenberg's "Most Fulfilling Acting Experience"?
"My absolute favorite thing to do is to write a play and then, after I finish, do the first reading of it with my friends around the table"- Jesse Eisenberg
http://www.dailyactor.com/actors-on-acting/jesse-eisenberg-most-fulfilling-acting-experience/
http://www.dailyactor.com/wp-content/uploads/2016/03/Lupita-Nyong'o-eclipsed.jpg
Lupita Nyong'o on Her Broadway Debut: "When we get up on that stage, you do not know what will happen"
"I think theater offers a chance to flex muscles that then only help to sustain cinematic work." - Lupita Nyong'o
http://www.dailyactor.com/actors-on-acting/lupita-nyongo-eclipsed-broadway/