Ashton Kutcher Talks 'Jobs', Research and Playing a Real Person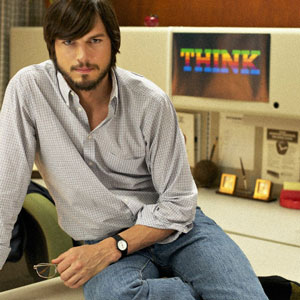 Ashton Kutcher knows that he might face some criticism for playing someone as well known as Steve Jobs.  Plus, it's the first time he's played a real person.
"It's funny—you always play a real person.  Most of the time people don't know who you're playing.  It gives you liberty to screw up," he said in an interview with The Wall Street Journal.  "People are probably going to watch and in some ways feel there are things I didn't nail.  There's a lot of different perspectives on the guy.  I looked at the Steve Jobs I felt like the most people knew, which is the guy in the black turtleneck, and New Balance shoes, and round glasses and shaved head, presenting a product."
Because he knew there could be harsh reviews, Kutcher did as much research as he could for Jobs.  "His [adoptive] parents, one was from Wisconsin, one was from Northern California, so [the accent] is kind of a mix," he explained.  "Then I looked at behaviors he repeated, whether it was his gestures, the way he walked, the way he counted on his fingers starting with his pinkie.  I read books that he read The Autobiography of a Yogi, The Mucus-Free Diet Healing System.  I researched the entrepreneurs he looked up to, whether it was Hewlett-Packard, Edwin Land, Thomas Edison.  The artists he liked—Bauhaus, Folon, Ansel Adams.  Listened to the music that he listened to [Bob Dylan].  With the assumption that if I consumed what he consumed, maybe I would be able to see the world a little bit closer to the way he saw it."
Audiences can judge for themselves whether Kutcher achieved his goal when the film is released Friday, August 16.
http://www.dailyactor.com/wp-content/uploads/2016/04/julia-louis-dreyfus-veep.jpg
Julia Louis-Dreyfus: "Opportunity for women in television has increased. It's because the landscape has widened"
"I did not come out of SNL as any kind of name. I didn't do anything particularly great when I was there. I didn't. It's fine. But I learned a tremendous amount."
http://www.dailyactor.com/tv/julia-louis-dreyfus/
http://www.dailyactor.com/wp-content/uploads/2016/04/Tituss-Burgess-Unbreakable-Kimmy-Schmidt.jpg
Tituss Burgess on How He Landed His 'Unbreakable Kimmy Schmidt' Role
Burgess reveals how his role on 30 Rock led to 'Kimmy Schmidt' and whether or not he'd consider returning to Broadway.
http://www.dailyactor.com/tv/tituss-burgess-unbreakable-kimmy-schmidt-role/
http://www.dailyactor.com/wp-content/uploads/2016/04/Christine-Baranski-The-Good-Wife.jpg
Christine Baranski on the End of 'The Good Wife' and Going Back to Theatre
The final episode of The Good Wife airs on May 8, and it's been several weeks since series star Christine Baranski shot the final episode with her co-stars. She spoke to The Hollywood Reporter about the end of the series she has spent the last seven years working on and what she plans to do […]
http://www.dailyactor.com/tv/christine-baranski-the-good-wife-theatre/
http://www.dailyactor.com/wp-content/uploads/2016/04/jake-gyllenhaal-demolition.jpg
Jake Gyllenhaal on 'Demolition', Working with Chris Cooper and Directors Who Want Nothing to Do With Him
"I think storytelling is the most important part of movie-making over performance." - Jake Gyllenhaal
http://www.dailyactor.com/film/jake-gyllenhaal-demolition-chris-cooper/
http://www.dailyactor.com/wp-content/uploads/2016/04/don-cheadle-miles-davis.jpg
Don Cheadle: "Be scared. Be on the edge of your creativity"
"Be willing to fall flat on your face and be in an unknown place. If you're doing that, you're probably growing" - Don Cheadle
http://www.dailyactor.com/film/don-cheadle-scared-creativity/