Ashley Greene on Typecasting and Keeping Her Day Job After Getting Cast in 'Twilight'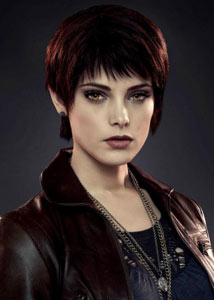 Ashley Greene should be used to fame by now, after starring as Alice Cullen in the Twilight series.  But the 25-year-old still has to find ways to get past the oppressive Hollywood system.
"I got [to my casting], and there were cameras all around me," she told Nylon.  "Everyone's so obsessed with celebrity, I think more than ever before.  It's the instant gratification of it—the tabloids and the Internet and the camera phones.  We're just so infatuated with it that basically everyone is a stalker.  I was like, 'Just let me do my damn job!'"
It was hard initially for Greene to get into the hardships of any of her characters.  "Growing up, I didn't have a hard life," she said.  "Luckily, people are not the greatest in LA, so once I got here and my heart was broken and people stabbed me in the back, I could use that to feel vulnerable."
Even after Greene was cast in the widely-popular vampire series, she didn't expect her life to change as drastically as it did.  She said, "I was working at the Belmont Café in LA, got the call, and two weeks later was rehearsing.  Right when I was cast, my IMDb STARmeter [a chart that tracks actors based on how many searches are done on them] went through the roof — all of ours did and we hadn't even done anything yet!  I asked my boss if I could have my job back after the shoot.  He was like, 'I don't think you'll need it but OK.'"
Greene isn't too worried about being typecast, despite being in four of the Twilight movies.  Her next role is in the thriller, The Apparition.  "It's not like, 'Oh, you're the quirky best friend –slash—sister,'" she said.  "There's no stereotype with Alice.  And she doesn't really look anything like me, with the pixie cut and the white makeup.  So to be put in a box, I'd kind of have to do it myself.  And I'm not going to do that."
The Apparition comes out August 24, and the final installment of The Twilight Saga: Breaking Dawn Part 2, comes out November 16.
http://www.dailyactor.com/wp-content/uploads/2016/05/Chris-Evans-Captain-America.jpg
Chris Evans on the Challenges of Being Captain America Outside of Acting
"It's part of the job, I've got to sell this thing. But it's just a gross feeling. It makes me insecure."
http://www.dailyactor.com/actors-on-acting/chris-evans-challenges-of-being-captain-america/
http://www.dailyactor.com/wp-content/uploads/2016/04/julia-louis-dreyfus-veep.jpg
Julia Louis-Dreyfus: "Opportunity for women in television has increased. It's because the landscape has widened"
"I did not come out of SNL as any kind of name. I didn't do anything particularly great when I was there. I didn't. It's fine. But I learned a tremendous amount."
http://www.dailyactor.com/actors-on-acting/julia-louis-dreyfus/
http://www.dailyactor.com/wp-content/uploads/2016/04/Tituss-Burgess-Unbreakable-Kimmy-Schmidt.jpg
Tituss Burgess on How He Landed His 'Unbreakable Kimmy Schmidt' Role
Burgess reveals how his role on 30 Rock led to 'Kimmy Schmidt' and whether or not he'd consider returning to Broadway.
http://www.dailyactor.com/actors-on-acting/tituss-burgess-unbreakable-kimmy-schmidt-role/
http://www.dailyactor.com/wp-content/uploads/2016/04/Christine-Baranski-The-Good-Wife.jpg
Christine Baranski on the End of 'The Good Wife' and Going Back to Theatre
The final episode of The Good Wife airs on May 8, and it's been several weeks since series star Christine Baranski shot the final episode with her co-stars. She spoke to The Hollywood Reporter about the end of the series she has spent the last seven years working on and what she plans to do […]
http://www.dailyactor.com/actors-on-acting/christine-baranski-the-good-wife-theatre/
http://www.dailyactor.com/wp-content/uploads/2016/04/jake-gyllenhaal-demolition.jpg
Jake Gyllenhaal on 'Demolition', Working with Chris Cooper and Directors Who Want Nothing to Do With Him
"I think storytelling is the most important part of movie-making over performance." - Jake Gyllenhaal
http://www.dailyactor.com/actors-on-acting/jake-gyllenhaal-demolition-chris-cooper/