Anne Hathaway on "One Day" Criticism: "I Tried Not to Let it Get to Me"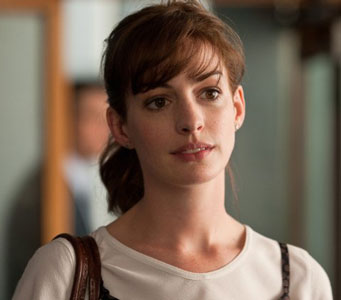 Anne Hathaway wasn't quite aware of the dedicated following enjoyed by David Nicholls novel One Day when she signed on to star in its film adaptation, which arrived in theaters last month.
However, as she recently told Bang Showbiz, she soon realized she wouldn't be able to get thumbs up from everyone when it came to her portrayal of Emma Morley.
"I quickly realized I was going to disappoint a lot of people. People have their own idea about who these characters are and how they act and how they sound," the 28-year-old said. "I didn't realize how deeply loved the character was when I signed on to play Emma. I wish I didn't really know!"
Hathaway's performance isn't the only part of the film that didn't get rave reviews. One Day, which chronicles the evolution of Emma's relationship with a fellow student (Jim Sturgess) by capturing them every July 15 for 20 years, currently holds a 34-percent approval rating on Rotten Tomatoes.  "People kept asking me, 'So you're playing Emma? Will you be doing this with the character? Will you be doing that?' I'm like, 'Oh my gosh, people know every word of this book!'" Hathaway continued. "There were days when I would liken it to walking between two dams with criticism on either side and you just hope, 'Please don't crumble today, I really can't take it.' There are a lot of things to enjoy. I tried not to let it get to me."
http://www.dailyactor.com/wp-content/uploads/2015/10/Bridge-of-Spies-Tom-Hanks-Mark-Rylance.jpg
Tom Hanks on Working with Steven Spielberg and Mark Rylance in 'Bridge of Spies'
"Steven does this incredible thing when he casts you: He empowers you with the scene." - Tom Hanks on Steven Spielberg
http://www.dailyactor.com/actors-on-acting/tom-hanks-working-steven-spielberg-mark-rylance-bridge-of-spies/
http://www.dailyactor.com/wp-content/uploads/2015/09/Tom-Hardy-Legend.jpg
Tom Hardy on Playing Twins in 'Legend,' Being Seen as a Tough Guy, and Working with Philip Seymour Hoffman
Hardy speaks about why he challenged himself to play twins, what he thinks of his tough guy image, and working with the late Philip Seymour Hoffman, who directed him on stage.
http://www.dailyactor.com/actors-on-acting/tom-hardy-playing-twins-legend/
http://www.dailyactor.com/wp-content/uploads/2015/09/Emily-Blunt-Sicario.jpg
Emily Blunt on Action Movie Roles: "I think it's important to show different layers. Nobody is just tough, nobody is just vulnerable"
Emily Blunt touches upon why she has gotten into roles with an action bent and why she thinks there aren't more action movies with female leads
http://www.dailyactor.com/actors-on-acting/emily-blunt-sicario-acting-layers/
http://www.dailyactor.com/wp-content/uploads/2015/09/Jorja-Fox-CSI.jpg
Jorja Fox on Life After 'CSI': "I've always enjoyed not knowing exactly where the road leads"
"I think you kind of have to embrace the unknown if you're an actor." - Jorja Fox
http://www.dailyactor.com/actors-on-acting/jorja-fox-life-after-csi/
http://www.dailyactor.com/wp-content/uploads/2015/09/John-Turturro-Mia-Madre.jpg
John Turturro on the Life of an Actor: "It's a rough business. I wouldn't want my kids to do it"
"I am usually very well prepared. If you're a surgeon, you've got to know what you're going to take out today." - John Turturro
http://www.dailyactor.com/actors-on-acting/john-turturro-life-of-an-actor/