Anne Hathaway on Playing Catwoman: "I saw it less as a challenge and more as an opportunity to go to a place I had never been required to go before"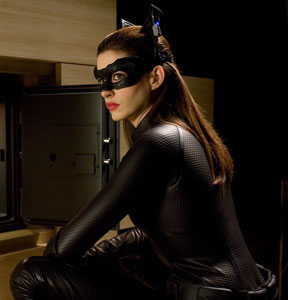 Despite Christopher Nolan's insistence to take a more realistic approach to his Batman films (well, as realistic as a man dressing as a bat to fight crime can be), it was inevitable that Batman's main love interest, Selina Kyle/Catwoman, would show up at some point.  She finally appears in The Dark Knight Rises, portrayed by Anne Hathaway.  Hathaway speaks about playing an iconic character who seems to exist on both sides of the hero/villain divide, working with Nolan and star Christian Bale, and what it was like taking on a role that is so different than what she is usually cast in.
Hathaway points out Kyle's undefined loyalty and moral code as one of the more intriguing things about the character, saying, "It's hard to reveal anything about Selina Kyle because she is intensely private and very mysterious.  She has her own code of ethics, which sometimes involves doing things that other people might consider questionable."
The obvious attraction between Batman and Catwoman has been a hallmark of the Batman mythos since Catwoman was introduced in 1940, a year after Batman himself debuted.  Hathaway refers to this extensive history, pointing out, "I think Bruce owes Selina a big thank you because he was leading a pretty lonely life until she came in and got his blood pumping and reminded him that there are fun people out there in the world.  One of the things that fans have always enjoyed about Bruce and Selina is the playful side of their relationship. They may operate very differently, but they actually have a lot in common: they like to keep certain things hidden; they're usually several steps ahead of everyone else in the room; and they prefer to dress in black."  Commenting on working opposite Bale as Batman, she adds, "I had so much fun working with Christian.  He's quick to laugh and have a good time, but he's also so solid.  He's the kind of actor that raises your game."
Nonetheless, despite that lengthy history between the characters Hathaway admits that she was more focused on making the character fit the Batman world that Nolan created for his Dark Knight trilogy.  She explains, "I did look back at some archival comics and read a lot about [Batman creator] Bob Kane's inspirations for Catwoman, but the most important thing was to be Catwoman in this film and fit into Christopher Nolan's Gotham City.  I'm such a huge fan of Chris's.  With Batman, he has been able to pose some really interesting philosophical questions, while shooting these spectacular action sequences and also finding the humor.  It was a thrill to work with someone whose mind is so brilliant and whose talent is so very evident."
Still, many of the character's classic trademarks remain, including the skin-tight catsuit, which Hathaway reveals, "It doesn't really hide much, so I worked with a movement coach to make sure that I was going to be very comfortable in my body.  If you had to wear a Catsuit in front of the entire world, I guarantee you would get your butt to the gym."
Another challenge was the physical aspect of the role, something that Hathaway has little experience in.  She credits the crew for doing most of the hard work, saying, "I saw it less as a challenge and more as an opportunity to go to a place I had never been required to go before.  I also had the benefit of an amazing team, including Tom and my stuntwoman, Maxine Whittaker, who could not have pushed me harder or been more supportive.  I knew I was in great hands with them and with Chris.  Coming into this role, I knew it was going to be some of the most exciting work I'd ever done and I was going to have the time of my life, but my expectations were far exceeded."
http://www.dailyactor.com/wp-content/uploads/2016/08/imperium_daniele_radcliffe.jpg
Daniel Radcliffe on Playing a Neo-Nazi in 'Imperium': "It's still just horrible to say some of this stuff"
Radcliffe reveals how he played such a layered character and what it felt like to say his character's hate-filled dialogue.
http://www.dailyactor.com/actors-on-acting/daniel-radcliffe-playing-a-neo-nazi-imperium/
http://www.dailyactor.com/wp-content/uploads/2016/08/John-Cho-Star-Trek-Beyond.jpg
How John Cho Took A Stand for Diversity Early in His Career
"When one does speak one's mind, one might be surprised at how receptive people are." - Actor John Cho
http://www.dailyactor.com/actors-on-acting/john-cho-took-a-stand-for-diversity/
http://www.dailyactor.com/wp-content/uploads/2016/08/simon-helberg-florence-foster-jenkins.jpg
Simon Helberg on His 'Florence Foster Jenkins' Role: "I'm an actor and I want to stretch different muscles"
Helberg spoke about portraying his character in the film and whether or not he feels typecast by his Big Bang Theory role.
http://www.dailyactor.com/actors-on-acting/simon-helberg-florence-foster-jenkins-role/
http://www.dailyactor.com/wp-content/uploads/2016/08/Will-Chase-Something-Rotten.jpg
The Role That Got Away: Will Chase on Returning to 'Something Rotten!'
"I know that I am a poor man's fill-in-the-blank. And I know that there are poor man's Will Chases out there. That's just the nature of the business" - Will Chase
http://www.dailyactor.com/actors-on-acting/will-chase-something-rotten-role-that-got-away/
http://www.dailyactor.com/wp-content/uploads/2016/08/Julia-Stiles-Jason-Bourne.jpg
Julia Stiles on the Jason Bourne Series and Growing as an Actress: "There's always room for improvement"
"I like a director that encourages me to be playful. I don't really like being restricted or controlled by a director." - Julia Stiles
http://www.dailyactor.com/actors-on-acting/julia-stiles-growing-as-an-actress/