Anne Hathaway on Auditioning for Catwoman, Her Costume and the "Adrenaline" of a Fight Scene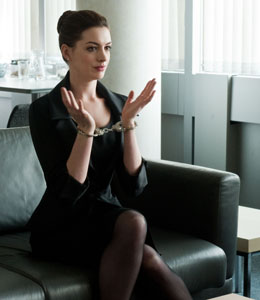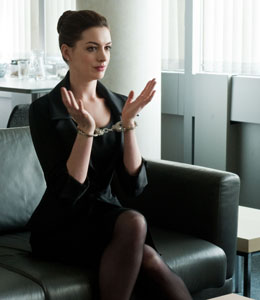 Anne Hathaway certainly has faced some challenges playing the iconic Catwoman in Christopher Nolan's latest The Dark Knight Rises.
But the actress passed the test, by rocking the Catsuit and doing many of her own stunts.  The first obstacle was actually getting the part.  Hathaway wasn't sure if she had gotten the role initially.  She told The New York Daily News, "I auditioned on a Thursday and I believe the following Tuesday my manager called and just said, 'Meeeoooww.'"
The next challenge? Wearing the Catsuit made out of polyurethane-coated black Spandex.  "It was very funny in fittings," Hathaway said.  "We could make certain choices, fit certain things, and then I would have to start slinking about to make sure it could do things that we needed it to do.  It was way more fun to wear than the Batsuit."
Hathaway's ultimate triumph while shooting was when she completed a particularly difficult fight sequence.  "I'm pretty tough on myself and I very rarely give in to pride, and that night when we finished the rooftop fight, I was on top of the world," she said.  "We filmed all night and I got home when the sun was rising and I was tired and I live on a hill, and I just grabbed my dog and we ran up the hill full-sprint and I just stood there and I watched the sun rise.  It was adrenaline.  I felt so good.  It was adrenaline and no energy, believe me.  As soon as the sun rose, I said, 'Oh God, yes!  I have been fighting for three days.'  The adrenaline—it was one of the best feelings I ever had as an actor."
http://www.dailyactor.com/wp-content/uploads/2016/02/david-harewood-supergirl.jpg
David Harewood on 'Supergirl' and How He Was "Struggling to Get a Handle" on His Character
Harewood reveals how he relates to the character and how he eventually got comfortable playing him.
http://www.dailyactor.com/actors-on-acting/david-harewood-supergirlstruggling-to-get-a-handle-on-his-character/
http://www.dailyactor.com/wp-content/uploads/2016/01/Jeff-Daniels.jpg
Jeff Daniels Remembers a Terrible Audition for a Diane Keaton Movie
One actor that knows the ups and downs of the audition process is Jeff Daniels.
http://www.dailyactor.com/actors-on-acting/jeff-daniels-terrible-audition-diane-keaton-movie/
http://www.dailyactor.com/wp-content/uploads/2016/02/Jennifer-Jason-Leigh-The-Hateful-Eight.jpg
Jennifer Jason Leigh on Her First-Ever Oscar Nomination: "It's kind of phenomenal"
"He knew that I could, in his words, 'act the … out of it' and I'm not afraid to take a risk in terms of acting" Jennifer Jason Leigh on Quentin Tarantino
http://www.dailyactor.com/actors-on-acting/jennifer-jason-leigh-oscar-nomination/
http://www.dailyactor.com/wp-content/uploads/2016/02/Forest-Whitaker-Hughie-Broadway.jpg
Forest Whitaker on Making His Broadway Debut in 'Hughie': "His rhythms are starting to invade inside of me"
"I want to get better as an actor, to keep trying to work harder, trying to discover something different" - Forest Whitaker
http://www.dailyactor.com/actors-on-acting/forest-whitaker-broadway-debut-hughie/
http://www.dailyactor.com/wp-content/uploads/2016/02/alicia-Vikander-Ex-machina.jpg
Alicia Vikander on the Her First Trip to L.A. and the Acting Tip 'Ex-Machina' Director Alex Garland Gave Her
"You [get immersed in] a film and of course you think that that is it. And then you go away and you read a new script and you have a new crush" - Alicia Vikander
http://www.dailyactor.com/actors-on-acting/alicia-vikanderacting-tip-ex-machina-director-alex-garland-gave-her/