Amanda Seyfried: "'Big Love' cemented my feelings for acting"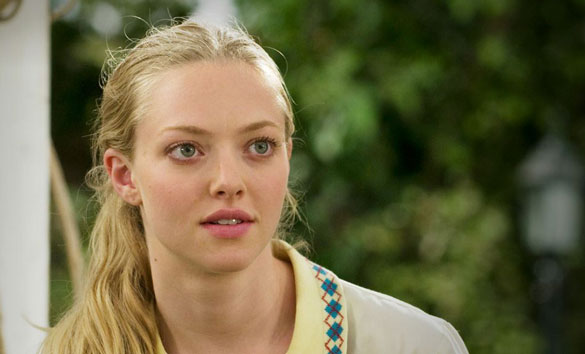 Amanda Seyfried's rise to fame began at the age of 15 when she first appeared on the soap opera As the World Turns. Last year, she was a part of the Oscar-nominated ensemble film Les Misérables and life was never the same.
On the April cover of W magazine, the 28-year-old talked about falling in love on set and when she finally chose to make acting her career.
While in high school, Seyfried scored a role on All My Children and also scored a boyfriend who was a part of the cast.
She shared, "I met my first boyfriend on a soap opera. We kissed for the first time on the show. It was like a fairy tale. When you're young, it's hard not to get together with your costar. It's not always the greatest idea, but the experience of making a television show or a movie is so intimate and romantic. And I love acting like I'm in love! Sex scenes are great. A lot of my costars have been sexy guys my age who are really respectful and cool. So, why not? I'm not going to pretend it's not fun."
From romance on set to her current love life with actor Justin Long, she has seen a shift in her level of fame after Les Mis was released.
"I don't think I was really famous until last year—and I felt like no one paid much attention to what I was doing. That was good. But Les Mis was an international hit, and that changed things. Before, I was a little more anonymous," said the Mean Girls star.
Even though she had been acting professionally for awhile, her choice to make acting her career into adulthood didn't happen until she was cast in the HBO drama, Big Love.
"Everything major in my life began on Big Love," Seyfried said. "I was a teenager when I booked that part, and acting was definitely not the most important thing to me then. I was undecided about my career: I could have been a waitress in Allentown for the rest of my life! But Big Love cemented my feelings for acting."
She continued, "Acting kind of bit me in the butt. On Big Love, I realized that I didn't want to lose this thing that I had stumbled into. Now, I'm at the mercy of my calling. I was lucky back then and a little naive. Now I'm addicted. Addicted and scared but never bored. I get to be other people all the time, and there is nothing dull about that."
http://www.dailyactor.com/wp-content/uploads/2016/04/jake-gyllenhaal-demolition.jpg
Jake Gyllenhaal on 'Demolition', Working with Chris Cooper and Directors Who Want Nothing to Do With Him
"I think storytelling is the most important part of movie-making over performance." - Jake Gyllenhaal
http://www.dailyactor.com/actors-on-acting/jake-gyllenhaal-demolition-chris-cooper/
http://www.dailyactor.com/wp-content/uploads/2016/04/don-cheadle-miles-davis.jpg
Don Cheadle: "Be scared. Be on the edge of your creativity"
"Be willing to fall flat on your face and be in an unknown place. If you're doing that, you're probably growing" - Don Cheadle
http://www.dailyactor.com/actors-on-acting/don-cheadle-scared-creativity/
http://www.dailyactor.com/wp-content/uploads/2016/04/jessie-eisenberg-louder-than-bombs.jpg
What is Jesse Eisenberg's "Most Fulfilling Acting Experience"?
"My absolute favorite thing to do is to write a play and then, after I finish, do the first reading of it with my friends around the table"- Jesse Eisenberg
http://www.dailyactor.com/actors-on-acting/jesse-eisenberg-most-fulfilling-acting-experience/
http://www.dailyactor.com/wp-content/uploads/2016/03/Lupita-Nyong'o-eclipsed.jpg
Lupita Nyong'o on Her Broadway Debut: "When we get up on that stage, you do not know what will happen"
"I think theater offers a chance to flex muscles that then only help to sustain cinematic work." - Lupita Nyong'o
http://www.dailyactor.com/actors-on-acting/lupita-nyongo-eclipsed-broadway/
http://www.dailyactor.com/wp-content/uploads/2016/03/jake-gyllenhaal-demolition.jpg
Jake Gyllenhaal on Missed Superhero Opportunities and Portraying "Antisocial" Characters
"I've always wanted to have the opportunity to play a number of different roles, and I knew it wasn't necessarily the role, but how you played them" - Jake Gyllenhaal
http://www.dailyactor.com/actors-on-acting/jake-gyllenhaal-antisocial-characters/