Alison Brie on Her 'Five-Year Engagement' Accent and How She's Handling Problems on the 'Community' Set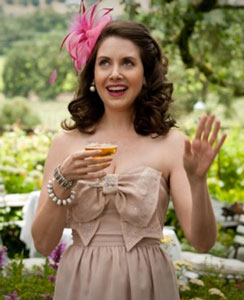 Community and Mad Men star Alison Brie has her most high-profile movie role so far in The Five-Year Engagement as the sister of lead actress Emily Blunt.  Of course, the American Brie had to work on her accent to sound like the English Blunt, and she talked to MovieFone about how she prepared for that and gave some insight into the problems on the set of Community.
As previously revealed, Brie worked with Emily Blunt on set in order to sound like she could be her sister.  However, almost prophetically Brie was working on her English accent before she was even cast in the role.  She reveals, "I just sort of on a whim thought it would be a good idea to brush up on a British accent, so I'd been [listening to] … these accent CDs on my way to work in the morning and on my way home. So it was like fate."  She also admits working on other accents, too, but she tells the interviewer that she isn't quite as proficient at them.  She says, "I had a couple other CDs — Irish and German — but I couldn't just whip them out. I'd have to go back and brush up on the CDs."
Brie also comments on the well-publicized feuds on the set of Community.  Though such animosity could distracting, Brie says she doesn't focus on it, explaining, "We have so much fun on-set and we really are a tight-knit group and any of this stuff that's been happening, it's really all just been happening since we've been on hiatus and I've been out of town… It hasn't really been at the forefront of my mind and honestly, when I think about the show, I'm trying to put my energy into praying for a fourth season. That's kind of where my mind is at with the whole thing."
The Five-Year Engagement opens on Friday, April 27.
http://www.dailyactor.com/wp-content/uploads/2016/04/Christine-Baranski-The-Good-Wife.jpg
Christine Baranski on the End of 'The Good Wife' and Going Back to Theatre
The final episode of The Good Wife airs on May 8, and it's been several weeks since series star Christine Baranski shot the final episode with her co-stars. She spoke to The Hollywood Reporter about the end of the series she has spent the last seven years working on and what she plans to do […]
http://www.dailyactor.com/tv/christine-baranski-the-good-wife-theatre/
http://www.dailyactor.com/wp-content/uploads/2016/04/jake-gyllenhaal-demolition.jpg
Jake Gyllenhaal on 'Demolition', Working with Chris Cooper and Directors Who Want Nothing to Do With Him
"I think storytelling is the most important part of movie-making over performance." - Jake Gyllenhaal
http://www.dailyactor.com/actors-on-acting/jake-gyllenhaal-demolition-chris-cooper/
http://www.dailyactor.com/wp-content/uploads/2016/04/don-cheadle-miles-davis.jpg
Don Cheadle: "Be scared. Be on the edge of your creativity"
"Be willing to fall flat on your face and be in an unknown place. If you're doing that, you're probably growing" - Don Cheadle
http://www.dailyactor.com/actors-on-acting/don-cheadle-scared-creativity/
http://www.dailyactor.com/wp-content/uploads/2016/04/jessie-eisenberg-louder-than-bombs.jpg
What is Jesse Eisenberg's "Most Fulfilling Acting Experience"?
"My absolute favorite thing to do is to write a play and then, after I finish, do the first reading of it with my friends around the table"- Jesse Eisenberg
http://www.dailyactor.com/actors-on-acting/jesse-eisenberg-most-fulfilling-acting-experience/
http://www.dailyactor.com/wp-content/uploads/2016/03/Lupita-Nyong'o-eclipsed.jpg
Lupita Nyong'o on Her Broadway Debut: "When we get up on that stage, you do not know what will happen"
"I think theater offers a chance to flex muscles that then only help to sustain cinematic work." - Lupita Nyong'o
http://www.dailyactor.com/actors-on-acting/lupita-nyongo-eclipsed-broadway/