Adam Sandler Tops Forbes' 2013 List of Overpaid Actors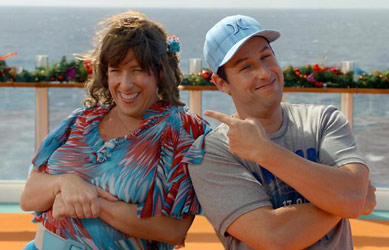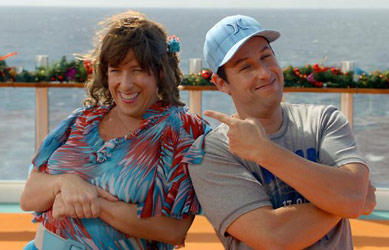 Each year Forbes releases a list of the most "overpaid" actors — in other words, actors who deliver the least amount of box office for the investment to cover their hefty paychecks.  Last year the list was topped by Eddie Murphy (big surprise), who doesn't make the list this year because he wisely decided to take a little break from movies.  But this year another Saturday Night Live veteran took his spot at the top: Adam Sandler.
Adam Sandler had the two biggest bombs of his career back-to-back with 2011's Jack and Jill and 2012's That's My Boy, but had a massive worldwide hit with the animated Hotel Transylvania (however, the Forbes list does not count animated films).  The struggling box office of those two movies suggests why Sandler made his first sequel, Grown Ups 2 (which was a big hit for him), and is reuniting with Drew Barrymore for Blended, with whom he made two hit romantic comedies.  However, Forbes' data "looked at the last three movies each actor starred in over the three years to June 1," so the July release of Grown Ups 2 did not make the cut.  Forbes estimates that for every dollar Sandler was paid, the films returned $3.40.  Still, Sandler at least can take comfort in knowing he probably won't be #1 next year because of Grown Ups 2… unless he has another bomb in the first half of 2014.
Following Sandler on the list at #2 is the most overpaid actress, Katherine Heigl, who is estimated to bring in $3.50 for every dollar she is paid.  Heigl was similarly both #2 and the most overpaid actress on last year's least also, though her return ticked up 10 cents from less year's $3.40.  Her only film of 2013, The Big Wedding, bombed spectacularly and did little to convince audiences that she is worth going to the theater for.
Of course, the list also isn't perfect science — some of the actors make deliberate career choices to take roles in indie films that won't possibly gross as much as their typical blockbusters are expected to.  Obviously, the actor's paychecks on those films are smaller, yet the return is obviously lower.  For example, repeating her spot from last year is Reese Witherspoon at #3, with the same return as last year ($3.90).  Similar to Heigl, Witherspoon only starred in one film this year, but in her case it was a hit — but an indie hit, Mud (it grossed about the same amount as The Big Wedding, but on a far lower budget).  Witherspoon was hurt more by the performance of This Means War in 2012 and Water for Elephants in 2011.
Newcomers to the top ten are former major box office draws Kevin James and Steve Carell, who had a pair of bombs in Here Comes the Boom and The Incredible Burt Wonderstone, respectively.  However, like Sandler both have had major success in animated films, which don't count.  James also co-starred in Grown Ups 2, so there's a good chance he won't make next year's list, and Carell can likely count on the upcoming Anchorman 2 to give him a boost, too.
The rest of the top ten, including how much they "return" in box office per dollar paid:
4) Nicholas Cage ($6.00)
5) Kevin James ($6.10)
6) Denzel Washington ($7.00)
7) Steve Carell ($10.00)
8) Jennifer Aniston ($10.60)
     Matt Damon ($10.60)
10) Ryan Reynolds ($10.70)
http://www.dailyactor.com/wp-content/uploads/2016/02/alicia-Vikander-Ex-machina.jpg
Alicia Vikander on the Her First Trip to L.A. and the Acting Tip 'Ex-Machina' Director Alex Garland Gave Her
"You [get immersed in] a film and of course you think that that is it. And then you go away and you read a new script and you have a new crush" - Alicia Vikander
http://www.dailyactor.com/actors-on-acting/alicia-vikanderacting-tip-ex-machina-director-alex-garland-gave-her/
http://www.dailyactor.com/wp-content/uploads/2016/02/Channing-Tatum-Hail-Caesar.jpg
Channing Tatum Talks 'Hail, Caesar!': "I've been beating on the Coens' door for years, man"
"It's the most I've ever prepped for a six-minute section in a movie." - Channing Tatum
http://www.dailyactor.com/actors-on-acting/channing-tatum-hail-caesar-tap-dancing/
http://www.dailyactor.com/wp-content/uploads/2016/01/Isidora-Goreshter-Shameless-audition.jpg
Isidora Goreshter Remembers Her Audition for 'Shameless'
Goreshter recently recalled that her audition for the 'Shameless' was by far her worst ever.
http://www.dailyactor.com/actors-on-acting/isidora-goreshter-audition-for-shameless/
http://www.dailyactor.com/wp-content/uploads/2016/01/Sutton-Foster-Younger.jpg
Sutton Foster: "Sometimes I won't even find a character until I put on the costume"
"I never had grand aspirations to be a movie star, to be famous or to be on TV. The theater was what I wanted." - Sutton Foster
http://www.dailyactor.com/actors-on-acting/sutton-foster-younger-character-costume/
http://www.dailyactor.com/wp-content/uploads/2016/01/Paul-Giamatti-Billions.jpg
Paul Giamatti on Building His Career: "I was always willing to just go, 'OK, sure, I'll do that'"
"I've done everything an actor can do except porn and performing in an amusement park" - Paul Giamatti
http://www.dailyactor.com/actors-on-acting/paul-giamatti-billions-building-an-acting-career/