Watch: The First 12-Minutes of 'Sound Of My Voice' starring Brit Marling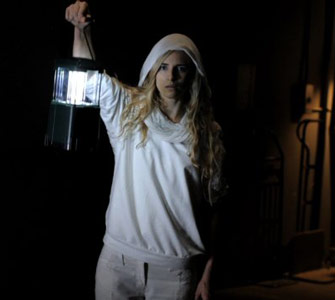 Last week, we posted a preview of the first 2-minutes of Fox Searchlight's Sound of My Voice with Brit Marling. 
Now, they've posted the first 12 minutes, or Chapter 1 as they are calling it. You can watch it below or go to the films website and watch it in full screen: http://www.soundofmyvoicemovie.com/
Also, the filmmakers are saying to pay special attention when watching the clip. It has "baked in" alternative content via interactive "hotspots" and this hints at story elements beyond the first chapter.
Synopsis: Peter (Christopher Denham) and Lorna (Nicole Vicius), a couple and documentary filmmaking team, infiltrate a mysterious group led by an enigmatic young woman named Maggie (Brit Marling). Intent on exposing her as a charlatan and freeing the followers from her grip, Peter and Lorna start to question their objective and each other as they unravel the secrets of Maggie's underworld.
Directed by: Zal Batmanglij
Written by:  Zal Batmanglij and Brit Marling
Starring: Brit Marling, Christopher Denham and Nicole Vicius
In theaters: April 27, 2012
http://www.dailyactor.com/wp-content/uploads/2015/10/Bridge-of-Spies-Tom-Hanks-Mark-Rylance.jpg
Tom Hanks on Working with Steven Spielberg and Mark Rylance in 'Bridge of Spies'
"Steven does this incredible thing when he casts you: He empowers you with the scene." - Tom Hanks on Steven Spielberg
http://www.dailyactor.com/actors-on-acting/tom-hanks-working-steven-spielberg-mark-rylance-bridge-of-spies/
http://www.dailyactor.com/wp-content/uploads/2015/09/Tom-Hardy-Legend.jpg
Tom Hardy on Playing Twins in 'Legend,' Being Seen as a Tough Guy, and Working with Philip Seymour Hoffman
Hardy speaks about why he challenged himself to play twins, what he thinks of his tough guy image, and working with the late Philip Seymour Hoffman, who directed him on stage.
http://www.dailyactor.com/actors-on-acting/tom-hardy-playing-twins-legend/
http://www.dailyactor.com/wp-content/uploads/2015/09/Emily-Blunt-Sicario.jpg
Emily Blunt on Action Movie Roles: "I think it's important to show different layers. Nobody is just tough, nobody is just vulnerable"
Emily Blunt touches upon why she has gotten into roles with an action bent and why she thinks there aren't more action movies with female leads
http://www.dailyactor.com/actors-on-acting/emily-blunt-sicario-acting-layers/
http://www.dailyactor.com/wp-content/uploads/2015/09/Jorja-Fox-CSI.jpg
Jorja Fox on Life After 'CSI': "I've always enjoyed not knowing exactly where the road leads"
"I think you kind of have to embrace the unknown if you're an actor." - Jorja Fox
http://www.dailyactor.com/actors-on-acting/jorja-fox-life-after-csi/
http://www.dailyactor.com/wp-content/uploads/2015/09/John-Turturro-Mia-Madre.jpg
John Turturro on the Life of an Actor: "It's a rough business. I wouldn't want my kids to do it"
"I am usually very well prepared. If you're a surgeon, you've got to know what you're going to take out today." - John Turturro
http://www.dailyactor.com/actors-on-acting/john-turturro-life-of-an-actor/