Win: 2 Tickets to 'Peter and the Starcatcher' on Broadway!
How would you like to win 2 tickets to see the hilarious Peter and the Starcatcher?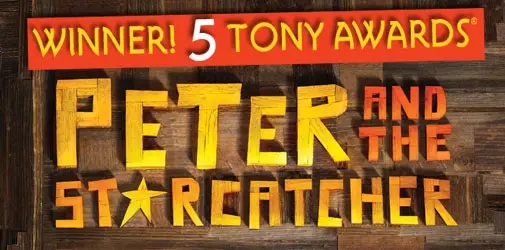 The winner of 5 Tony Awards, the show tells the backstory of Peter Pan and his life-long enemy, Captain Hook. I've seen the show twice now (at the La Jolla Playhouse when it premiered and in its current run on Broadway) and both times I thought they were fantastic. So, I'm incredibly excited to offer our readers a chance to see this wonderful show!
Giveaway Details
The production has graciously given Daily Actor a pair (2) of tickets to give to one (1) lucky winner. Tickets must be used by November 9th, 2012. New York area only.
How To Enter
To enter this contest, use the widget below. You can enter multiple ways and every friend you refer will get you 5 extra entries. Follow the easy instructions below.
Hurry! Contest ends this Friday!
For more information on the show, click here
http://www.dailyactor.com/wp-content/uploads/2016/05/kristen-dunst-fargo.jpg
Kirsten Dunst: Auditions are "the most stressful thing to me on the planet Earth"
Despite being a well-known actress with dozens of credits, Kristen Dunst tells Variety that she still thinks of auditions as "the most stressful thing to me on the planet Earth." Most audiences first became familiar with Dunst after her appearance as the young vampire Claudia in 1994's Interview with the Vampire, but Dunst confesses that […]
http://www.dailyactor.com/actors-on-acting/kirsten-dunst-stressful-auditions/
http://www.dailyactor.com/wp-content/uploads/2016/05/Jessie-Mueller-Waitress.jpg
Jessie Mueller on Following up 'Beautiful' with 'Waitress': "I think early on I did feel little bit of pressure"
"I was taken with theater from the beginning, it was the coolest thing for me." - Jessie Mueller
http://www.dailyactor.com/actors-on-acting/jessie-mueller-waitress-pressure/
http://www.dailyactor.com/wp-content/uploads/2016/05/Sean-Hayes-An-Act-of-God.jpg
Sean Hayes on Why He Loves Theater and His Return to Broadway in 'An Act of God'
"I think one of the worst mistakes an actor can make is run away from the role that made them beloved in the first place, that gave them an audience." - Sean Hayes
http://www.dailyactor.com/actors-on-acting/sean-hayes-broadway-an-act-of-god/
http://www.dailyactor.com/wp-content/uploads/2016/05/zachary-levi-she-loves-me.jpg
Zachary Levi on Starring in Broadway's 'She Loves Me': "Honestly, the biggest challenge is just my own brain"
"My whole life, all I've ever wanted to do was be an actor and an entertainer and make people happy and also feel like I belonged" - Zachary Levi
http://www.dailyactor.com/actors-on-acting/zachary-levi-broadway-she-loves-me/
http://www.dailyactor.com/wp-content/uploads/2016/05/Ewan-McGregor-Last-Days.jpg
Ewan McGregor Talks Playing Jesus and the Devil in 'Last Days in the Desert'
"I was just trying to play him like any other role, really. Who do I think he was? Who do I want him to be in this story?" - Ewan McGregor
http://www.dailyactor.com/actors-on-acting/ewan-mcgregor-playing-jesus-devil/