Win: 2 Tickets for Mike Bartlett's Hilarious Play, 'Cock' (NY AREA)
Mike Bartlett's incredibly funny play, Cock, has received tons of great reviews; The New York Times' Ben Brantley called it "a terrific comedy with an unprintable name" and our own Chris McKittrick said that the acting alone was a huge reason to see it.
And we have two tickets to give away!
Starring Jason Butler Harner, Amanda Quaid, Cory Michael Smith and Cotter Smith, the play is about a guy named John. When he and his boyfriend take a break, the last thing he expects is to suddenly meet the woman of his dreams. Now he has a big choice to make. This is the American premiere of the gripping new play by Mike Bartlett. James Macdonald (Top Girls, Dying City) directs this Olivier Award-winning production from London's Royal Court Theatre.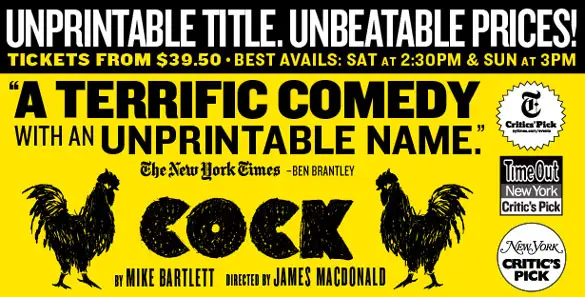 Giveaway Details
The production has graciously given Daily Actor a pair (2) of tickets to give to one (1) lucky winner at The Duke on 42nd Street. New York area only.
How To Enter
To enter this contest, use the widget below. You can enter multiple ways and every friend you refer will get you 5 extra entries. Follow the easy instructions below.
For more information on the show, click here
http://www.dailyactor.com/wp-content/uploads/2016/05/zachary-levi-she-loves-me.jpg
Zachary Levi on Starring in Broadway's 'She Loves Me': "Honestly, the biggest challenge is just my own brain"
"My whole life, all I've ever wanted to do was be an actor and an entertainer and make people happy and also feel like I belonged" - Zachary Levi
http://www.dailyactor.com/actors-on-acting/zachary-levi-broadway-she-loves-me/
http://www.dailyactor.com/wp-content/uploads/2016/05/Ewan-McGregor-Last-Days.jpg
Ewan McGregor Talks Playing Jesus and the Devil in 'Last Days in the Desert'
"I was just trying to play him like any other role, really. Who do I think he was? Who do I want him to be in this story?" - Ewan McGregor
http://www.dailyactor.com/actors-on-acting/ewan-mcgregor-playing-jesus-devil/
http://www.dailyactor.com/wp-content/uploads/2016/05/Rose-Byrne.jpg
Rose Byrne on Her First Audition, Broadway and the Science of Comedy
"I think comedy is very hard. It's very scientific getting the beats of it" - Rose Byrne
http://www.dailyactor.com/actors-on-acting/rose-byrne-first-audition-broadway/
http://www.dailyactor.com/wp-content/uploads/2016/05/Josh-Gad-Angry-Birds.jpg
Josh Gad Talks 'Angry Birds' and Voicing Animated Characters
"Animation is so liberating because you're just left to your own voice and there's nothing else you can fall back on" - Josh Gad
http://www.dailyactor.com/actors-on-acting/josh-gad-angry-birds-animated-characters/
http://www.dailyactor.com/wp-content/uploads/2016/05/Cara-Delevingne-paper-towns.jpg
Cara Delevingne Had to Read a Scene from 'Who's Afraid of Virginia Woolf?' for her 'Suicide Squad' Audition
"More is known about my life than the lives of the characters I play. My plan is to reverse that" - Cara Delevingne
http://www.dailyactor.com/actors-on-acting/cara-delevingne-suicide-squad-audition/