Win: 2 Tickets for Mike Bartlett's Hilarious Play, 'Cock' (NY AREA)
Mike Bartlett's incredibly funny play, Cock, has received tons of great reviews; The New York Times' Ben Brantley called it "a terrific comedy with an unprintable name" and our own Chris McKittrick said that the acting alone was a huge reason to see it.
And we have two tickets to give away!
Starring Jason Butler Harner, Amanda Quaid, Cory Michael Smith and Cotter Smith, the play is about a guy named John. When he and his boyfriend take a break, the last thing he expects is to suddenly meet the woman of his dreams. Now he has a big choice to make. This is the American premiere of the gripping new play by Mike Bartlett. James Macdonald (Top Girls, Dying City) directs this Olivier Award-winning production from London's Royal Court Theatre.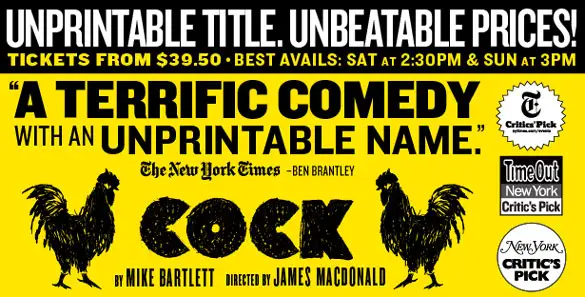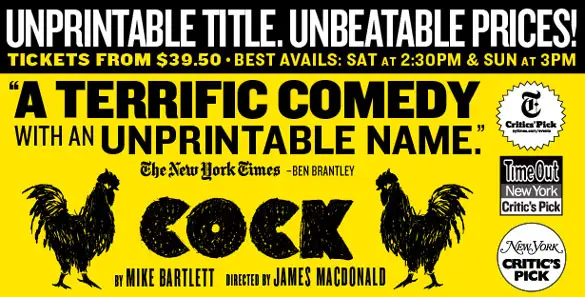 Giveaway Details
The production has graciously given Daily Actor a pair (2) of tickets to give to one (1) lucky winner at The Duke on 42nd Street. New York area only.
How To Enter
To enter this contest, use the widget below. You can enter multiple ways and every friend you refer will get you 5 extra entries. Follow the easy instructions below.
For more information on the show, click here
http://www.dailyactor.com/wp-content/uploads/2016/02/david-harewood-supergirl.jpg
David Harewood on 'Supergirl' and How He Was "Struggling to Get a Handle" on His Character
Harewood reveals how he relates to the character and how he eventually got comfortable playing him.
http://www.dailyactor.com/actors-on-acting/david-harewood-supergirlstruggling-to-get-a-handle-on-his-character/
http://www.dailyactor.com/wp-content/uploads/2016/01/Jeff-Daniels.jpg
Jeff Daniels Remembers a Terrible Audition for a Diane Keaton Movie
One actor that knows the ups and downs of the audition process is Jeff Daniels.
http://www.dailyactor.com/actors-on-acting/jeff-daniels-terrible-audition-diane-keaton-movie/
http://www.dailyactor.com/wp-content/uploads/2016/02/Jennifer-Jason-Leigh-The-Hateful-Eight.jpg
Jennifer Jason Leigh on Her First-Ever Oscar Nomination: "It's kind of phenomenal"
"He knew that I could, in his words, 'act the … out of it' and I'm not afraid to take a risk in terms of acting" Jennifer Jason Leigh on Quentin Tarantino
http://www.dailyactor.com/actors-on-acting/jennifer-jason-leigh-oscar-nomination/
http://www.dailyactor.com/wp-content/uploads/2016/02/Forest-Whitaker-Hughie-Broadway.jpg
Forest Whitaker on Making His Broadway Debut in 'Hughie': "His rhythms are starting to invade inside of me"
"I want to get better as an actor, to keep trying to work harder, trying to discover something different" - Forest Whitaker
http://www.dailyactor.com/actors-on-acting/forest-whitaker-broadway-debut-hughie/
http://www.dailyactor.com/wp-content/uploads/2016/02/alicia-Vikander-Ex-machina.jpg
Alicia Vikander on the Her First Trip to L.A. and the Acting Tip 'Ex-Machina' Director Alex Garland Gave Her
"You [get immersed in] a film and of course you think that that is it. And then you go away and you read a new script and you have a new crush" - Alicia Vikander
http://www.dailyactor.com/actors-on-acting/alicia-vikanderacting-tip-ex-machina-director-alex-garland-gave-her/