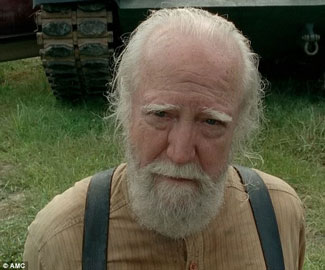 [Warning: Spoilers Ahead!]
For fans of AMC's The Walking Dead, the Season 4 midseason finale was a shocker last Sunday. The moral center of the zombie show, Hershel Greene was the final victim of The Governor after being held hostage in a failed coup over the prison.
Hershel's end was bloody, but for actor Scott Wilson, it was the end of a great run on the hit cable show. He talked to The Hollywood Reporter about how he sensed his character was about to meet his demise even before showrunner Scott Gimple gave him the news. Read more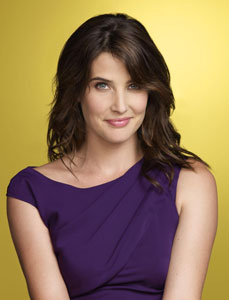 When an actor portrays the same character on a television series for nine seasons, it's common that he or she will be associated with the characteristics of that character by fans of the show.  It doesn't help if that actor goes on to portray similar characters in outside projects, too. So when How I Met Your Mother's Cobie Smulders says that the common perception of her is "Some tough chick.  I do all these things where I like guns, and I'm kind of a guy's girl." She wonders, "I have NO idea where that comes from."
Of course, that perception doesn't come from nowhere.  Along with her How I Met Her Mother character Robin, Smulders also appeared as S.H.I.E.L.D. Agent Maria Hill in The Avengers.  Still, Smulders doesn't want that tough perception of her to completely go away.  After all, her personal goals include, "A long, life and career, I hope, in the Marvel Universe" (she will reprise her Marvel role in Captain America: The Winter Soldier and Avengers: Age of Ultron). Read more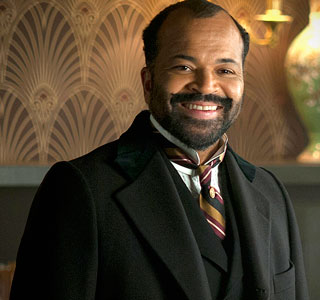 Jeffrey Wright has had a prolific 2013, appearing in Broken City, The Inevitable Defeat of Mister & Pete, A Single Shot, Only Lovers Left Alive, The Hunger Games: Catching Fire, and, of course, a brilliant season-long arc on HBO's Boardwalk Empire.  This comes off a period when Wright did not make many appearances in films (Wright did not appear in any films released in 2009 or 2010, and only supplied his voice to a film in 2012), especially after appearing in high profile roles previously.
In a conversation with The Associate Press, Wright spoke about why he's working more now, how he copes with not being considered a household name, and why he considers himself a struggling actor at times. Read more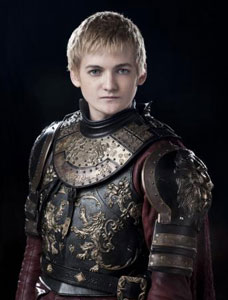 When an actor reaches any type of success in the entertainment industry, they are usually plotting their next big step. For Game of Thrones star Jack Gleeson, his post-show move is not what you would expect.
When the HBO series ends, the 21-year-old actor is hanging up his acting career.
He shared why he is making such a decision, "It was always a recreation beforehand, but when I started doing Game of Thrones perhaps the reality was made too real for me. The lifestyle that comes with being an actor in a successful TV show isn't something I gravitate towards."
While that may seem unusual to many people, sometimes a young actor like Gleeson just needs to see what else is out there in life. The show has been rumored to run up to eight seasons if the cable channel keeps renewing the series. Currently, the show has three seasons under its belt with Season 4 heading to television in 2014. Read more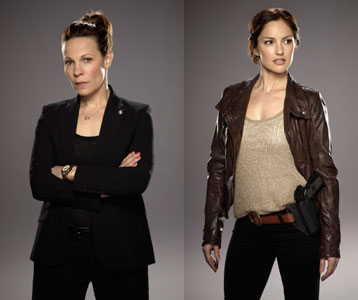 The new FOX show, Almost Human, was a hit right out of the gate. Thanks to Executive Producer J.J. Abrams and the chemistry between stars Karl Urban and Michael Ealy, the show is easily one of the best shows of the new fall season.
Lili Taylor and Minka Kelly, who also star on the show, recently had a conference call to chat about their characters, how they got their roles and working with all of the futuristic technology.
Almost Human airs on Mondays at 8/7c on FOX Read more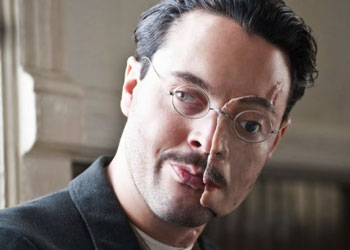 Season 4 of Boardwalk Empire wrapped up on Sunday, and naturally all of the key characters in the series underwent major changes.  One of those characters was Jack Huston's World War I sharpshooter character Richard Harrow, a character that started as a supporting character in the first season whose role grew into a lead as the series progressed.  New York magazine spoke to Huston about the finale, and if you haven't watched the episode yet you better not click for more!
After a particularly bloody season, the final scenes of the season 4 finale featured Harrow experiencing the happy ending that the fan favorite character deserved, only for the scenes to be revealed as the final happy thoughts of a dying Harrow. Read more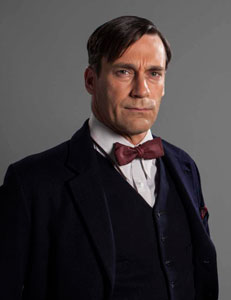 Jon Hamm has rocked television viewers for the last six seasons as Don Draper on AMC's Mad Men. Now he's continuing with another challenging character as a morphine-addicted middle-aged man looking back on his 24-year-old self, played by Daniel Radcliffe, in Season 2 of the British TV series, A Young Doctor's Notebook.
Hamm looked back at his own life at 24 with The Observer.
He shared what he would tell his young self, "I'd be telling him, just work harder. I had been doing plays back then. At 24, I'd just come to Los Angeles. When you think of yourself in your 20s you tend to obscure some of the worst memories and inflate some of the good parts. If I think back to my first couple of months as a professional actor, I cringe: I was such an idiot. In film and television there are so many customs that you don't know about. You just blunder in." Read more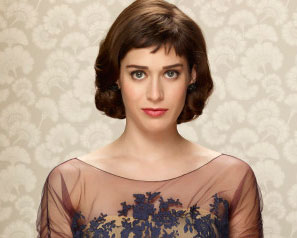 Here's a SAG Foundation Q & A with Lizzy Caplan where she talks about her new Showtime series, Masters of Sex.
In the interview, she talks about how she fought for the role of Virginia Johnson, why she waited so long for the part, shooting the pilot, nerves and more.
Masters of Sex stars Michael Sheen and Caplan as real-life pioneers of the science of human sexuality, William Masters and Virginia Johnson. The series chronicles their unusual lives, romance and unlikely pop culture trajectory.
Check it out below! Read more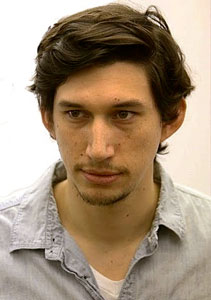 Many actors in Hollywood are just another pretty face, but for Girls star Adam Driver, he's a unique face. As the oddly attractive boyfriend of Hannah on the HBO series, the 29-year-old actor knows he is not your typical chiseled Tinsel Town performer.
He joked about himself, "I'm like a sight gag. I have this really big face."
In fact, one TV writer even described his looks as "worthy of the Mongolian plains."
Driver takes it all in stride since he is atypical in a land where many leading men stand around 5-foot-10 while he towers at 6-foot-3.
He explained, "Costume people are always saying they don't have clothes big enough for me."
The cable star seems a bit baffled by his success with his unconventional looks. Read more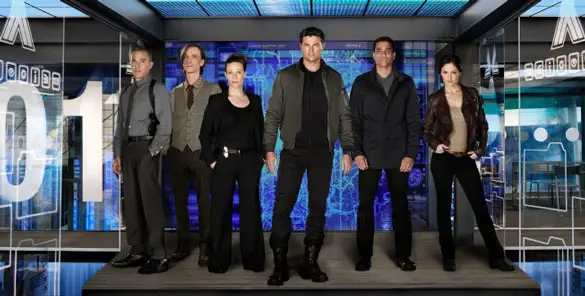 The latest project to come out of J.J. Abrams Bad Robot production company is Almost Human, a police procedural show set 35 years in the future, where officers are partnered with highly evolved human-like androids.
The show looks really fun and I always trust a show with Abrams behind it. But, I gotta say, is Abrams human? He's got like 8,000 projects either airing or in the works, most notably the upcoming Star Wars movie. I would love to find out how he does time management. Actually, that should be his next show, J.J. Abrams Time Management.
I joined in on a recent conference call where Abrams and fellow Executive Producer J.H. Wyman talked about the upcoming show. In the interview, they chat about the show, working with the actors (Karl Urban, Michael Ealy and Lili Taylor) and the civil rights of robots. And yes, there are some Star Wars questions thrown in!
Almost Human debuts with a special two-night premiere on Sunday, November 17th and Monday, November 18th, 8/7 Central on Fox.  Read more