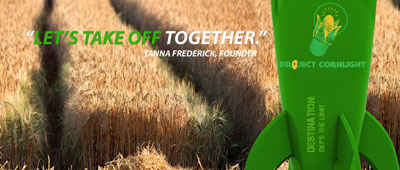 Actress Tanna Frederick's Project Cornlight's mission is to expand the film and performing arts industries in Iowa; to foster Iowa filmmakers, actors and writers; to give Iowans the opportunity to work with and learn from Hollywood professionals, and to stimulate the economy and tourism by growing artistically strong and commercially viable feature films from the Heartland. Project Cornlight will develop professional creative arts projects which utilize Iowa resources for locations, talent, crew, screenings, performances and presentations.
These actions will create Iowa jobs and stimulate economic activity as Project Cornlight encourages new opportunities for Iowa's creative workers. Project Cornlight is Co-Directed by Kimberly and John Busbee, two well known Iowa film industry professionals who also are working respectively as Casting Director/ Producer and Locations Manager/Production Supervisor for THE FARM, the first of the Project Cornlight film initiative to help revitalize the film industry in Iowa. Read more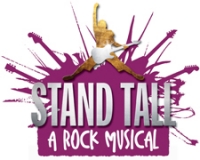 Our friend, Jef Canter – one of the stars of Stand Tall - sent this to us. Go see it!
Casting has been announced for the New York Musical Theatre Festival production of Stand Tall, billed as a "family-friendly musical that puts a contemporary pop/rock twist on the classic David and Goliath story," which will play the 45th St. Theatre Mainstage July 19-29.
Directed by Simon Greiff and produced by the New York Musical Theatre Festival and Shrill Productions, the cast will be headed by Gerard Canonico (Moritz in Spring Awakening, Gavroche in Les Misérables, the original cast of American Idiot) and Trista Dollison (The Lion King).
Joining Canonico (as Goliath) and Dollison (as the Black Sheep) will be Bryan Welnicki as David, Jef Canter as King Saul and Jill Shackner as Princess Mia.
With book and lyrics by Lee Wyatt-Buchan and music by Aldie and Sandy Chalmers, the musical, which debuted in the U.K., is the only production from outside of North America in this year's festival. Read more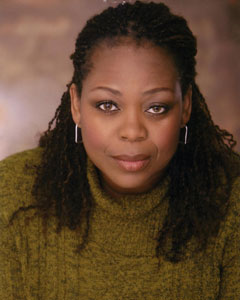 San Diego Musical Theatre is thrilled to present RENT, June 22-July 8 (press opening on June 23) at the Birch North Park Theatre.
Only the fifth musical to ever win both the Pulitzer Prize and the Tony Award for Best Musical, critics have called RENT "the best thing that has happened to the Broadway musical in a long time!"
The musical RENT, inspired by Puccini's La Boheme, is a joyous, breathtaking and often heartbreaking musical that celebrates a community of young artists in downtown New York looking for love and success and struggling to make their mark on the world. RENT captures the heart and spirit of a generation.
THE CAST
SDMT is proud to announce that Gwen Stewart will reprise the role she created in the original Broadway company of RENT, including introducing the solo vocals for the musical's central theme song, "Seasons of Love".
The cast will also feature Dylan Hunter as Mark and Casey O'Farrell as Roger, along with Shaun Tuazon (Angel), Loren Smith (Collins), Desmond Newson (Benny), Katy Harvey (Maureen), Nicole Tillman (Joanne), Ann-Michele Schneider (Mimi), Marisha Castle (Alexi), J.D. Driskill (Gordon), Charles W. Patmon, Jr. (Mr. J), Cordell Mosteller (Paul), Leslie Tammone (Mrs. Cohen) and Tom Vendafreddo (Steve). Read more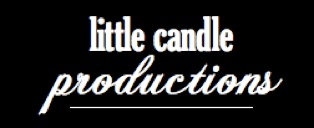 Little Candle Productions Presents Shakespeare's "The Winter's Tale" For One Night Only at Glendale's Alex Theatre
Los Angeles' Newest Theatre Company to Make Debut with One of the Bard's Most Beloved, Yet Rarely-Produced, Plays
On June 29, 2012, Little Candle Productions, Los Angeles' most exciting new theatre company, will make its grand debut with a one-night only performance of "The Winter's Tale" at Glendale's historic Alex Theatre.
The brainchild of three theatre school friends, Little Candle seeks to draw attention to the fleeting reality and ephemeral nature of theatre.  Instead of reproducing a show again and again, the company seeks to unite actors, crew and audience in a once-in-a-lifetime, never-to-be-repeated experience.  Read more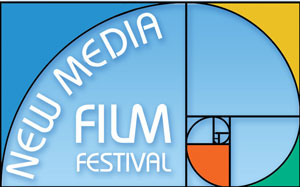 2nd Annual New Media Film Festival SF Bay Area Sat. Nov. 5, 2011

Landmark Lumiere Theatre 1572 California St. SF, CA
Touted as "Sundance for the Facebook Crowd" – Culture Rehab Enjoy 45 New Media "films" & Filmmakers, Panels w/ 8 New Media CEO's and 2 journalists, Red Carpet Interviews & Awards Ceremony for only $30.
Go to www.NewMediaFilmFestival.com click on attend.
Why Submit & Attend New Media Film Festival™?
Watch content from New Media Categories • Affordable, Attainable • Hear Award winning Panelists in New Media, Monetizing & Distribution • International Screenings & Art Exhibit • Networking Lobby w/ Popchips & Metromint • New Media Marketing Table, place one/take one
3D, Jason Alexander, Yoko Ono Music and Lorne Lanning Screen at 2nd Annual New Media Film Festival 2011 Press Release info with trailer here:  http://ht.ly/4wp1D
Judges from Pixar, UTA & ILM
Submit in  categories such as Mobile, Webseries, Shot On Red, LGBT, SRC-Socially Responsible Content, 3D, Features, Docs, Shorts, Animation & Music Videos, Live Stream, Trailers, Online Audience, Apps. Individual category prizes as well as a Grand Prize valued at over $22K. Distribution Opps.
More info: http://www.NewMediaFilmFestival.com
If you're in the mood to watch 2 great films then head to Dances With Films, at the Laemmle Sunset 5 in West Hollywood, CA.
Catch "10 Years Later" this Friday, June 3rd and "Letting Go" the following Wednesday.
Below is the info!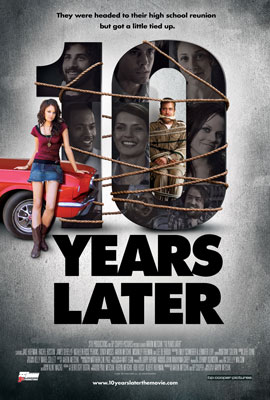 "10 Years Later" by first-time feature film director Aaron Metchik, features breakout performances by Jake Hoffman, son of legendary actor Dustin Hoffman, and Rachel Boston ("500 Days of Summer"). This compelling film tells the story of six best friends from childhood, returning home 10 years after High School to mark the milestone of their 10-year reunion.
As with many reunion-goers, the anticipation of a good time partying and reliving fond memories is contrast with the initial unspoken anxiety to 'compare notes' and live-up to the accomplishments and expectations of their peers.    This onetime tight-knit group of friends is quickly forced to drop any form of propped up pretense or façade when an unavoidable truth from their past surfaces and triggers a wild string of events that make each individual face their own vulnerabilities and shortcomings.  In doing so, they must come to terms and re-think the depth of their friendship in this now twenty-something existence.
Confronted by the bizarre and unexpected crisis that arises, will their bond still be strong enough to resolve the past and save them from the current circumstance that now threatens their future?  Told with a comedic wit thread amongst heightened circumstance,  "10 Years Later" offers a bounty of inviting and real characters that likely mirror parts of ourselves and, if not, then certainly others we know.
This onetime tight-knit group of friends is quickly forced to drop any form of propped up pretense or façade when an unavoidable truth from their past surfaces and triggers a wild string of events that make each individual face their own vulnerabilities and shortcomings.  In doing so, they must come to terms and re-think the depth of their friendship in this now twenty-something existence.
"10 Years Later" screens at the Dances With Films film festival:
5:00 PM (PST) Friday, June 3rd at the Laemmle Sunset 5 Theaters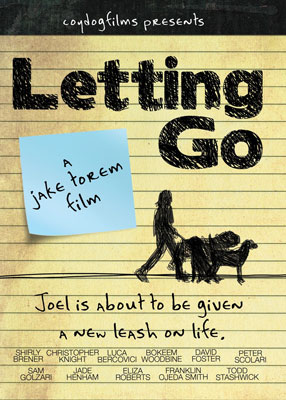 "Letting Go" features Christopher Knight (Peter Brady of the famed "Brady Bunch" Television Show) in an unexpected and refreshingly entertaining performance.  Similarly, Peter Scolari ("Bosom Buddies," "Newhart") delivers in his role as the irreverent dog trainer along with legendary Grammy & Academy Award winning music producer, David Foster, who more than holds his own on screen as the 'Hollywood Mogul'.  Bokeem Woodbine ("Dead Presidents," "Jason's Lyric,"  "Crooklyn," "Ray," "Gridlock'd") and a host of other talented actors round out the colorful cast of characters in "Letting Go."
Lest not forget, Dragon, Ted, and Hurricane, three 'everyday' dogs who make their onscreen debut in the film having never acted before, and steal the show. (Torem personally trained all of the dogs from scratch prior to and during shooting)
"Letting Go" follows the trials and tribulations of Joel Slater's life, which from the start is out of control.  He exists in a 3 ring circus comprised of his crazy girlfriend, a boss who acts like he's running a fraternity, a maniacal Hollywood executive, 3 gargantuan dogs, which run Joel's life, and the one thing that he doesn't want to look at – the death of his Father.  On his journey to find peace and some sort of resolution, Joel encounters a quirky dog instructor, a caring therapist and an unconventional pilates instructor who each inadvertently lead Joel closer to his own truth.   In the end, Joel learns that his chance for happiness lies in the place least
"Letting Go" screens at the Dances With Films film festival:
7:15 PM (PST) Wednesday, June 8th at the Laemmle Sunset 5 Theaters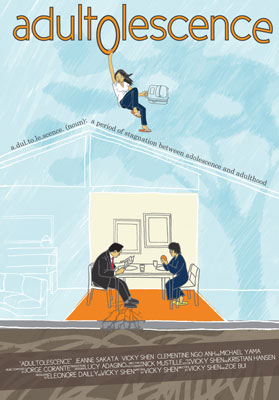 USC film school graduate, Vicky Shen, humbles the "Tiger Mom" controversy with her new film "Adultolescence."
"Adultolescence" will be playing as a free screening on June 6 at the USC School of Cinematic Arts.  "Adultolescence" comes from the blending of two words "adolescence" and "adulthood."  Using the story of stagnation for one twenty-something to reveal larger themes of the economics of emotions for post-grads and their parents, the film also blends the dual identity of American-born children of immigrant parents.  It is ultimately a story about finding peace with the parents, after being boomeranged back home after college, by growing to accept them rather than the other way around.  The film's greatest asset, unbeknownst to itself, is demystifying the TIGER MOM debate by revealing that there is no unifying rulebook when it comes to Asian parenting and garnering an interesting portrayal of an Asian mother by humanizing the individual, rather than making her a stereotype.
—————————————————————————————————————————–
The USC School of Cinematic Arts Summer Screening Series and 56th Parallel Films
invite you and a guest to a special preview screening of
Adultolescence
Followed by a Q&A with Writer/Co-Director/Actress Vicky Shen
7:00 P.M. on Monday, June 6th, 2011
The Ray Stark Family Theatre
George Lucas Building, SCA 108
900 W. 34th Street, Los Angeles, CA 90007
FREE ADMISSION. OPEN TO THE GENERAL PUBLIC.
To RSVP for free tickets please visit… http://cinema.usc.edu/Adultolescence
Visit us www.adultolescence.net
Friend us http://www.facebook.com/adultolescence
You tube us… http://www.youtube.com/user/ADLthemovie?feature=mhum