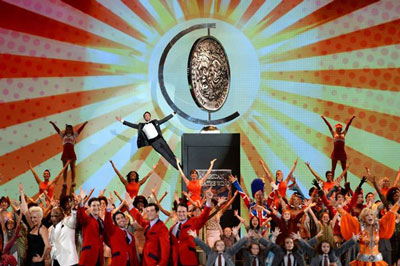 For the fourth time, Neil Patrick Harris hosted the Tony Awards and for the fourth time, he killed it. I can't think of anyone better suited to host the Tonys, can you?
His numbers were the highlights of the show. Besides Kinky Boots, what was better? Nothing that I can remember.
Check them out below. My favorite was the middle number about the cancelled TV shows. Megan Hilty was awesome! Read more
The Tony Awards, the best of all the awards shows in my opinion, crowned their winners last night and Kinky Boots was the clear winner with 6 total awards. The new show by Cyndi Lauper and Harvey Fierstein won Best Musical, Best Original Score and Best Performance by an Actor in a Leading Role in a Musical for Billy Porter, among others.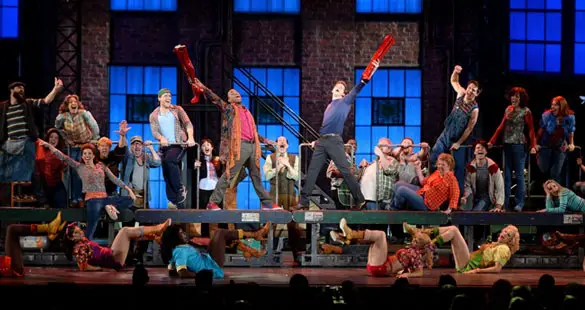 The big shocker of the night was Tom Hanks not winning Best Actor in a Leading Role in a Play. That went to Tracy Letts. I saw Who's Afraid of Virginia Woolf last December and while I'm not a fan of Edward Albee, I have to say, the actors in the show were outstanding and I didn't think Letts winning was a long-shot at all.
The actual show started off with a bang. Neil Patrick Harris' opening number was freakin' gold as was two other numbers he did during the show. Aside from Annie with Jane Lynch, the numbers with the kids (Matilda, Christmas Story) I could have done without. And how bad was Bring It On? No wonder it closed early.
The musical number I thought killed was Kinky Boots. How great did that look? I haven't seen the show yet, but one thing I loved was that the chorus look like normal people. They weren't your typical showgirls, guys… all buffed-up dancers. They looked like me and you (I suppose). Stark Sands and Billy Porter rocked the number.
Below is the list of winner. Check it out! Read more
S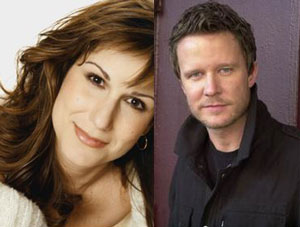 econd Stage Theatre just announced that 2013 Tony Award nominees Stephanie J. Block and Will Chase will co-star in this fall's production of the new musical comedy, Little Miss Sunshine. 
With book and direction by James Lapine and music and lyrics by William Finn, the musical will kick off Second Stage's 35th anniversary season on October 15th, with opening night set for mid-November. 
Block and Chase are both Tony nominees for this season's revival of The Mystery of Edwin Drood.  Read more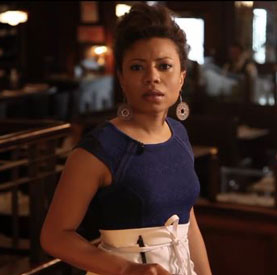 The New York Times has a feature called, In Performance, featuring actors doing monologues from shows, films and theatre and they've all been pretty great.
Recently, they've invited some Broadway actors to go on location as part of their series. In this video, the great Shalita Grant performs a "cinematic interpretation" from Vanya and Sonia and Masha and Spike, where she plays a waitress predicting gloom and doom.
Shalita, who I interviewed last week, is up for a Tony Award for her performance in Vanya and Spike this weekend and I'm crossing my fingers that she wins!
Check it out below! Read more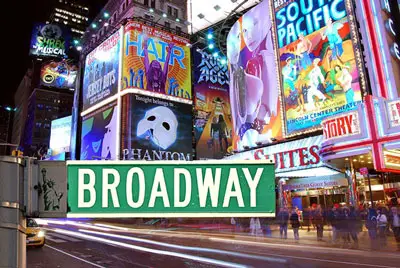 In the past few years it seems like a Hollywood star opens a play on Broadway on almost a monthly basis.  While this is a huge boost for Broadway and New York City – think of how many people traveled to Manhattan just to see Tom Hanks on stage in the last few weeks – the trend of "star casting" is controversial among Broadway regulars, many of whom see it as outsider stars jacking up ticket prices and "taking away" roles from legitimate Broadway actors for huge paychecks. 
In fact, because of stars' salaries – actors like Tom Hanks and Al Pacino are paid upwards of $100,000 per week on Broadway – a detractor might question if spending all that money on a star is even worth it for producers when profit margins in the Broadway business are often razor thin.
Though star casting has a long history in New York (for example, Jackie Gleason did lengthy Broadway runs while he was a television superstar), I looked at the box office data from The Broadway League of select productions from the last five seasons (May 2008-May 2013) to see how effective star casting has been in recent years.  I looked at three primary figures: the total number of performances (including previews), the percentage of seats filled (capacity), and the average purchased ticket price.  The last figure is important because a star could be playing to 80% full houses and the production could still fail because the 20% unsold are the $200+ premium seats that need to sell to cover the star's big salary. Read more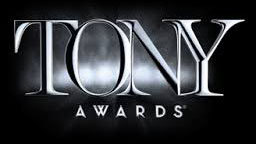 I, for one, can't wait for the Tony Awards. It's by far the best of the awards shows hands down.
Get ready for this list of actors who are set to appear on the 67th Annual Awards show hosted by Neil Patrick Harris:  Jake Gyllenhaal, Sigourney Weaver, Anna Kendrick, Zachary Quinto,  Sally Field, Audra McDonald, Cyndi Lauper, Alan Cumming, Jesse Tyler Ferguson, Megan Hilty, Andrew Rannells, Jane Krakowski, Matthew Morrison, Laura Benanti, Steven Van Zandt, Hal Prince, Andrew Lloyd Webber, Barrett Foa and Mike Tyson.  Read more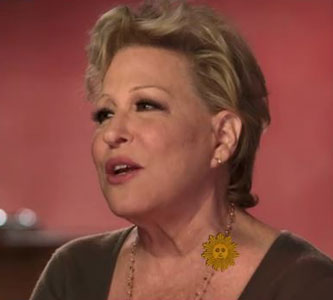 Bette Midler was featured on "CBS Sunday Morning" this past weekend talking about her new one-woman play, I'll Eat You Last. 
She talks about the late Sue Mengers (who she plays) and there's a bunch of footage from the show, which I thought was cool.
Check it out below! Read more
So life after The Office begins for its principal cast, like Jenna Fischer, who had been with the show for the entirety of its nine-year run.  For Fischer "life after" starts with her New York theater debut at the strictly limited engagement world premiere of Reasons to Be Happy, a play by Neil LaBute, which runs through the end of June at the Lucille Lortel Theatre.  Fischer spoke to The Wrap about why she decided to make her stage debut after the end of the biggest success of her career and how she feels about taking on a totally different role than The Office's Pam Halpert.
Fischer admits that she couldn't see herself doing another television show immediately after The Office.  She explains, "My heart wouldn't allow me to step into another television show. The Office was just such a special work environment that I would have felt disloyal or something.  It's like a relationship. How do you date again after you've had your heart broken? So I wanted a work experience that was totally different. I moved to a different city, I worked in front of a live audience on a stage with no cameras or set or anything to remind me of The Office." Read more
David Morse is an actor who has had a long career in film, television, and theater for over thirty years and has never seemed to take a break.  He has returned to the stage in New York in The Unavoidable Disappearance of Tom Durnin at the Roundabout's Laura Pels Theatre.  He took some time to speak to The Wall Street Journal about returning to the New York stage for the first time since starring in Broadway's The Seafarer five years ago.
Morse has nothing but the highest praise for his fellow actors, who are members of the famed Roundabout Theatre Company.  He says, "You never want to get too excited about something, but this is a great company. I love not only working with them but watching them work." Read more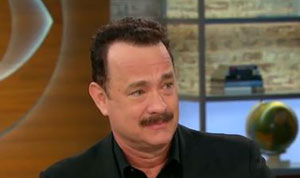 With a Tony Nomination and almost certain Tony Award for Lucky Guy around the corner, Tom Hanks is everywhere right now. Not that that's a bad thing because I love the guy and would (and do) watch most all of his appearances.
In this interview, the hosts banter about his habit of photographing lost gloves and putting them up on twitter and being a grandfather.
He also spills coffee on the desk and blames the "bad CBS coffee cups" while being asked about the challenges of doing the show. "I was worried, quite frankly, about the physiology for it," he said. "I didn't know if I had the tools or if I was in shape."
Check it out below! Read more