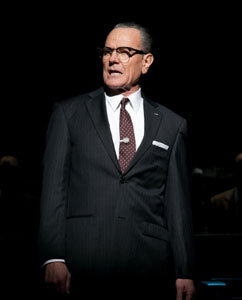 Bryan Cranston will make his Broadway debut as Lyndon B. Johnson in the play All the Way.
The play will finish its run at the American Repertory Theater in Cambridge, Massachusetts this Saturday.
Synopsis: 1963. An assassin's bullet catapults Lyndon B. Johnson into the presidency. A Shakespearean figure of towering ambition and appetite, this charismatic, conflicted Texan hurls himself into the Civil Rights Act, a tinderbox issue emblematic of a divided America. In the Pulitzer Prize–winning playwright's vivid dramatization of LBJ's first year in office, means versus ends plays out on the precipice of modern America. Read more
Here's another video in the great New York Times series, In Performance. This time, we get Joe Manganiello as Stanley Kowalski. He's currently starring as Kowalski in the Yale Repertory Theater's revival of Tennessee Williams's 1947 drama, A Streetcar Named Desire.
In the scene below, Stanley talks to his wife Stella (Sarah Sokolovic) about how their life will return to normal once her sister, Blanche (Rene Augesen) finally leaves their New Orleans apartment. 
The play runs through October 12th.
Read more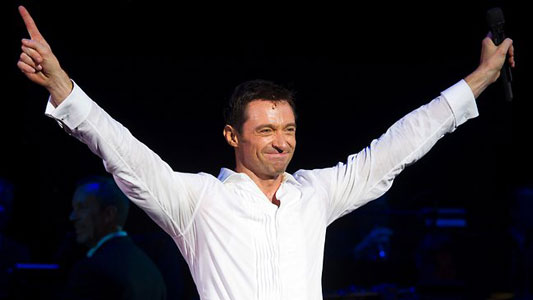 Hugh Jackman might be a blockbuster movie star, but he's also one of the major Broadway stars of the last decade.  His past two returns to Broadway — first in the play A Steady Rain and second in a solo musical revue Hugh Jackman, Back on Broadway — sold out 101% and 99% of all available seats, respectively. That doesn't even account his first Broadway success, which was the lead role in The Boy From Oz, for which he won the 2004 Tony and Drama Desk awards.  Heck, he was even given a special Tony Award in 2012 pretty much for just being Hugh Jackman.  The Great White Way loves this man. Read more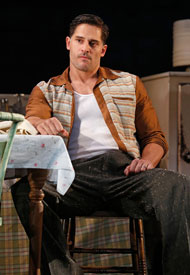 Every few months we run a story here at Daily Actor which I think sets a new low in lack of theater etiquette. There was that time someone in the balcony threw up onto the audience below.  There was that time that an audience member refused to stop using her phone so a nearby writer took it and threw it across the theater.  Then there was that time that the short-lived Breakfast at Tiffany's play had to ask audience members to stop taking photographs of star Emilia Clarke during her brief nude scene.  Often there is little the actors can do about this behavior except ignore it as they go on with the show.
But Magic Mike actor Joe Manganiello, who is currently starring in Yale Repertory Theatre's production of A Streetcar Named Desire, struck back at a rude audience member who took photos during the first act of the performance.  Read more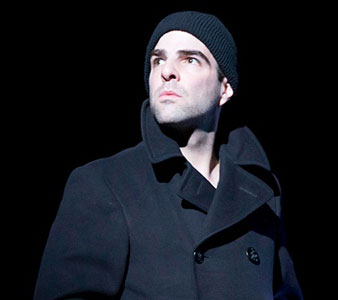 Though Zachary Quinto has been acting in theater for his entire career, it wasn't until his current starring role in The Glass Menagerie that Quinto made his Broadway debut.  Though he's appeared on stage in New York before — he starred in an off-Broadway production of Angels In America shortly after he starred in Star Trek — Quinto tells the Associate Press just how happy he is to fulfill his lifelong dream of finally making it "on" Broadway in New York.
Quinto reveals that he sees himself as currently living nearly every actor's fantasy.  He recalls, "I was walking to work today. I've been walking the past few days because it's so beautiful out, so I walk from downtown. And I was like, 'This is my life' — living in Manhattan, a dream I've always had, and I'm walking to my theater on Broadway to do Tennessee Williams. It's not lost on me. I really am humbled by it often. I feel really grateful." Read more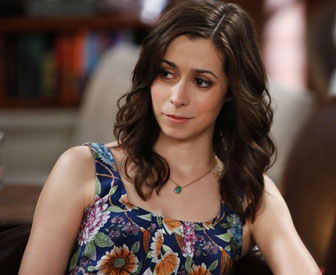 So the secret is out: the titular mother of How I Met Your Mother was finally revealed to be played by Cristin Milioti in the eighth season finale.  Not only did she have to keep her casting a secret from everyone, even auditioning for the role was difficult to fit in her schedule.
Milioti auditioned for the show while starring in the Tony Award-winning Broadway musical Once, during which she was also appearing in Martin Scorsese's The Wolf of Wall Street as Leonardo DiCaprio's wife.  She spoke to The Wall Street Journal about the ultra-secret audition for the TV show and what she feels is the difference between theater and film and television. Read more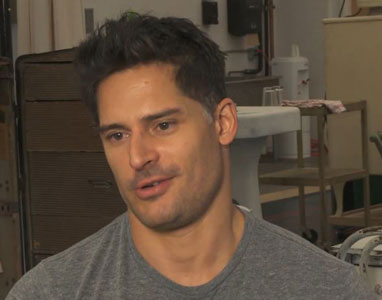 For True Blood fans, Joe Manganiello is known for his portrayal of Alcide Heveaux, the leader of a werewolf pack on the HBO show. The primal role was the big break in his career, but he's using his hiatus from the show to go back to where he started, the theatre.
The 36-year-old classically trained actor is spending part of his fall at New Haven's Yale Repertory Theatre playing Stanley Kowalski in A Streetcar Named Desire. He talked with The Courant about the iconic role and how his commanding physique got him cast without auditioning. Read more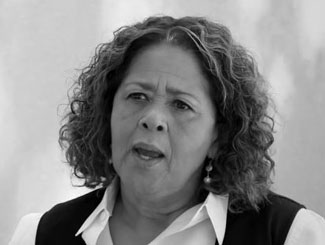 Pulitzer Prize winner and Tony Award nominee Anna Deavere Smith has never been one to wait for her career to happen. She knew early on that she was going to have to make opportunities for herself in the entertainment industry.
Her first agent never knew how to submit her for projects as an actress. She asked the young talent "Will you go as black or white?"
As a result of that agent's lack of understanding and vision, Smith shared, "What I've created in my career is the ability to play anybody." Read more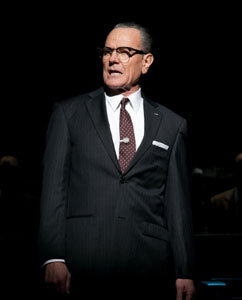 Whether you are a fan of the series or not (and who isn't?), Breaking Bad is truly something special.  And undoubtedly the main reason for that is Bryan Cranston, an actor previously best known for his comedic television roles who has completely reinvented himself as Walter White, the meth-dealing high school chemistry teacher.  Of course, although the series is winding up its final episodes Breaking Bad has finished filming and Cranston has moved on to his next role, which is playing president Lyndon B. Johnson in All The Way at Harvard University's American Repertory Theater — a run that has already been sold out each performance in its entirety. 
In an interview with Radio Boston, Cranston spoke at length about preparing for his latest role after completing what will likely be known as one of the best television series of the decade. Read more
Two New York City news stations stopped by the open call auditions for Motown The Musical's upcoming National Tour.
They go behind the scenes, talk to some of the hopeful actors and even talk to casting director, Bernie Telsey.
Check them out below! Read more