Interviews

Q & A: John Krasinski Talks the End of 'The Office', His Audition, Past Commercials and More
John on the end of 'The Office': "It's a life-changing event and there's just no way to describe it"

Interview: Johnny Ray Gill on 'Rectify', Booking 'Harry's Law' Right Out of College and Making "Bold Choices"
Johnny on auditions: "Each character is a jigsaw puzzle & after I get the call 9from my agent) my quest is to find how all the circumstances fit"

Q & A: Emily Deschanel Talks 'Bones', if the Show is Still Challenging and Motherhood
Emily: "It really depends on the scene what the challenge is, but I think changing tone really can be very challenging for me"
Click Here For More Interviews!
Acting Advice

The Actor's Guide to the Twitter-verse
There's a right way and a wrong way to tweet. Dallas shares 2 easy tips to help you make the most out of your tweets

4 Steps to Gaining Publicity and Utilizing the Power of Networking
Publicity is something that everyone in entertainment should be conscious of!

Playing Games: Comparing Actors and Athletes
When an athlete is in the zone, they're not concerned with "getting it right" or "doing well." – they just play
Want To Read More Columns? Click Here!

Latest News
New 'Anchorman 2′ Trailer!
May 18, 2013 | Leave a Comment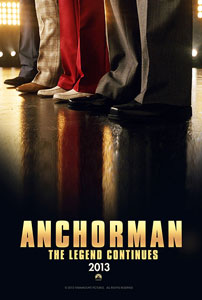 Here's a new teaser trailer for Anchorman 2: The Legend Continues!
Starring Will Ferrell, David Koechner, Paul Rudd and Steve Carell, it's pretty much the same as the first teaser trailer but who cares, right? It's still funny and it's just making me wish it were already December.
In theaters on December 20th! Continue »
Watch the Trailer for the Final Season of 'Dexter'
May 17, 2013 | 2 Comments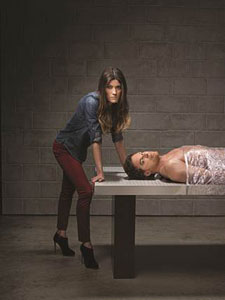 Showtime just released the trailer for the eight and final season of Dexter.
Deb (Jennifer Carpenter) to Dexter (Michael C. Hall): "I shot the wrong person…"
Dexter premieres on Sunday, June 30th on Showtime. Not soon enough for me. Continue »
Benedict Cumberbatch Asked Meryl Streep for Acting Advice and Didn't Get It… But He's Happier That Way
May 17, 2013 | Leave a Comment
I think just about any actor would love to pick the brain of Meryl Streep, who is widely recognized as one of the best actresses of all time. 
Benedict Cumberbatch admits that he approached Streep on the set of August: Osage County, which is due out later this year, to ask her about how she would approach a multi-layered character like his Star Trek Into Darkness villain John Harrison.  Unfortunately, Streep didn't have much advice for him — but as he tells New York magazine, that was oddly exactly what he was hoping for! Continue »
Michael Shannon: "For me the thought of trying to be in character all the time makes me very tired"
May 17, 2013 | Leave a Comment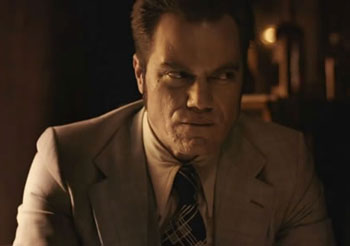 I'm sure I'm not the only one, but Michael Shannon playing the villain has me more interested in Man of Steel than anything else.  That's because ever since I saw Take Shelter and started watching Boardwalk Empire Michael Shannon has become one of my favorite actors.  In an interview with the San Diego Reader, Shannon speaks about his early career, whether or not he believes in staying in-character on set, and is very open about his motivation to take roles. Continue »
Lake Bell: "The most difficult thing about acting and directing in a film is acting and directing in a film"
May 17, 2013 | Leave a Comment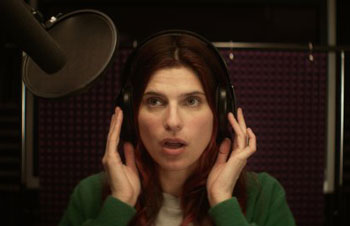 Lake Bell has worked steadily in film and television since appearing in her first major role as Alicia Silverstone's character's best friend in the short-lived NBC series Miss Match (which I do not remember ever existing, but apparently it did).  She has also branched out into writing and directing, but she still remains an actress.  She stars in the horror movie Black Rock alongside Katie Aselton, who co-wrote and directed the film.  Bell spoke to Interview magazine about the way the film was shot and how she feels about working with other directors now that she is a director herself. Continue »
Producers of 'American Psycho: The Musical' Are Using Kickstarter to Raise More Cash for Production
May 17, 2013 | Leave a Comment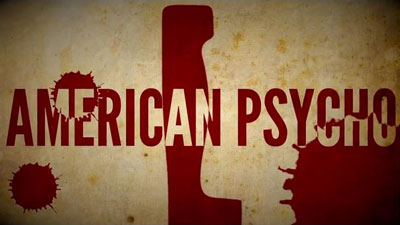 With all the recent talk about Kickstarter surrounding Zach Braff's decision to use it to raise money for his next film (and Melissa Joan Hart's failed attempt to do the same), it's good to know that there's a campaign going to support a serial killer.
Okay, let me rephrase that — it's a campaign to support Patrick Bateman, the titular psycho in American Psycho, as the classic novel is being adapted as a musical.
Duncan Sheik — who is best known for writing the music for Spring Awakening — already has a deal in place to stage the premiere of the musical at The Almeida Theatre in London, but he and the other producers are hoping to raise $150,000 on Kickstarter to add more to the production.  He tells The New York Post, "This allows us to up the ante in terms of what the production is going to entail.  I think it's about being able to do things in the space that make for a really cool immersive theatrical experience." Continue »
Writer Throws Cell Phone of Nearby Theatergoer Who Refused to Stop Using It
May 17, 2013 | Leave a Comment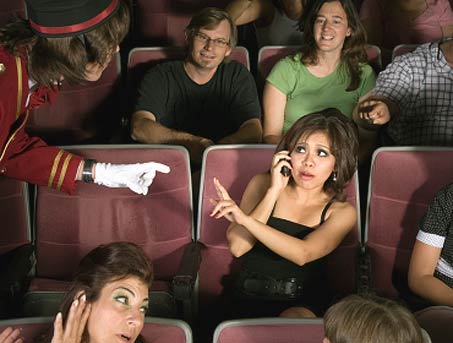 Next time you see a play in New York City be very sure not to use your cell phone during the performance… not only because it's really, really rude, but also just in case you are sitting next to Kevin Williamson.
Williamson, who is the Deputy Managing Editor for The National Review and writes about theater for New Criterion, was in attendance at a performance of Natasha, Pierre, and the Great Comet of 1812, a cabaret-style musical adapted from Leo Tolstoy's War and Peace.  The production takes place in a tent and the audience is seated at small tables, which led to an incident in which Williamson was thrown out for throwing another close-sitting patron's cell phone across the room. Continue »
Trailer: 'Last Vegas' starring Michael Douglas, Robert De Niro, Morgan Freeman & Kevin Kline
May 16, 2013 | Leave a Comment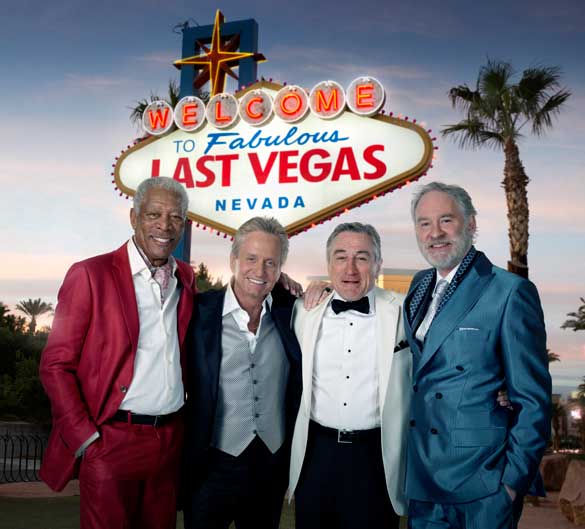 Last Vegas: Billy (Academy Award®-winner Michael Douglas), Paddy (Academy Award®-winner Robert De Niro), Archie (Academy Award®-winner Morgan Freeman) and Sam (Academy Award®-winner Kevin Kline) have been best friends since childhood. So when Billy, the group's sworn bachelor, finally proposes to his thirty-something (of course) girlfriend, the four head to Las Vegas with a plan to stop acting their age and relive their glory days. However, upon arriving, the four quickly realize that the decades have transformed Sin City and tested their friendship in ways they never imagined. The Rat Pack may have once played the Sands and Cirque du Soleil may now rule the Strip, but it's these four who are taking over Vegas.
Directed by Jon Turteltaub
Written by Dan Fogelman
Starring Michael Douglas, Robert De Niro, Morgan Freeman & Kevin Kline
In Theaters: November 1st Continue »
'Star Trek Into Darkness' Chris Pine, Zachary Quinto and J.J. Abrams Answer Fan Questions (video)
May 16, 2013 | Leave a Comment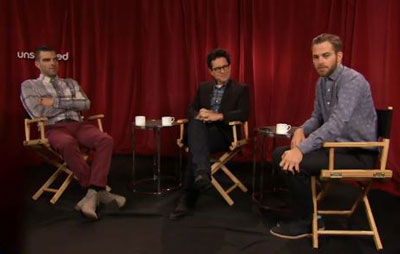 Chris Pine, Zachary Quinto and director J.J. Abrams got together at the offices of Moviefone to answer some mostly ridiculous fan questions about Star Trek Into Darkness.
Quinto was asked a weird question about if he's worn the Spock ears naked, Pine is asked what the toughest decision he's ever had to make in his career (this was a good one actually and he gave a good, thoughtful answer), and which ship would win in a fight, the Enterprise or Millennium Falcon.
Check out the videos below! Continue »
Benedict Cumberbatch Explains How He Auditioned for 'Star Trek Into Darkness' on His iPhone (video)
May 16, 2013 | 3 Comments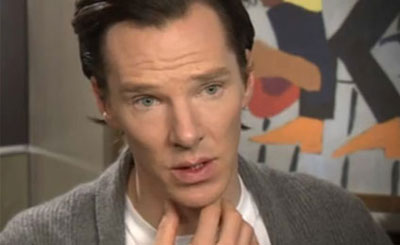 We posted how Benedict Cumberbatch recorded his Star Trek Into Darkness audition on his iPhone a while back but in the video below, Cumberbatch actually explains how that all came about and how he actually did it, complete with the help of his God sons.
The video is from the awful Entertainment Tonight and they show how bad they are with the ominous background music playing in the background. Seriously, what's up with that? It's like they are waiting for him to attack the cameraman.
Check it out below. Continue »