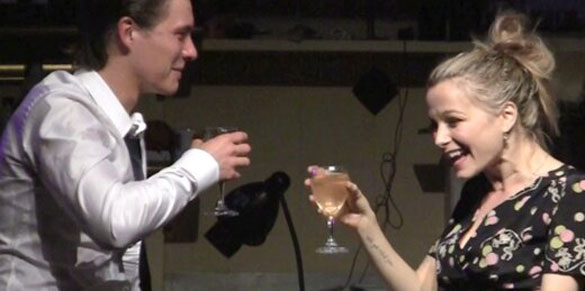 Anyone who has ever been on a blind date knows that it can be a comedy of errors. That concept is exactly what Australian actress Bojana Novakovic and co-director Mark Winter decided to develop at 3 Clubs in Hollywood.
The show started two years ago in Australia, but they have brought the improvisational piece to the U.S. Novakovic spoke to the Los Angeles Times about The Blind Date Project. Read more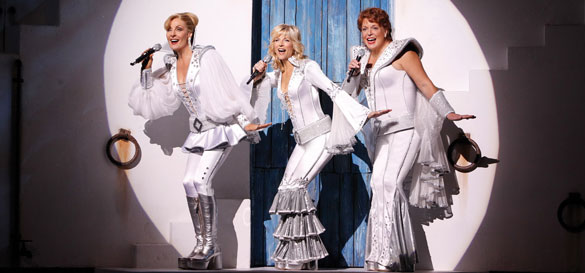 Though statistics show that over two-thirds of people in Broadway audiences are female and plenty of famous actresses continue to grace Broadway stages, backstage the numbers are quite different.
According to The Wrap, only 14 percent of the productions on Broadway during the 2012-2013 season were directed by women. Perhaps even more eye-opening is that of the 28 plays that opened during the same season only three were written by women and only one musical — Kinky Boots — had a score written by a woman. That woman happens to be quite famous herself, pop star Cyndi Lauper, suggesting that female newcomers have an even more difficult road to becoming Broadway composers. The Wrap compiled its statistics through research on the Internet Broadway Database. Read more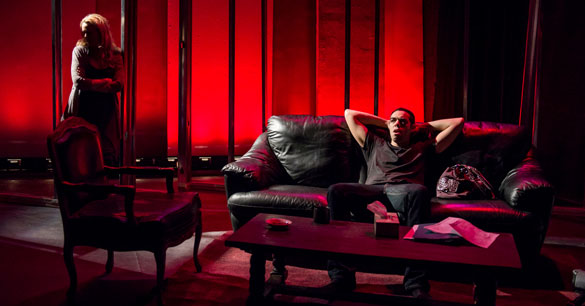 In recent years The Seeing Place has been pairing plays by different playwrights with thematic similarities together in repertory. Through hard work and persistence they have been granted the rights to a number of acclaimed plays, and the current productions maintain that high quality of material – Christopher Shinn's Dying City (nominated for the Pulitzer Prize in 2008) and Lee Blessing's Two Rooms (named Best Play of the Year by Time Magazine in 1988). While in the past I've often been most impressed by The Seeing Place's work with large ensembles, with Dying City and Two Rooms the company presents two one act plays with small casts in rotating repertory that equals their notable work with far larger casts. Read more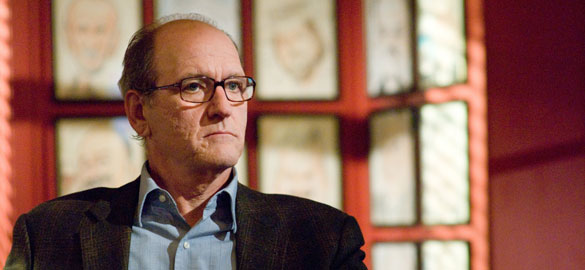 After working for Trinty Repertory Company in Providence, Rhode Island for 14 seasons as a company member beginning in 1970 and serving as its artistic director from 1990-1994, Richard Jenkins has finally returned to his roots. The actor has been busy the few decades as in films like his Oscar-nominated turn in The Visitor and on HBO's Six Feet Under.
This time around, he's not getting onstage, he's directing and choreographing the theatre's latest musical, Oliver!. He's not doing it alone though, he is sharing the duties with his wife, Sharon, just in time for the company's 50th anniversary.
He talked to The Boston Globe as to why he left the stage behind so long ago. Read more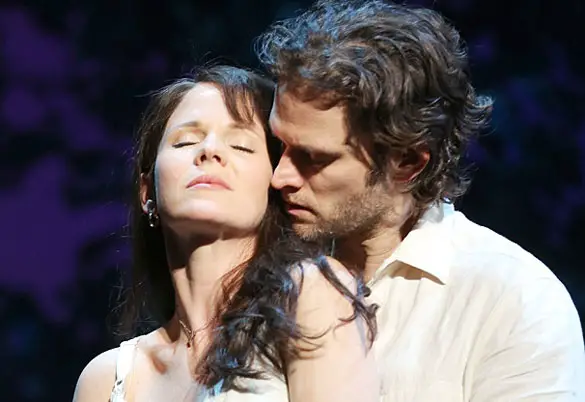 Despite the influx of Hollywood stars on Broadway stages in recent years, the theater community in New York City can often seem like a small world. It's not uncommon for actors to find themselves working with actors over again in different shows. Such is the case with Kelli O'Hara and Steven Pasquale, who stars as the leads in the new musical The Bridges of Madison County. O'Hara and Pasquale previously appeared together in the Seattle and Chicago tryouts of The Light in the Piazza, which was incidentally also directed by Bridges director Bartlett Sher.
However, Pasquale's role on TV's Rescue Me prevented him from playing that role on Broadway. But nearly ten years later the pair finally get to work together on Broadway. O'Hara spoke to The Wall Street Journal about working with Pasquale and why she thinks it's important to stretch before singing. Read more

It might be hard to believe, but when Neil Patrick Harris takes the stage in Hedwig and the Angry Inch in the spring it will be the first time in nearly a decade that Harris has been in a Broadway musical. Sure, in the meantime we've seen Harris sing, dance, host the Tonys (four times) and direct the Off-Broadway play Nothing to Hide, but Harris hasn't been in a Broadway musical since Assassins had a brief run in 2004.
Yet as he tells The New York Times, performing as the titular transgender woman from East Berlin in the Broadway debut of the 1998 Off-Broadway hit is the exact opposite of taking it easy. Read more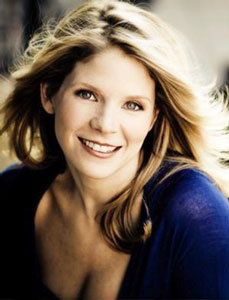 It's starting to seem like Kelli O'Hara is becoming the Susan Lucci of Broadway. 
O'Hara has been nominated for four Tony Awards for a number of acclaimed productions, but has yet to win. However, it's possible that O'Hara might have success with her most out-of-the-box Broadway musical yet: The Bridges of Madison County, based on the bestselling book. She is also negotiating to star in a revival of The King and I in the future, just in case she doesn't get a Tony for this one, either. She spoke about why she insists on challenging herself over and over again in her career, including when she took on a Shakespearean role.
Not only does O'Hara refer to The Bridges of Madison County as her "biggest challenge," but she is doing it as the mother of a five month year old baby. As many new parents will tell you, O'Hara says, "Sleep is a whole different thing for me now," making the production extra difficult. Read more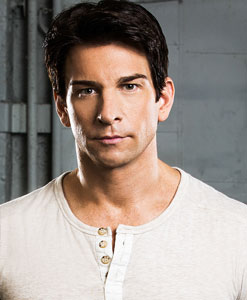 Famously, the story of the making of the 1976 film Rocky is an example of art imitating life. While writer/star Sylvester Stallone might not have been a professional boxer, he was a down-on-his-luck 29 year-old actor who became an overnight success with Rocky. Over three decades later Rocky is being turned into a Broadway musical, and art is again imitating life. 39 year-old star Andy Karl, a Broadway vet who has jumped from understudy role to supporting role throughout his career on stage, and has finally landed his first opening lead role.
He spoke to The New York Times about taking on the famous role, how his life has paralleled Rocky's, and what it's like to get slugged on stage.
Karl admits that the plot of Rocky inspired him to try out for the Broadway role after years of never opening a show as a lead actor. He recalls, "Something came to me. It's like: 'You're either going to sit here and whine about it and let it slip through your fingers, or you're going to stand up to the challenge. And if you don't get this role, at least you fought with everything you could to have it.'" Read more

Acting is all about challenges, but how about this one: doing a one-person show that you have no previous knowledge of, with no direction, without a set and receiving the script seconds before your first, and only, performance. And during the performance, the audience decides whether or not you will drink a glass of water that has supposedly been poisoned.
But this isn't just a nightmare that plagues actors in their dreams, this is the actual scenario surrounding the play White Rabbit, Red Rabbit by Iranian playwright Nassim Soleimanpour, who says his work reflects the manipulation of society in an Iranian version of Animal Farm. As he said to Public Radio International, "We are always part of this manipulation system. We want to sit and complain that we are not slaves, but meanwhile, we'd rather stay in the cage. That's us. We have to accept it." The actor performing the piece is required to act out the parts of all the animals. Read more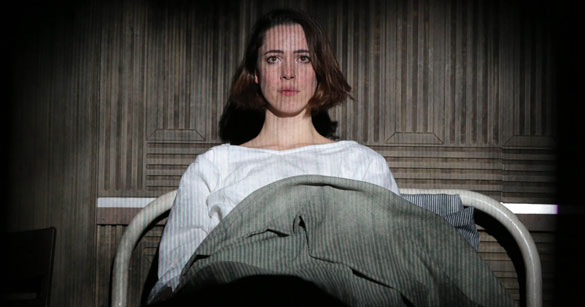 Rebecca Hall might be making her Broadway debut in Machinal, but the Iron Man 3 star has plenty of acting credits in her native England. However, Hall makes it clear in an interview with Broadway.com that she would have done this play anywhere. In Machinal she portrays a housewife who is paralyzed by depression regarding her lot in life. Though the play was written by Sophie Treadwell over eighty years ago, Hall speaks about the modern complexity of the role and how she "comes down" from her intense performance. Read more