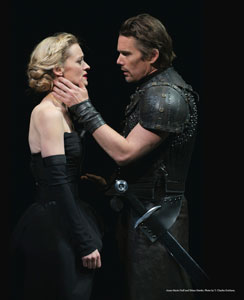 New York City must have a strong appetite for Macbeth.  In just the past five years, Macbeth has already been on Broadway twice: in 2008 starring Patrick Stewart in the title role and earlier this year starring Alan Cumming in his rather unorthodox nearly one-man show version. During that time there have also been several Off-Broadway productions, dozens of Off-Off-Broadway reinventions, and even the celebrated interactive adaptation Sleep No More that has been running at the McKittrick Hotel for nearly three years (I always thought my last name made a charming name for a hotel, even a fake one.  But I digress…)  The next major production has already been announced too: Kenneth Branagh will be bringing his celebrated production from the Manchester International Festival to make his New York theater debut.
So the question of the current production of Macbeth starring Ethan Hawke at Lincoln Center's Vivan Beaumont Theater is not so much what the production does, but what it does differently.  After all, everyone in the audience likely knows the story – it is one of Shakespeare's most widely-known plays and deeply ingrained in our culture – so in many ways those tackling it end up focusing on style over substance. Read more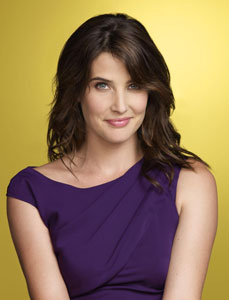 When an actor portrays the same character on a television series for nine seasons, it's common that he or she will be associated with the characteristics of that character by fans of the show.  It doesn't help if that actor goes on to portray similar characters in outside projects, too. So when How I Met Your Mother's Cobie Smulders says that the common perception of her is "Some tough chick.  I do all these things where I like guns, and I'm kind of a guy's girl." She wonders, "I have NO idea where that comes from."
Of course, that perception doesn't come from nowhere.  Along with her How I Met Her Mother character Robin, Smulders also appeared as S.H.I.E.L.D. Agent Maria Hill in The Avengers.  Still, Smulders doesn't want that tough perception of her to completely go away.  After all, her personal goals include, "A long, life and career, I hope, in the Marvel Universe" (she will reprise her Marvel role in Captain America: The Winter Soldier and Avengers: Age of Ultron). Read more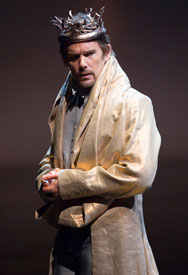 Ethan Hawke is an actor who has never shied away from the theatre. This season he's tackling a big role, playing the title role in Macbeth on Broadway at the Vivian Beaumont Theater at Lincoln Center.
The Academy Award-nominated actor is taking an interesting approach to the role though. Instead of staying away from watching other thespians play the role, he spent time studying their portrayals.
Hawke said, "I decided, 'I'm going to watch 'em all.' All summer I did this. I thought if I had one in my head too much I might imitate it. So I inundated myself with it. I can't even remember what anybody did."
The Training Day star viewed some pretty impressive performances, too. From Sir Ian McKellen to Sean Connery to animated versions of the William Shakespeare play, Hawke was ready to take on the challenge. Read more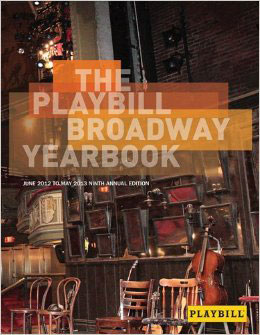 Getting The Playbill Broadway Yearbook every year is a true joy, especially this year's edition (June 2012 through May 2013). I was only able to get to New York once during the season and missed some fantastic shows.
The new edition of helped me both relive those shows and, to be honest, made me a bit sad of the ones I missed (I'm talking to you Death of a Salesman and Lucky Guy!)
The book features new shows like Matilda, Motown: The Musical, Bring It On! and the usual long-running suspects like Wicked, The Book of Mormon and Once (all three wonderful shows!)
The first thing that you'll notice about the book is the ton of pictures it features; both on-stage and off, candid pictures, group pics, headshots and more. Who has the best headshots of the book? That's easy! The past season had some actors of the furry variety – Annie's Sandy , played by Sunny, and his understudy (played by Mikey) and the three cats, Montie, Moo and Vito Vincent from Breakfast at Tiffany's. I have no idea how they got the cats to pose for headshots, I can barely get my cats to stay still for even a small amount of time. Read more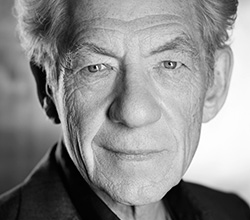 While not every professional actor is a good source of advice (just trust me on that), an actor as respected as Ian McKellen ought to have at least one or two pieces of good advice to pass along to aspiring actors.  During a rare break from acting in his current double bill of Waiting for Godot and No Man's Land on Broadway and taking goofy photos all over New York City with co-star and dear friend Patrick Stewart, McKellen spoke to Men's Journal Magazine and shared some advice on acting, handling fame and criticism, and what Shakespeare plays he thinks everyone should be familiar with.
When asked what advice he would give to a younger version of himself, McKellen says, "Work isn't everything. I think that has been my fault and my virtue at the same time." Read more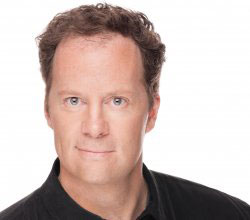 Though Ian McKellen and Patrick Stewart are obviously the stars of the productions of Waiting for Godot and No Man's Land now on Broadway, even those two can't play all the roles themselves (thought who wouldn't like to see them try?)  One of the other actors involved is Shuler Hensley, who spoke to NJ.com about taking a role in such a high-profile and challenging production.
Hensley admits that when his friends asked him if it possible to do both plays in the same day, he honestly didn't know if he could pull it off.  He points out, "It's the same as when you say, 'Are you ready for children?' You don't know. You can't answer that question until you do it." Read more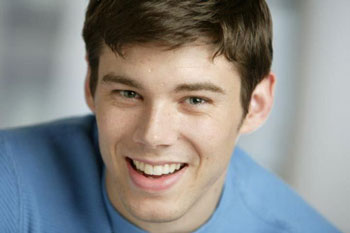 The Army or an acting career? That was the choice Brian J. Smith faced back in 2007 when he walked down to the military recruitment office in Manhattan after a string of bad luck in his personal and professional life.
"I was two months behind in the rent, I didn't have insurance and I'd just auditioned for [a role] and was told they went with somebody else," said the 32-year-old actor. "I figured, it's a sign! I went to the recruitment office on West 72nd Street and was going to show up the next morning at 8 for a physical."
However, fate stepped in and changed the entire course of his life. His agent called before he was supposed to complete his Army physical. Read more

Monday night saw the thirteen annual 24 Hour Plays event in New York City at the American Airlines Theater, and if the event by its nature wasn't confined to a single day one would expect that the popular fundraiser was long overdue for expansion.
Actors participating this year included Jesse Tyler Ferguson, Rachel Dratch, James McAvoy, Anthony Mackie, Rosie Perez, Jason Biggs, Zachary Levi and Krysta Rodriguez and each brought their own props and costumes.  Levi's and Rodriguez's participation is particularly impressive considering they are currently starring in First Date on Broadway and this would have normally been their night off! Read more
Aft
er a half dozen cast injuries, over $12,000 in fines for safety violations, hundreds of late night jokes, $75 million in production costs, millions of dollars more in worldwide advertising, and over 1000 performances, Spider-Man: Turn Off the Dark will reportedly close on Broadway in January.  It brings to a close the most expensive and one of the most controversial Broadway shows of all time without recouping its immense costs for its producers.
What exactly went wrong for the production?  Well, actually, seemingly everything did.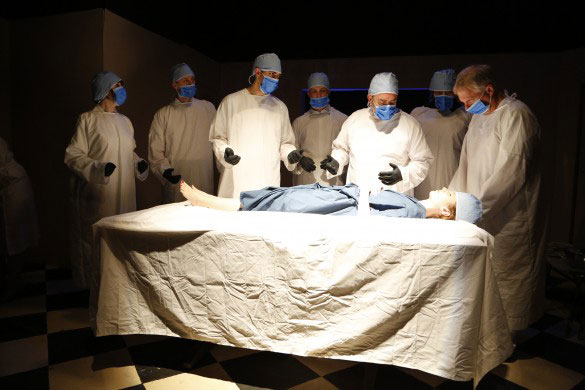 Indie theater is a tough business (like I really need to tell you that), so often there is a reliance on trotting out well-known classics in order to pack the house.  Even Broadway isn't immune to this either (when Kenneth Branagh brings his production of Macbeth to New York next year it will be the fourth major revival in less than a decade), so it's refreshing to see an indie theater company — particular one that is already worthy of admiration like The Seeing Place — revive a rarely-produced eighty year-old Pulitzer Prize winning play. The Seeing Place made an excellent choice in reviving Sidney Kingsley's hospital drama Men In White, which not only is a great fit for the company's strengths but is surprisingly timely with its focus on the stresses (both personal and economic) placed on medical professionals. Read more