Christopher Meloni, already one of Hollywood's most successful television actors, solidifies his leading man status with a number of much-anticipated feature films. He will next be seen in Zack Snyder's "Man of Steel," opening in June. Meloni then stars in "Small Time," with Bridget Moynahan and Dean Norris, due for a limited release later this summer.
In October, he co-stars with Josh Brolin, Bruce Willis, Jessica Alba, Joseph Gordon-Levitt, Eva Green, and Mickey Rourke in "Sin City: A Dame to Kill For," the sequel to 2005's screen adaptation of Frank Miller's highly regarded graphic novel. Currently, Meloni is co-starring in the indie comedy "Awful Nice," which premiered to great reviews at the 2013 SXSW Film Festival in Austin. He also has two other films awaiting release dates for 2013/2014: "They Came Together," directed by David Wain and also starring Paul Rudd, Amy Poehler, and Ed Helms; and "White Bird in a Blizzard," based on the book of the same name by Laura Kasischke, with Shailene Woodley and Eva Green.
The Washington, D.C. native studied acting at the University of Colorado – Boulder before graduating with a degree in History. He worked in construction and as a bouncer before breaking into acting, studying his craft in New York with legendary teacher Sanford Meisner. Early on, he landed a number of small film roles and short-lived TV series, including "The Fanelli Boys," before his breakout part on "NYPD Blue," opposite Kim Delaney. That led to him winning a series regular role on HBO's gritty series "Oz," playing the psychotic, bisexual murderer Chris Keller, in an ensemble cast that also included J.K. Simmons, Lee Tergesen and Rita Moreno. Read more
Hamish Linklater starred for five seasons on the CBS comedy "The New Adventures of Old Christine," playing the brother of Julia-Louis Dreyfus's title character. On the big screen, he recently co-starred with Liam Neeson and Alexander Skarsgård in Peter Berg's 2012 action adventure "Battleship."
An accomplished stage actor, Linklater most recently starred opposite Alan Rickman in the Broadway play "Seminar," marking his Broadway debut. In 2011, he won an Obie Award for his performance off-Broadway in "The School for Lies." He earned a Drama Desk Award nomination in 2010 for his work in the Public Theatre's Shakespeare in the Park production of "Twelfth Night." Earlier this year, he made his playwriting debut with "Vandal," which just premiered off-Broadway.
Born in the heart of the Berkshire Mountains of Massachusetts, Linklater began acting at the age of eight as part of an acting troupe called Shakespeare & Company, founded by his mother, Columbia University drama professor and noted vocal coach Kristin Linklater. After attending Amherst College, he left school to pursue his career. Read more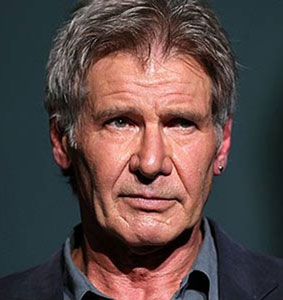 Harrison Ford has starred in some of the most successful and acclaimed films in cinema history, including the landmark "Star Wars" and "Indiana Jones" franchises and a total of eight Best Picture Oscar®-nominated movies. Ford earned an Academy Award® nomination for his compelling portrayal of Detective John Book in Peter Weir's 1985 Oscar®-nominated hit "Witness," for which he also received Golden Globe and BAFTA Award nominations, all for Best Actor. Ford subsequently garnered three more Best Actor Golden Globe nominations: for his performances in Weir's 1986 drama "The Mosquito Coast"; the 1994 Oscar®-nominated blockbuster "The Fugitive," for director Andrew Davis; and Sydney Pollack's 1996 remake of "Sabrina."
Over the course of his illustrious career, Ford has also been repeatedly honored for his contributions to the film industry, including the Hollywood Foreign Press Association's Cecil B. DeMille Award, in 2002, and the American Film Institute's Lifetime Achievement Award, in 2000. In 1994, the National Association of Theater Owners named him the Box Office Star of the Century. Read more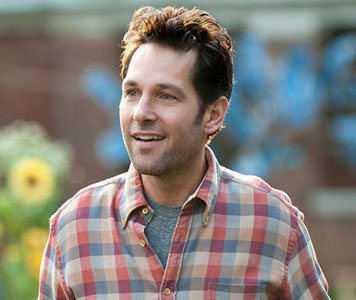 Paul Rudd most recently starred in Judd Apatow's This is 40, opposite Leslie Mann in a reprise of the roles they played for the filmmaker in the smash Knocked Up. He will soon be seen in David Wain's They Came Together, opposite Amy Poehler, and Adam McKay's Anchorman: The Legend Continues, again starring alongside Will Ferrell, Steve Carell, Christina Applegate, and David Koechner.
Mr. Rudd's many other films include Amy Heckerling's Clueless; Baz Luhrmann's Romeo + Juliet; Nicholas Hytner's The Object of My Affection; Lasse Hallström's The Cider House Rules; Jesse Peretz's The Château and Our Idiot Brother; Neil LaBute's The Shape of Things; Adam McKay's Anchorman: The Legend of Ron Burgundy; Judd Apatow's The 40-Year- Old Virgin; Katherine Dieckmann's Diggers; Robert Ben Garant's Reno 911!: Miami; Nicholas Stoller's Forgetting Sarah Marshall; John Hamburg's I Love You, Man; Jay Roach's Dinner for Schmucks; James L. Brooks' How Do You Know; Stephen Chbosky's The Perks of Being a Wallflower; and David Wain's Wet Hot American Summer, Role Models (which he co-wrote), Wanderlust and The Ten (both of which he produced).
He studied theater at the University of Kansas and the American Academy of Dramatic Arts. He made his West End stage debut in the London production of Eugene O'Neill's Long Day's Journey Into Night, starring opposite Jessica Lange and directed by Robin Phillips; and performed at the Westport Country Playhouse in A.R. Gurney's Ancestral Voices, with Paul Newman and Joanne Woodward. Read more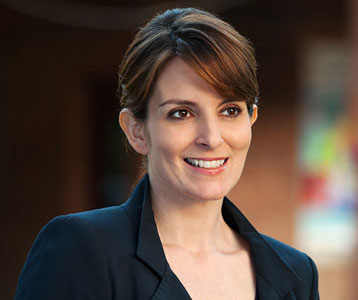 Tina Fey created, executive-produced, starred, and served as head writer on NBC's 30 Rock for seven years. The critically acclaimed comedy won the Emmy Award for Outstanding Comedy Series for three years in a row (2007-2009). Her portrayal of Liz Lemon on the show has earned Ms. Fey an Emmy Award, two Golden Globe Awards, three Screen Actors Guild Awards, and a People's Choice Award. In 2009, 30 Rock was nominated for 22 Emmy Awards, the most ever for any comedy series in a single season.
Additional honors for 30 Rock that Ms. Fey has shared with her colleagues from the show include the Golden Globe Award for Best Television Series [Comedy or Musical], the Screen Actors Guild Award for Outstanding Performance by an Ensemble in a Comedy Series, two Writers Guild Awards, and two Producers Guild Awards.
Ms. Fey has extended her partnership with 30 Rock producers NBC Universal Television for another three years to create, write, and produce television series and programs for NBC.
Prior to creating 30 Rock, she was for nine years head writer and cast member on NBC's Saturday Night Live, memorably co-anchoring the "Weekend Update" segment. Her writing on the show earned her an Emmy Award and two Writers Guild Awards, and Ms. Fey won an Emmy Award for a subsequent (2008) guest appearance. Read more
Elliot Gould starred in Ingmar Bergman's The Touch in 1971, the great Swedish director's first English language film. Gould began his acting career on Broadway in the 1960's, and by the end of the decade went on to became the embodiment of disenchanted youth culture in such films as Robert Altman's Korean War satire M*A*S*H, in which he played the maverick surgeon Trapper John and Bob & Ted & Carol & Alice, for which he received an Oscar nomination.
Time Magazine featured him on a cover in 1970, when he was at the height of his long and prolific career, calling him a "star for an uptight age." Some of his other notable films include A Bridge Too Far, Capricorn One, and a remake of The Lady Vanishes. Gould played the detective Philip Marlowe in Altman's 1973 film The Long Goodbye.
Gould's Broadway theatre credits include Irma La Douce, Say, Darling, I Can Get It for You Wholesale, Little Murders, and Drat! The Cat! Read more
British-born Steve Coogan was on top of the U.S. box office in 2008 with Tropic Thunder, and most recently starred in the comedy The Trip, his third film for director Michael Winterbottom. He was also seen recently in Night at the Museum: Battle of the Smithsonian, reprising his role from Night of the Museum.
Other film credits include The Indian In The Cupbaord; Jim Jarmusch's Coffee and Cigarettes; Michael Winterbottom's 24 Hour Party People and Tristram Shandy: A Cock and Bull Story; Around The World In 80 Days; Happy Endings; Sophia Coppola's Marie Antoinette; Finding Amanda; Hamlet 2; Percy Jackson & The Olympians: The Lightning Thief; and Marmaduke. Later this year, he will also be seen opposite Hilary Duff and Molly Shannon in Safety Glass. Read more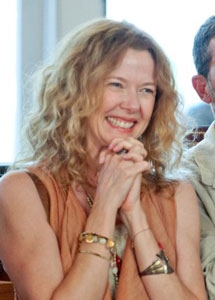 Two-time Golden Globe-winner Annette Bening was most recently seen in Focus Features' critical and commercial sensation The Kids Are All Right, in which she played opposite Julianne Moore and Mark Ruffalo. Her role as Nic earned her a Golden Globe and New York Film Critics Circle award, and Oscar, Screen Actors Guild, Critics Choice, and Independent Spirit nominations in the "Best Actress" category.
In 2010, Annette also starred in Sony Pictures Classics' Mother and Child for writer-director Rodrigo Garcia co-starring Naomi Watts. In 2008, she was seen on the big screen in writer-director Diane English's remake of The Women, starring alongside Meg Ryan, Eva Mendes and Jada Pinkett-Smith. Prior to that, She starred in the 2006 film Running With Scissors for which she was nominated for a Golden Globe Award.
Annette was Julia Lambert in Being Julia for Sony Pictures Classics, the role that earned the actress her third Oscar nomination. For that performance, she was also named the National Board of Review's "Best Actress," won the Golden Globe award for "Best Actress in a Motion Picture – Musical/Comedy," and received a SAG nomination for "Best Actress." She also starred in Mrs. Harris with Ben Kingsley for HBO, earning an Emmy, SAG, and Golden Globe nomination. Read more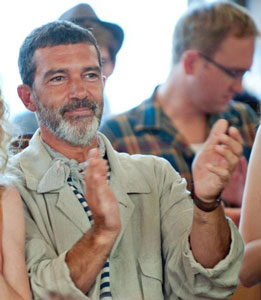 Since his introduction to American cinema in the highly acclaimed Mambo Kings, Antonio Banderas is irrefutably one of the leading international actors of his generation. He has received critical praise for his performances in film, television and theater, as well as behind the scenes as a feature film director. In 2005, he was honored with a Star on the Hollywood Walk of Fame.
His second directorial feature is the Spanish film El Camino De Los Ingleses (titled Summer Rain in the U.S.). A coming of age story, the film follows the first loves, lusts and obsessions of friends on vacation at the end of the 1970s. He made his directorial debut with Crazy In Alabama  starring his wife Melanie Griffith.
Banderas stole the show in the 2004 blockbuster animated film Shrek 2  as the voice of "Puss in Boots." He reprised this role in the widely anticipated sequel Shrek The Third, the ABC Christmas special Shrek The Halls, and the fourth installment of the franchise Shrek Forever After. Read more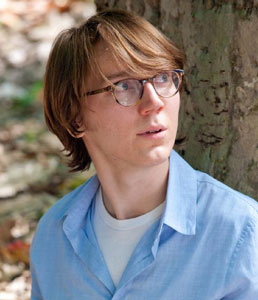 Paul Dano is currently in the midst of a long period of wildly varied, challenging, intriguing work.
Dano most recently received acclaim for his performance as an aspiring rock star and young father in So Yong Kim's For Ellen, which Tribeca Films will release on September 5, following the world premiere at the 2012 Sundance Film Festival. Dano served as an executive producer.
September 28 marks the release of Looper (TriStar Pictures), Rian Johnson's sci-fi thriller that features Dano in a pivotal appearance alongside Joseph Gordon-Levitt. This spring, Dano starred opposite Robert De Niro in Being Flynn (Focus Features), Paul Weitz's adaptation of Nick Flynn's celebrated memoir Another Bullshit Night in Suck City. Read more