Why Did the Broadway Musical 'Leap of Faith' Fail So Quickly?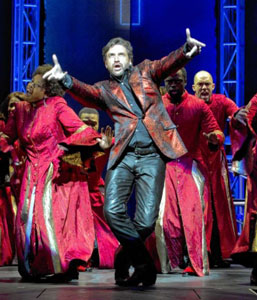 Broadway is a tough business, with many shows taking years to recoup their initial costs and others never breaking even.  One from this season that is likely to fall into the latter category is Leap of Faith, which despite four Tony Award nominations (including Best Musical) is closing after being open for less than a month because of poor ticket sales.  Based on a more-or-less forgotten 1992 Steve Martin movie, the New York Times did an extensive write-up analyzing why the show failed and the perils of Broadway productions.
It's rare that a Tony-nominated play closes before the Tony Awards since the production will not only won't be able to reap the publicity that comes from the nominations but also won't be able to be seen by the awards voters.  That didn't make a difference for Leap of Faith, which according to the Times was losing about $275,000 per week as a result of bad tickets sales that were blamed on awful reviews. 
Still, a number of high-grossing musicals do well despite negative reviews, so what was particularly wrong with Leap of Faith?
The Times argues that Leap failed on three important levels that help bolster the box office of a less-than-stellar show: it didn't have the familiar subject matter (the 1992 movie certainly doesn't top anyone's "must see" list), it didn't feature a major star (the lead actor, Raúl Esparza, is certainly popular, but not among the Broadway stratosphere), and it doesn't have a "jukebox" selection of popular songs for a soundtrack. 
Leap of Faith also bumped up its premiere date from fall 2012 because of the failure of the previous tenant of the St. James Theatre, On a Clear Day You Can See Forever, with producers concerned that if they waited the St. James Theatre would've booked another show that would leave Leap's premiere date in limbo.  Perhaps with more time to hone the show the producers could have created a more successful product, but the quick turnaround of Broadway took that option off the table.
Nonetheless, the failure of Leap of Faith is not out of the ordinary since every Broadway season brings both hits and misses.  Some of the producers of Leap of Faith, including Thomas Viertel, Richard Frankel, and Steven Brauch, have previously produced the Broadway mega-hits Hairspray and The Producers, so it's not like the producers lacked Broadway experience.  But the business of Broadway being what it is, it's no surprise that even a few negative associations with a show can totally derail it no matter how many awards it gets nominated for.
http://www.dailyactor.com/wp-content/uploads/2016/06/jeff-bridges-hell-or-high-water.jpg
Jeff Bridges on Creating a Character, 'Hell or High Water' and Playing The Dude
"I use elements of myself—I see my parallels with a character—and find similar things in my own personality." - Jeff Bridges on Creating a Character
http://www.dailyactor.com/actors-on-acting/jeff-bridges-creating-a-character/
http://www.dailyactor.com/wp-content/uploads/2016/07/benjamin-bratt-actor.jpg
Benjamin Bratt: "For as limiting as the opportunities are for actors and actresses of color I've been very blessed"
"...it's dangerous to keep going down the same artistic path." - Benjamin Bratt
http://www.dailyactor.com/actors-on-acting/benjamin-bratt-ive-been-very-blessed/
http://www.dailyactor.com/wp-content/uploads/2016/07/watch-keegan-michael-key-explain.jpg
Watch: Keegan-Michael Key Explains Why "Improv actors are at war together"
Check out Key's points on why it's so important for improv actors to have each others' backs in the clip above.
http://www.dailyactor.com/actors-on-acting/keegan-michael-key-improv-actors-at-war-together/
http://www.dailyactor.com/wp-content/uploads/2016/07/norman-reedus-actor.jpg
Norman Reedus on Acting: "If it's something you really want, you have to roll with the rejection"
Norman Reedus is a fan-favorite star on The Walking Dead and was in the cult favorite film The Boondock Saints. However, in the dozen years between those two gigs Reedus had experienced ups and downs in his career and in many cases he was cast in very small roles in big movies or lead roles […]
http://www.dailyactor.com/actors-on-acting/norman-reedus-acting-rejection/
http://www.dailyactor.com/wp-content/uploads/2016/07/frank-grillo.jpg
Frank Grillo on Being Typecast: "I welcome it"
"I hear actors pooh-pooh the idea... people might see them as a certain thing. I welcome it" - Frank Grillo on Typecasting
http://www.dailyactor.com/actors-on-acting/frank-grillo-on-typecasting/