To The Moon, Alice! San Diego's Old Globe to Open Season with the World Premiere of 'The Honeymooners'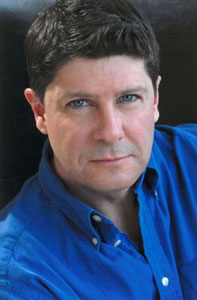 San Diego's The Old Globe Theatre will open its 2013-14 Season with the world premiere of The Honeymooners, a new musical based on the legendary CBS television series. 
2012 Tony Award winner Michael McGrath (Nice Work If You Can Get It) will star as Ralph Kramden, the small-time bus driver with big-time dreams.  Tony Award winner Jerry Mitchell (Kinky Boots, Legally Blonde) will direct and choreograph the musical comedy, with book by Dusty Kay and Bill Nuss, music by Stephen Weiner and lyrics by Peter Mills. 
The complete creative team and casting will be announced at a later date. 
The new musical will run September, 8th through October 27th, 2013.  
"It's a real delight to bring this fun and rollicking new musical comedy to San Diego," said Old Globe Artistic Director Barry Edelstein.  "I'm happy to see the brilliant Michael McGrath make his Globe debut, and I'm especially pleased to welcome the hugely talented Jerry Mitchell back to this theatre, where he choreographed The Full Monty, Imaginary Friends and Dirty Rotten Scoundrels.  As a kid I was a full-blown 'Honeymooners' addict, and I 'bang-zoomed' away many more hours with the Kramdens and Nortons than I should probably admit.  That's why it's a special joy to see Ralph, Ed, Alice and Trixie come to vivid life on our stage and to introduce these iconic American characters to a new generation."
Ralph Kramden and his buddy Ed Norton are back with a whole new scheme in this world premiere musical.  The two friends enter a jingle contest, and much to the shock of their long-suffering wives, they actually win!  Soon they are catapulted out of Brooklyn and into the cutthroat world of Madison Avenue, where they find themselves torn between success and friendship.  Bursting with bouncy tunes and showbiz pizzazz, The Honeymooners will send audiences to the moon!
Tickets are currently available by subscription only.  Tickets can be purchased online at www.TheOldGlobe.org, by phone at (619) 23-GLOBE or by visiting the Box Office at 1363 Old Globe Way in Balboa Park.
http://www.dailyactor.com/wp-content/uploads/2016/08/Will-Chase-Something-Rotten.jpg
The Role That Got Away: Will Chase on Returning to 'Something Rotten!'
"I know that I am a poor man's fill-in-the-blank. And I know that there are poor man's Will Chases out there. That's just the nature of the business" - Will Chase
http://www.dailyactor.com/broadway-theater/will-chase-something-rotten-role-that-got-away/
http://www.dailyactor.com/wp-content/uploads/2016/08/Julia-Stiles-Jason-Bourne.jpg
Julia Stiles on the Jason Bourne Series and Growing as an Actress: "There's always room for improvement"
"I like a director that encourages me to be playful. I don't really like being restricted or controlled by a director." - Julia Stiles
http://www.dailyactor.com/film/julia-stiles-growing-as-an-actress/
http://www.dailyactor.com/wp-content/uploads/2016/08/Michael-Kenneth-Williams-The-Night-Of.jpg
Michael Kenneth Williams on How His Roles Impact Him: "That energy's gotta go somewhere"
Since his days of playing Omar on 'The Wire', Williams has learned how to separate himself from his characters.
http://www.dailyactor.com/tv/michael-kenneth-williams-the-night-of/
http://www.dailyactor.com/wp-content/uploads/2016/08/margot-robbie-the-wolf-of-wall-street.jpg
Margot Robbie Believed 'The Wolf of Wall Street' Would Ruin Her Career
Many actors can point to a single role that was a career breakthrough -- but not all of them realize that it's a breakthrough as it's happening.
http://www.dailyactor.com/film/margot-robbie-the-wolf-of-wall-street-ruin-her-career/
http://www.dailyactor.com/wp-content/uploads/2016/08/Jonah-Hill-War-Dogs.jpg
Jonah Hill Talks 'War Dogs' and Getting into Character by Listening to Music
"When I started taking acting classes, it was the first time teachers were like, 'You're good and you should keep doing this.'" - Jonah Hill
http://www.dailyactor.com/film/jonah-hill-war-dogs/