'The Taming of the Shrew' Actress Literally Breaks a Leg on Stage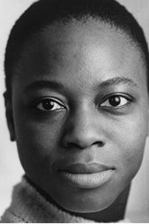 Before British actress Aicha Kossoko took the stage for a recent performance of The Taming of the Shrew at the Royal Shakespeare Theatre, someone surely told her to "break a leg," without actually wishing that one of her limbs would snap in half.
Unfortunately, the long-time pre-performance pleasantry came true for Kossoko, who broke her ankle after catching her shoe on an oversized bedspread during a show last month.
Director Lucy Bailey's update of William Shakespeare's classic Taming of the Shrew calls for the theatre's thrust stage to be converted into a giant bed that includes the one-piece bedspread Kossoko tripped over. The Royal Shakespeare Company rookie, whose resume includes stints of TV shows like EastEnders and Doctors, finished out the night but since been temporary replaced by an substitute actress. 
"Aicha Kossoko fractured her ankle as a result of slipping over whilst exiting the stage. She continued to the end of the performance, and is now having treatment," explained an RSC spokesperson. "We will continue to monitor the situation and hope that Aicha will return to play her roles."
http://www.dailyactor.com/wp-content/uploads/2016/05/kristen-dunst-fargo.jpg
Kirsten Dunst: Auditions are "the most stressful thing to me on the planet Earth"
Despite being a well-known actress with dozens of credits, Kristen Dunst tells Variety that she still thinks of auditions as "the most stressful thing ...
http://www.dailyactor.com/actors-on-acting/kirsten-dunst-stressful-auditions/
http://www.dailyactor.com/wp-content/uploads/2016/05/Jessie-Mueller-Waitress.jpg
Jessie Mueller on Following up 'Beautiful' with 'Waitress': "I think early on I did feel little bit of pressure"
"I was taken with theater from the beginning, it was the coolest thing for me." - Jessie Mueller
http://www.dailyactor.com/actors-on-acting/jessie-mueller-waitress-pressure/
http://www.dailyactor.com/wp-content/uploads/2016/05/Sean-Hayes-An-Act-of-God.jpg
Sean Hayes on Why He Loves Theater and His Return to Broadway in 'An Act of God'
"I think one of the worst mistakes an actor can make is run away from the role that made them beloved in the first place, that gave them an audience." - Sean Hayes
http://www.dailyactor.com/actors-on-acting/sean-hayes-broadway-an-act-of-god/
http://www.dailyactor.com/wp-content/uploads/2016/05/zachary-levi-she-loves-me.jpg
Zachary Levi on Starring in Broadway's 'She Loves Me': "Honestly, the biggest challenge is just my own brain"
"My whole life, all I've ever wanted to do was be an actor and an entertainer and make people happy and also feel like I belonged" - Zachary Levi
http://www.dailyactor.com/actors-on-acting/zachary-levi-broadway-she-loves-me/
http://www.dailyactor.com/wp-content/uploads/2016/05/Ewan-McGregor-Last-Days.jpg
Ewan McGregor Talks Playing Jesus and the Devil in 'Last Days in the Desert'
"I was just trying to play him like any other role, really. Who do I think he was? Who do I want him to be in this story?" - Ewan McGregor
http://www.dailyactor.com/actors-on-acting/ewan-mcgregor-playing-jesus-devil/