'The Blind Date Project' Brings Bad Dates to Real Life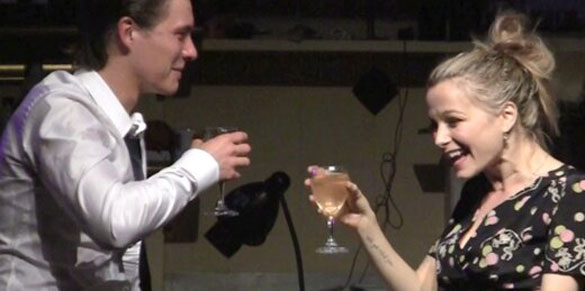 Anyone who has ever been on a blind date knows that it can be a comedy of errors. That concept is exactly what Australian actress Bojana Novakovic and co-director Mark Winter decided to develop at 3 Clubs in Hollywood.
The show started two years ago in Australia, but they have brought the improvisational piece to the U.S. Novakovic spoke to the Los Angeles Times about The Blind Date Project.
She said, "We just thought, if a blind date was a piece of theater over an hour [of time], what would it look like? We had to neutralize the plot points as much as possible and create this skeletal structure so that we didn't have any written dialogue at all."
As a performer, she has no idea who her date will be each show. She doesn't even know what gender her date will be that night. However, many familiar faces have participated in the date role like Jason Ritter, Jeremy Sisto, Jon Heurtas and Edi Gathegi.
The show is always different, but there is a basic outline that the dates follow. Audiences are guaranteed a round of karaoke and the actors are given a specific "want" out of the date.
Winter explained, "I try to provide a real reason why this person has put him or herself out there; something that has some gravitas and some inherent drama to it. The stronger their grounding is and the stronger their purpose is for what they want to get out of the date, the better it is."
Due to the improvisational feel to the show, actors are given directions via text messages and phone calls. Winter also loves to create conflict by giving directions that stall the date. One character may be trying to kiss their date while the other character is blocking that kiss from happening.
He said, "I watch what emerges organically then try to heighten that. I try to give them obstacles to overcome so there is that tension between them. That is when they start to test each other's personalities."
It is enjoyable experience for the audience because everyone has had their share of bad dates.
Novakovic concluded, "It's untethered. And it's untamed. And it's kind of messy. And it has the potential to die flat on its face. That danger is really fun for audiences to watch. People love watching train wrecks, as long as they're not on them."
http://www.dailyactor.com/wp-content/uploads/2016/05/Chris-Evans-Captain-America.jpg
Chris Evans on the Challenges of Being Captain America Outside of Acting
"It's part of the job, I've got to sell this thing. But it's just a gross feeling. It makes me insecure."
http://www.dailyactor.com/actors-on-acting/chris-evans-challenges-of-being-captain-america/
http://www.dailyactor.com/wp-content/uploads/2016/04/julia-louis-dreyfus-veep.jpg
Julia Louis-Dreyfus: "Opportunity for women in television has increased. It's because the landscape has widened"
"I did not come out of SNL as any kind of name. I didn't do anything particularly great when I was there. I didn't. It's fine. But I learned a tremendous amount."
http://www.dailyactor.com/actors-on-acting/julia-louis-dreyfus/
http://www.dailyactor.com/wp-content/uploads/2016/04/Tituss-Burgess-Unbreakable-Kimmy-Schmidt.jpg
Tituss Burgess on How He Landed His 'Unbreakable Kimmy Schmidt' Role
Burgess reveals how his role on 30 Rock led to 'Kimmy Schmidt' and whether or not he'd consider returning to Broadway.
http://www.dailyactor.com/actors-on-acting/tituss-burgess-unbreakable-kimmy-schmidt-role/
http://www.dailyactor.com/wp-content/uploads/2016/04/Christine-Baranski-The-Good-Wife.jpg
Christine Baranski on the End of 'The Good Wife' and Going Back to Theatre
The final episode of The Good Wife airs on May 8, and it's been several weeks since series star Christine Baranski shot the final episode with her co-stars. She spoke to The Hollywood Reporter about the end of the series she has spent the last seven years working on and what she plans to do […]
http://www.dailyactor.com/actors-on-acting/christine-baranski-the-good-wife-theatre/
http://www.dailyactor.com/wp-content/uploads/2016/04/jake-gyllenhaal-demolition.jpg
Jake Gyllenhaal on 'Demolition', Working with Chris Cooper and Directors Who Want Nothing to Do With Him
"I think storytelling is the most important part of movie-making over performance." - Jake Gyllenhaal
http://www.dailyactor.com/actors-on-acting/jake-gyllenhaal-demolition-chris-cooper/