Sunny, the Shelter Dog Who Once Had 48 Hours Left to Live, to Play Sandy in the Broadway Revival of 'Annie'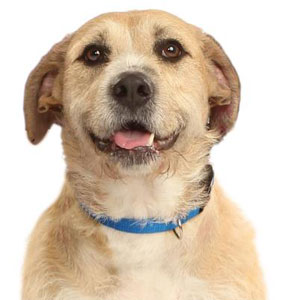 Here's a story that I promise will make you happy. Sunny, a shelter dog from Houston who had been given only 48 hours to live, is the new Sandy in the Broadway revival of Annie.
William Berloni, an animal trainer and a 2011 Tony Honor recipient, found Sunny while he was searching for a dog to play Sandy. When he saw the the 2-year old terrier-mix was about to be put down, he adopted her in an effort to help her find a good home.
He told the AP that he didn't think she was right for Sandy, but when he finally met her, his mind was changed. "I met her and went, 'Wow, she could really be a candidate. She's going to be fantastic."
But that's not where the good news ends. The producers of Annie and PEDIGREE® have teamed up to help raise $1 million to help dogs find loving homes. For each Annie the Musical ticket sold through December 31, 2013, PEDIGREE will donate $2, up to $1 million, to PEDIGREE Foundation, a nonprofit organization dedicated to helping dogs find loving homes. In addition, co-branded merchandise will be available at the theatre and online with 100 percent of the proceeds going to PEDIGREE Foundation.
Since its 1977 debut, all productions of Annie on Broadway have starred real-life shelter dogs as Sandy, Annie's adopted and loyal companion, with all of the dogs discovered and trained by Berloni. Continuing that tradition, Berloni will train Sunny and her understudy, Casey, who was rescued from a PEDIGREE-sponsored shelter near the brand's hometown in Nashville, Tennessee.
"We are extremely excited to have the PEDIGREE Brand as our partner because of our shared interest in finding homes for shelter animals," Annie Producer Arielle Tepper Madover said. "Annie is about a girl and her dog desperately seeking a place to call home, and we're hoping Sunny's story inspires audiences to consider adopting their next pet."
Annie opens November 8 at the Palace Theater (1567 Broadway at 47th Street).  Previews begin October 3.  Tickets are on sale now at Ticketmaster.com. For more information on The PEDIGREE® Adoption Drive and other brand initiatives, visit www.pedigree.com or www.facebook.com/pedigree.
http://www.dailyactor.com/wp-content/uploads/2016/06/jeff-bridges-hell-or-high-water.jpg
Jeff Bridges on Creating a Character, 'Hell or High Water' and Playing The Dude
"I use elements of myself—I see my parallels with a character—and find similar things in my own personality." - Jeff Bridges on Creating a Character
http://www.dailyactor.com/actors-on-acting/jeff-bridges-creating-a-character/
http://www.dailyactor.com/wp-content/uploads/2016/07/benjamin-bratt-actor.jpg
Benjamin Bratt: "For as limiting as the opportunities are for actors and actresses of color I've been very blessed"
"...it's dangerous to keep going down the same artistic path." - Benjamin Bratt
http://www.dailyactor.com/actors-on-acting/benjamin-bratt-ive-been-very-blessed/
http://www.dailyactor.com/wp-content/uploads/2016/07/watch-keegan-michael-key-explain.jpg
Watch: Keegan-Michael Key Explains Why "Improv actors are at war together"
Check out Key's points on why it's so important for improv actors to have each others' backs in the clip above.
http://www.dailyactor.com/actors-on-acting/keegan-michael-key-improv-actors-at-war-together/
http://www.dailyactor.com/wp-content/uploads/2016/07/norman-reedus-actor.jpg
Norman Reedus on Acting: "If it's something you really want, you have to roll with the rejection"
Norman Reedus is a fan-favorite star on The Walking Dead and was in the cult favorite film The Boondock Saints. However, in the dozen years between those two gigs Reedus had experienced ups and downs in his career and in many cases he was cast in very small roles in big movies or lead roles […]
http://www.dailyactor.com/actors-on-acting/norman-reedus-acting-rejection/
http://www.dailyactor.com/wp-content/uploads/2016/07/frank-grillo.jpg
Frank Grillo on Being Typecast: "I welcome it"
"I hear actors pooh-pooh the idea... people might see them as a certain thing. I welcome it" - Frank Grillo on Typecasting
http://www.dailyactor.com/actors-on-acting/frank-grillo-on-typecasting/