Simon Amstell brings 'Numb' to New York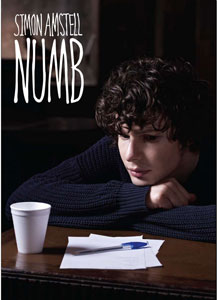 Every generation has its pop culture purists, the ones who "discover" an artist before they are famous. When they're Green Day fans, you laugh – but when you're the connoisseur in question, sharing your niche love can be difficult.
Brace yourselves, comedy cognoscenti: British stand-up comedian Simon Amstell is bringing his show to New York. "Numb" will make its U.S. debut Tuesday night at Theater 80 in St. Marks Place, kicking off a five-week run. Tickets can be purchased for $20 here.  
In addition to his stand-up, Amstell is known for co-writing and starring in BBC Two mini-series "Grandma's House" and for hosting pop music quiz show "Never Mind the Buzzcocks."
He discusses both in a recent Time Out New York interview:
TONY: Your relatively brash persona on Never Mind the Buzzcocks is so different from both the gentler tone of Grandma's House and your stand-up. Is this a progression or a regression?
SA: When I was growing up, it wasn't my dream to host that show. But I really enjoyed being that cheeky, naughty guy in this celebrity world, and I feel I had said all I had to say about it. When I stopped doing that, I really wanted to draw a line, but it is quite fun to be that guy occasionally. I want to sort of reintroduce him a bit to my current personality. That sounds insane! "Reintroduce him to my current personality." Oh, God! 
"Do Nothing" (2010):
 
"Grandma's House," Series 1:
http://www.dailyactor.com/wp-content/uploads/2016/08/imperium_daniele_radcliffe.jpg
Daniel Radcliffe on Playing a Neo-Nazi in 'Imperium': "It's still just horrible to say some of this stuff"
Radcliffe reveals how he played such a layered character and what it felt like to say his character's hate-filled dialogue.
http://www.dailyactor.com/film/daniel-radcliffe-playing-a-neo-nazi-imperium/
http://www.dailyactor.com/wp-content/uploads/2016/08/John-Cho-Star-Trek-Beyond.jpg
How John Cho Took A Stand for Diversity Early in His Career
"When one does speak one's mind, one might be surprised at how receptive people are." - Actor John Cho
http://www.dailyactor.com/film/john-cho-took-a-stand-for-diversity/
http://www.dailyactor.com/wp-content/uploads/2016/08/simon-helberg-florence-foster-jenkins.jpg
Simon Helberg on His 'Florence Foster Jenkins' Role: "I'm an actor and I want to stretch different muscles"
Helberg spoke about portraying his character in the film and whether or not he feels typecast by his Big Bang Theory role.
http://www.dailyactor.com/film/simon-helberg-florence-foster-jenkins-role/
http://www.dailyactor.com/wp-content/uploads/2016/08/Will-Chase-Something-Rotten.jpg
The Role That Got Away: Will Chase on Returning to 'Something Rotten!'
"I know that I am a poor man's fill-in-the-blank. And I know that there are poor man's Will Chases out there. That's just the nature of the business" - Will Chase
http://www.dailyactor.com/broadway-theater/will-chase-something-rotten-role-that-got-away/
http://www.dailyactor.com/wp-content/uploads/2016/08/Julia-Stiles-Jason-Bourne.jpg
Julia Stiles on the Jason Bourne Series and Growing as an Actress: "There's always room for improvement"
"I like a director that encourages me to be playful. I don't really like being restricted or controlled by a director." - Julia Stiles
http://www.dailyactor.com/film/julia-stiles-growing-as-an-actress/