Simon Amstell brings 'Numb' to New York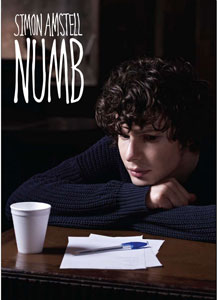 Every generation has its pop culture purists, the ones who "discover" an artist before they are famous. When they're Green Day fans, you laugh – but when you're the connoisseur in question, sharing your niche love can be difficult.
Brace yourselves, comedy cognoscenti: British stand-up comedian Simon Amstell is bringing his show to New York. "Numb" will make its U.S. debut Tuesday night at Theater 80 in St. Marks Place, kicking off a five-week run. Tickets can be purchased for $20 here.  
In addition to his stand-up, Amstell is known for co-writing and starring in BBC Two mini-series "Grandma's House" and for hosting pop music quiz show "Never Mind the Buzzcocks."
He discusses both in a recent Time Out New York interview:
TONY: Your relatively brash persona on Never Mind the Buzzcocks is so different from both the gentler tone of Grandma's House and your stand-up. Is this a progression or a regression?
SA: When I was growing up, it wasn't my dream to host that show. But I really enjoyed being that cheeky, naughty guy in this celebrity world, and I feel I had said all I had to say about it. When I stopped doing that, I really wanted to draw a line, but it is quite fun to be that guy occasionally. I want to sort of reintroduce him a bit to my current personality. That sounds insane! "Reintroduce him to my current personality." Oh, God! 
"Do Nothing" (2010):
 
"Grandma's House," Series 1:
http://www.dailyactor.com/wp-content/uploads/2016/02/alicia-Vikander-Ex-machina.jpg
Alicia Vikander on the Her First Trip to L.A. and the Acting Tip 'Ex-Machina' Director Alex Garland Gave Her
"You [get immersed in] a film and of course you think that that is it. And then you go away and you read a new script and you have a new crush" - Alicia Vikander
http://www.dailyactor.com/actors-on-acting/alicia-vikanderacting-tip-ex-machina-director-alex-garland-gave-her/
http://www.dailyactor.com/wp-content/uploads/2016/02/Channing-Tatum-Hail-Caesar.jpg
Channing Tatum Talks 'Hail, Caesar!': "I've been beating on the Coens' door for years, man"
"It's the most I've ever prepped for a six-minute section in a movie." - Channing Tatum
http://www.dailyactor.com/actors-on-acting/channing-tatum-hail-caesar-tap-dancing/
http://www.dailyactor.com/wp-content/uploads/2016/01/Isidora-Goreshter-Shameless-audition.jpg
Isidora Goreshter Remembers Her Audition for 'Shameless'
Goreshter recently recalled that her audition for the 'Shameless' was by far her worst ever.
http://www.dailyactor.com/actors-on-acting/isidora-goreshter-audition-for-shameless/
http://www.dailyactor.com/wp-content/uploads/2016/01/Sutton-Foster-Younger.jpg
Sutton Foster: "Sometimes I won't even find a character until I put on the costume"
"I never had grand aspirations to be a movie star, to be famous or to be on TV. The theater was what I wanted." - Sutton Foster
http://www.dailyactor.com/actors-on-acting/sutton-foster-younger-character-costume/
http://www.dailyactor.com/wp-content/uploads/2016/01/Paul-Giamatti-Billions.jpg
Paul Giamatti on Building His Career: "I was always willing to just go, 'OK, sure, I'll do that'"
"I've done everything an actor can do except porn and performing in an amusement park" - Paul Giamatti
http://www.dailyactor.com/actors-on-acting/paul-giamatti-billions-building-an-acting-career/