Scarlett Johansson on Playing Maggie in Broadway's 'Cat' Revival: "Whatever my take is on it is certainly my take on it"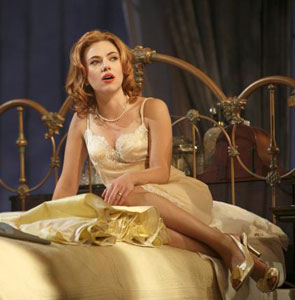 Just because you've won a Tony doesn't mean you can rest on your laurels—at least according to Scarlett Johansson.  The actress, who won her award for 2010's A View from the Bridge, is currently starring in Tennessee Williams' Cat on a Hot Tin Roof.  But she isn't taking the role lightly.
"I think [winning the Tony] encouraged me to find Cat on a Hot Tin Roof, and to know that I had a welcome invitation to come back," she said in an interview with Broadway.com.  "The most important thing is to not let that honor inform your choices, to recognize that it was for that performance, and that it doesn't let you off the hook or put the pressure on you in any way.  You just have to take it for what it represents."
The actress has certainly had plenty of film success, in movies like The Avengers and Iron Man 2, but her fame didn't really play into her decision to take on the iconic role of Maggie in the play.  "I guess I never had any idea of the role as being iconic in any particular way other than the fact that Elizabeth Taylor [played it]—I know the posters," Johansson said.  "But I don't know the nuances of her performance, or her take on it.  I never felt the pressure of that.  I understand, of course, that the role is a classic, and it's iconic in so many people's minds, and so whatever my take is on it is certainly my take on it. 
"For better or worse, people have their own ideas of the character based on previous performances.  But I never had to be burdened by that, which I think worked in my favor."
Despite the possible pressures of doing this specific play and working on Broadway, Johansson is still enjoying her time onstage.  Although she'll be back onscreen soon with The Avengers 2 and Captain America: The Winter Soldier, she's taking pleasure in connecting with an audience in this production.
"It's exciting every night to sort of explode into that room, with the delicious banter that transpires before we get to the moment when the audience goes, 'Wait—something's not quite right here.  This isn't just a housewife going on and on about her relatives,'" Johansson said.  "It's fun to familiarize myself with the audience in the first 10 minutes, to see how everybody is feeling, before Maggie has the encounter with Brick where she says, 'My blood is frozen from that look you just gave me.'"
Cat on a Hot Tin Roof is currently playing at the Richard Rodgers Theatre in New York.
http://www.dailyactor.com/wp-content/uploads/2016/08/imperium_daniele_radcliffe.jpg
Daniel Radcliffe on Playing a Neo-Nazi in 'Imperium': "It's still just horrible to say some of this stuff"
Radcliffe reveals how he played such a layered character and what it felt like to say his character's hate-filled dialogue.
http://www.dailyactor.com/actors-on-acting/daniel-radcliffe-playing-a-neo-nazi-imperium/
http://www.dailyactor.com/wp-content/uploads/2016/08/John-Cho-Star-Trek-Beyond.jpg
How John Cho Took A Stand for Diversity Early in His Career
"When one does speak one's mind, one might be surprised at how receptive people are." - Actor John Cho
http://www.dailyactor.com/actors-on-acting/john-cho-took-a-stand-for-diversity/
http://www.dailyactor.com/wp-content/uploads/2016/08/simon-helberg-florence-foster-jenkins.jpg
Simon Helberg on His 'Florence Foster Jenkins' Role: "I'm an actor and I want to stretch different muscles"
Helberg spoke about portraying his character in the film and whether or not he feels typecast by his Big Bang Theory role.
http://www.dailyactor.com/actors-on-acting/simon-helberg-florence-foster-jenkins-role/
http://www.dailyactor.com/wp-content/uploads/2016/08/Will-Chase-Something-Rotten.jpg
The Role That Got Away: Will Chase on Returning to 'Something Rotten!'
"I know that I am a poor man's fill-in-the-blank. And I know that there are poor man's Will Chases out there. That's just the nature of the business" - Will Chase
http://www.dailyactor.com/actors-on-acting/will-chase-something-rotten-role-that-got-away/
http://www.dailyactor.com/wp-content/uploads/2016/08/Julia-Stiles-Jason-Bourne.jpg
Julia Stiles on the Jason Bourne Series and Growing as an Actress: "There's always room for improvement"
"I like a director that encourages me to be playful. I don't really like being restricted or controlled by a director." - Julia Stiles
http://www.dailyactor.com/actors-on-acting/julia-stiles-growing-as-an-actress/