Samantha Marie Ware, from LA's 'Book of Mormon' Tour, Credits Matt Stone with Helping Her Find Her "Inner Innocence"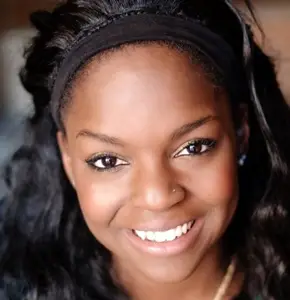 Samantha Marie Ware is earning rave reviews for her role as Nabulungi in the touring company of the hit musical Book of Mormon, now playing in Los Angeles.
Ware joined the production after performing the role for six weeks on Broadway this past spring and she said that she was happy to be able to workshop the role with the show's creators Matt Stone and Trey Parker.
"I was really playing Nabulungi as too grown up," Ware told The Los Angeles Times.  "Matt really helped me to find my inner innocence."
Ware's character sings one of the show's most touching songs, "Sal Tlay Ka Siti," towards the end of the first act and she old the paper that she is "on stage by myself and I'm very vulnerable. It's just me and the audience and it can feel like they are judging me.  So it took me a while to feel comfortable enough with myself to just tell the story to them because that's what they are there for."
Although the musical can seem disrespectful of religion, Ware noted, "I'm a religious person.  I believe that there is a God and all that jazz, but when I'm on stage I'm playing a character.  It's easy to take my work and place it at a different level than who I really am."
http://www.dailyactor.com/wp-content/uploads/2016/04/jake-gyllenhaal-demolition.jpg
Jake Gyllenhaal on 'Demolition', Working with Chris Cooper and Directors Who Want Nothing to Do With Him
"I think storytelling is the most important part of movie-making over performance." - Jake Gyllenhaal
http://www.dailyactor.com/film/jake-gyllenhaal-demolition-chris-cooper/
http://www.dailyactor.com/wp-content/uploads/2016/04/don-cheadle-miles-davis.jpg
Don Cheadle: "Be scared. Be on the edge of your creativity"
"Be willing to fall flat on your face and be in an unknown place. If you're doing that, you're probably growing" - Don Cheadle
http://www.dailyactor.com/film/don-cheadle-scared-creativity/
http://www.dailyactor.com/wp-content/uploads/2016/04/jessie-eisenberg-louder-than-bombs.jpg
What is Jesse Eisenberg's "Most Fulfilling Acting Experience"?
"My absolute favorite thing to do is to write a play and then, after I finish, do the first reading of it with my friends around the table"- Jesse Eisenberg
http://www.dailyactor.com/actors-on-acting/jesse-eisenberg-most-fulfilling-acting-experience/
http://www.dailyactor.com/wp-content/uploads/2016/03/Lupita-Nyong'o-eclipsed.jpg
Lupita Nyong'o on Her Broadway Debut: "When we get up on that stage, you do not know what will happen"
"I think theater offers a chance to flex muscles that then only help to sustain cinematic work." - Lupita Nyong'o
http://www.dailyactor.com/broadway-theater/lupita-nyongo-eclipsed-broadway/
http://www.dailyactor.com/wp-content/uploads/2016/03/jake-gyllenhaal-demolition.jpg
Jake Gyllenhaal on Missed Superhero Opportunities and Portraying "Antisocial" Characters
"I've always wanted to have the opportunity to play a number of different roles, and I knew it wasn't necessarily the role, but how you played them" - Jake Gyllenhaal
http://www.dailyactor.com/film/jake-gyllenhaal-antisocial-characters/