Robert Sean Leonard, Currently Starring in The Old Globe's 'Pygmalion', on the Power of Theater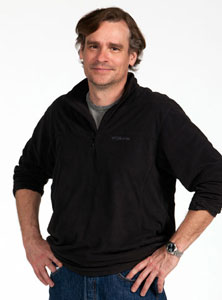 Robert Sean Leonard doesn't have any illusions that being an actor is akin to finding a cure for cancer or being a brain surgeon.  The actor is quick to admit that he's grown up from once thinking that acting was a noble profession.
"When I was 23, I felt what I did had great importance, and that was part of the joy of it, walking on stages performing Shaw or O'Neill or whatever," he said in an interview with The Los Angeles Times.  "I've changed.  Maybe it's being 43.  Maybe it's having family and kids.  I love what I do, but I wouldn't even put it on par with school teaching or even fixing power lines at this point.  Maybe I'd put it on par with the guy fixing sandwiches in the deli.
"I feel what I do can give people pleasure, at best, or maybe help them have an insight into their own lives.  After seeing a very good production of Our Town [in which Leonard played opposite Alan Alda in London when he was 22], maybe people will look in on their kids sleeping and just look at them for five minutes."
After playing Dr. Gregory's House's sidekick, Dr. James Wilson, on FOX's House for eight seasons, Leonard was ready to get back to his love of theater.  He's currently starring in Pygmalion at the Old Globe in San Diego.  "When I'm on stage, I want to excel.  I do feel driven that way, and I'm actually quite ambitious in that regard," Leonard, who is also well-known for his role in The Dead Poets Society, said.  "To have that strong sense that what you do is not vitally important to the universe, but also to be passionate about it and believe that wanting to play Henry Higgins as best you can does have importance—they both exist for me at some level."
Leonard will also appear in the TNT series, Falling Skies, later this year, but has absolutely no desire to become a celebrity.  "I don't have it in me," he said.  "There are some people who want to be adored by millions of anonymous people, and I think that's an unfortunate desire, because from all I've ever read and seen in my life, I don't think it actually ever fills the hole you think it will."
http://www.dailyactor.com/wp-content/uploads/2016/05/Chris-Evans-Captain-America.jpg
Chris Evans on the Challenges of Being Captain America Outside of Acting
"It's part of the job, I've got to sell this thing. But it's just a gross feeling. It makes me insecure."
http://www.dailyactor.com/film/chris-evans-challenges-of-being-captain-america/
http://www.dailyactor.com/wp-content/uploads/2016/04/julia-louis-dreyfus-veep.jpg
Julia Louis-Dreyfus: "Opportunity for women in television has increased. It's because the landscape has widened"
"I did not come out of SNL as any kind of name. I didn't do anything particularly great when I was there. I didn't. It's fine. But I learned a tremendous amount."
http://www.dailyactor.com/tv/julia-louis-dreyfus/
http://www.dailyactor.com/wp-content/uploads/2016/04/Tituss-Burgess-Unbreakable-Kimmy-Schmidt.jpg
Tituss Burgess on How He Landed His 'Unbreakable Kimmy Schmidt' Role
Burgess reveals how his role on 30 Rock led to 'Kimmy Schmidt' and whether or not he'd consider returning to Broadway.
http://www.dailyactor.com/tv/tituss-burgess-unbreakable-kimmy-schmidt-role/
http://www.dailyactor.com/wp-content/uploads/2016/04/Christine-Baranski-The-Good-Wife.jpg
Christine Baranski on the End of 'The Good Wife' and Going Back to Theatre
The final episode of The Good Wife airs on May 8, and it's been several weeks since series star Christine Baranski shot the final episode with her co-stars. She spoke to The Hollywood Reporter about the end of the series she has spent the last seven years working on and what she plans to do […]
http://www.dailyactor.com/tv/christine-baranski-the-good-wife-theatre/
http://www.dailyactor.com/wp-content/uploads/2016/04/jake-gyllenhaal-demolition.jpg
Jake Gyllenhaal on 'Demolition', Working with Chris Cooper and Directors Who Want Nothing to Do With Him
"I think storytelling is the most important part of movie-making over performance." - Jake Gyllenhaal
http://www.dailyactor.com/film/jake-gyllenhaal-demolition-chris-cooper/