Meet the Cast of The Old Globe's 'Allegiance' starring George Takai, Lea Salonga & Telly Lung (video)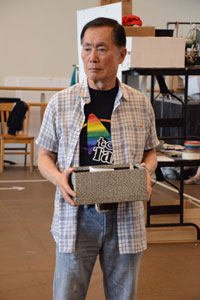 The Old Globe Theatre in San Diego recently announced the complete cast and creative team for the World Premiere of Allegiance – A New American Musical, an epic story of family, love and patriotism set during the Japanese American internment of World War II. 
As previously announced, television and film icon George Takei, Tony Award-winning actress Lea Salonga and Broadway favorite Telly Leung head up the cast.
Directed by Stafford Arima, with music and lyrics by Jay Kuo and book by Marc Acito, Kuo and Lorenzo Thione, the production features choreography by Andrew Palermo and music supervision, arrangements and orchestrations by Lynne Shankel. 
Allegiance – A New American Musical will run on the Donald and Darlene Shiley Stage in the Old Globe Theatre, part of the Globe's Conrad Prebys Theatre Center, Sept. 7 – Oct. 21, 2012.  Preview performances run Sept. 7 – Sept. 18.  Opening night is Wednesday, Sept. 19 at 7:00 p.m.  Tickets are currently available by subscription only.  Single tickets go on sale Friday, Aug. 10 at 12 noon.  Tickets can be purchased online at www.TheOldGlobe.org, by phone at (619) 23-GLOBE or by visiting the Box Office at 1363 Old Globe Way in Balboa Park.
Synopsis: On the 60th anniversary of Pearl Harbor, a meeting with a young journalist forces WWII veteran Sam Kimura to remember his family's relocation from their California farm to the Heart Mountain internment camp in Wyoming.  As they struggle to adjust to their new home, Young Sam and his sister Kei find themselves torn between loyalty to their family and allegiance to their country.  With its moving score, Allegiance – A New American Musical takes audiences on a journey into our nation's history through the eyes of one American family.
George Takei will play Sam Kimura, a former internee who revisits the ghosts of his past, and Ojii-san, the grandfather and pillar of strength of the Kimura family.  Best known for portraying Mr. Sulu in the "Star Trek" series, Takei's acting career has spanned more than five decades with more than 40 feature films and hundreds of television roles to his credit.  Takei and his family, along with 120,000 other Japanese Americans, were unjustly incarcerated behind the barbed-wire enclosures of United States internment camps at the outbreak of World War II.  Takei spent part of his childhood at Camp Rohwer in Arkansas and at Camp Tule Lake in Northern California.  Meeting George Takei and hearing his personal story inspired Allegiance creators Jay Kuo and Lorenzo Thione to bring the story of the Japanese American internment to the stage.
Lea Salonga will appear as Kei Kimura, a young internee who falls in with a group of activists, and Hana Suzuki, the interviewer who impels Sam to delve into his memories.  Salonga originated the role of Kim in the West End and Broadway productions of Miss Saigon, winning the Tony and Olivier Awards, among others.  She was the first Asian to play Eponine in Les Misérables on Broadway, returned to the show in 2007 as Fantine and reprised the role for the sold-out 25th anniversary concert in London.  Salonga's feature film credits include the singing voice of Princess Jasmine in Aladdin and Fa Mulan in Mulan.
Telly Leung will play young Sammy Kimura, who is torn between fighting for his country and honoring his community – and his family.  Leung most recently appeared in the Broadway revival of Godspell.  His other Broadway credits include Flower Drum Song, Pacific Overtures and the final company of Rent.  Leung also originated the role of Boq in the Chicago company of Wicked.  His television and film credits include "Glee" (Wes, Dalton Academy Warblers) and Rent: Filmed Live on Broadway.  His first solo CD, I'll Cover You, will be released in the fall.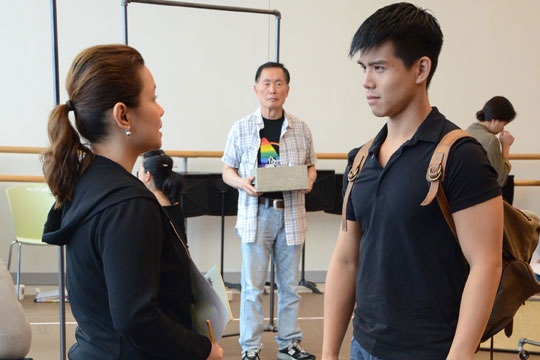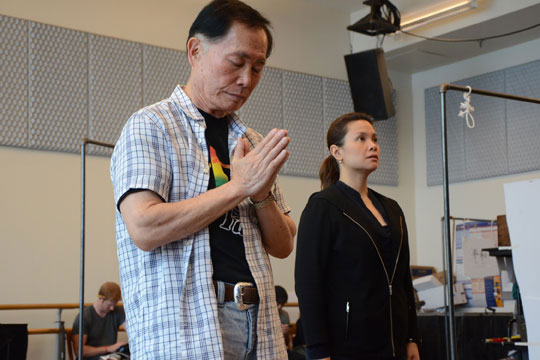 http://www.dailyactor.com/wp-content/uploads/2016/07/watch-keegan-michael-key-explain.jpg
Watch: Keegan-Michael Key Explains Why "Improv actors are at war together"
Check out Key's points on why it's so important for improv actors to have each others' backs in the clip above.
http://www.dailyactor.com/actors-on-acting/keegan-michael-key-improv-actors-at-war-together/
http://www.dailyactor.com/wp-content/uploads/2016/07/norman-reedus-actor.jpg
Norman Reedus on Acting: "If it's something you really want, you have to roll with the rejection"
Norman Reedus is a fan-favorite star on The Walking Dead and was in the cult favorite film The Boondock Saints. However, in the dozen years between those two gigs Reedus had experienced ups and downs in his career and in many cases he was cast in very small roles in big movies or lead roles […]
http://www.dailyactor.com/actors-on-acting/norman-reedus-acting-rejection/
http://www.dailyactor.com/wp-content/uploads/2016/07/frank-grillo.jpg
Frank Grillo on Being Typecast: "I welcome it"
"I hear actors pooh-pooh the idea... people might see them as a certain thing. I welcome it" - Frank Grillo on Typecasting
http://www.dailyactor.com/actors-on-acting/frank-grillo-on-typecasting/
http://www.dailyactor.com/wp-content/uploads/2016/07/Michael-Shannon-Acting-for-free.jpg
Michael Shannon on Actors Working for Free: "I think as a group actors need to stop enabling this behavior"
"If somebody's got a good script and you want to put good actors in it then everybody should be taken care of." - Michael Shannon
http://www.dailyactor.com/actors-on-acting/michael-shannon-actors-working-for-free/
http://www.dailyactor.com/wp-content/uploads/2016/07/Javier-Munoz-Hamilton.jpg
Javier Muñoz on Taking the Lead in 'Hamilton': "This is just fun, and glorious"
Muñoz talks about his feelings on playing Alexander Hamilton full-time and his relationship with Lin-Manuel Miranda.
http://www.dailyactor.com/actors-on-acting/javier-munoz-new-hamilton/