Neil Patrick Harris on Hosting the Tony Awards: "I'm rarely nervous while it's happening"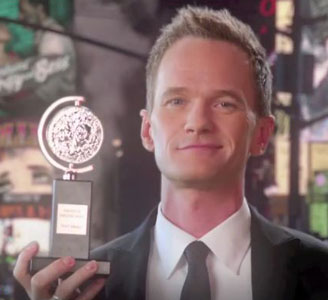 Neil Patrick Harris is set to host the Tony Awards again on June 10 and in an interview with The Wall Street Journal, Harris spoke about catching up on Broadway shows and you know, the whole hosting thing. 
"I really just want to get a sense of the Broadway season," he said. "When you see a bunch of shows you get a sense of where everyone's headed.  Some years it's jukebox musicals and some years it's revival plays.  I'm sensing there's a lot of humor this year, and a lot of creativity, and people working really hard.  That makes me very happy.  It's less fun to encourage people to go see Broadway when you're not a big fan of the shows that are out there. Thankfully, that's not going to be the case this year."
This will be Harris' third time hosting the Tony's, and he said, "I'm rarely nervous while it's happening.  A whole other energy kicks in in that situation because not only am I conscious of how I'm performing the content that I have to do, but I'm also having to be very aware of how long we are, whether we need to trim bits or just have a voice-over do an announcement.  If something crazy happens, referencing it and if so, what's the joke?  There's a whole lot of creative brainstorming that goes on throughout the show.  So, being nervous really isn't an option at that point.  I'm much more nervous right now.  Right now I'm very nervous, but as we get closer to the day, and we lock things that we're confident in, then my job is just to read the teleprompter."
http://www.dailyactor.com/wp-content/uploads/2015/09/Tom-Hardy-Legend.jpg
Tom Hardy on Playing Twins in 'Legend,' Being Seen as a Tough Guy, and Working with Philip Seymour Hoffman
Hardy speaks about why he challenged himself to play twins, what he thinks of his tough guy image, and working with the late Philip Seymour Hoffman, who directed him on stage.
http://www.dailyactor.com/actors-on-acting/tom-hardy-playing-twins-legend/
http://www.dailyactor.com/wp-content/uploads/2015/09/Emily-Blunt-Sicario.jpg
Emily Blunt on Action Movie Roles: "I think it's important to show different layers. Nobody is just tough, nobody is just vulnerable"
Emily Blunt touches upon why she has gotten into roles with an action bent and why she thinks there aren't more action movies with female leads
http://www.dailyactor.com/actors-on-acting/emily-blunt-sicario-acting-layers/
http://www.dailyactor.com/wp-content/uploads/2015/09/Jorja-Fox-CSI.jpg
Jorja Fox on Life After 'CSI': "I've always enjoyed not knowing exactly where the road leads"
"I think you kind of have to embrace the unknown if you're an actor." - Jorja Fox
http://www.dailyactor.com/actors-on-acting/jorja-fox-life-after-csi/
http://www.dailyactor.com/wp-content/uploads/2015/09/John-Turturro-Mia-Madre.jpg
John Turturro on the Life of an Actor: "It's a rough business. I wouldn't want my kids to do it"
"I am usually very well prepared. If you're a surgeon, you've got to know what you're going to take out today." - John Turturro
http://www.dailyactor.com/actors-on-acting/john-turturro-life-of-an-actor/
http://www.dailyactor.com/wp-content/uploads/2015/09/Matt-Damon-The-Martian.jpg
Matt Damon's Controversial Comments on Actors Keeping Their Real Lives a Mystery
"I think you're a better actor the less people know about you period. And sexuality is a huge part of that." - Matt Damon
http://www.dailyactor.com/actors-on-acting/matt-damon-actors-keeping-their-real-lives-a-mystery/