'NCIS' Star Barrett Foa on Spending His Summer Break Doing an Off-Broadway Play: "This is my vacation"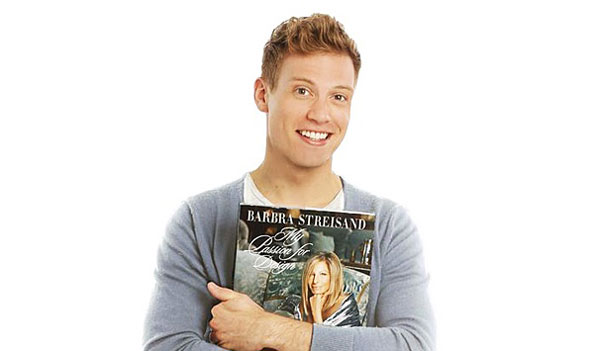 After shooting 24 episodes of NCIS: Los Angeles a season, most actors would take a break once production has wrapped. A few might do a small movie role or a commercial, but nothing that would take up too much into their off-time. Not many would do what Barrett Foa is doing though — spending his break performing a one-man show in New York, Buyer & Cellar, at the Barrow Street Theatre. But as he tells the Associated Press, there isn't any other way he'd rather be spending his summer.
Foa has a long history of acting on stage, but Buyer & Cellar marks his first New York stage role since 2008. Though the New York native and Broadway vet has performed in productions in much bigger venues than the 199-seat theater, he is looking forward to testing his skills as an actor. He points out, "This is my vacation. It's a huge challenge and nothing like anything I've ever gotten or probably ever will do."
Naturally, his NCIS co-stars thought he was crazy. He says, "LL Cool J and Chris O'Donnell both said, 'What are you thinking?' It's such a crazy challenge and that's how you grow."
However, Foa has a particular television actor in mind whose career choices he is trying to mirror. He reveals, "Basically my goal in life is to be David Hyde Pierce — go to Hollywood, make some money, come back and just win some Tony Awards. This is part of the whole steppingstone process."
http://www.dailyactor.com/wp-content/uploads/2015/09/Tom-Hardy-Legend.jpg
Tom Hardy on Playing Twins in 'Legend,' Being Seen as a Tough Guy, and Working with Philip Seymour Hoffman
Hardy speaks about why he challenged himself to play twins, what he thinks of his tough guy image, and working with the late Philip Seymour Hoffman, who directed him on stage.
http://www.dailyactor.com/actors-on-acting/tom-hardy-playing-twins-legend/
http://www.dailyactor.com/wp-content/uploads/2015/09/Emily-Blunt-Sicario.jpg
Emily Blunt on Action Movie Roles: "I think it's important to show different layers. Nobody is just tough, nobody is just vulnerable"
Emily Blunt touches upon why she has gotten into roles with an action bent and why she thinks there aren't more action movies with female leads
http://www.dailyactor.com/actors-on-acting/emily-blunt-sicario-acting-layers/
http://www.dailyactor.com/wp-content/uploads/2015/09/Jorja-Fox-CSI.jpg
Jorja Fox on Life After 'CSI': "I've always enjoyed not knowing exactly where the road leads"
"I think you kind of have to embrace the unknown if you're an actor." - Jorja Fox
http://www.dailyactor.com/actors-on-acting/jorja-fox-life-after-csi/
http://www.dailyactor.com/wp-content/uploads/2015/09/John-Turturro-Mia-Madre.jpg
John Turturro on the Life of an Actor: "It's a rough business. I wouldn't want my kids to do it"
"I am usually very well prepared. If you're a surgeon, you've got to know what you're going to take out today." - John Turturro
http://www.dailyactor.com/actors-on-acting/john-turturro-life-of-an-actor/
http://www.dailyactor.com/wp-content/uploads/2015/09/Matt-Damon-The-Martian.jpg
Matt Damon's Controversial Comments on Actors Keeping Their Real Lives a Mystery
"I think you're a better actor the less people know about you period. And sexuality is a huge part of that." - Matt Damon
http://www.dailyactor.com/actors-on-acting/matt-damon-actors-keeping-their-real-lives-a-mystery/